Why perch-coloured baits are tops in spring
Walleye, northern pike and bass gorge on vulnerable perch
Is this super cool or what?
I turned on my iPad yesterday morning to check for messages and spotted one from Travis Graham, who I met for the very first time recently at the Parkland Outdoor Show and Expo when I was out in Yorkton, Saskatchewan presenting fishing seminars.
Travis owns Big T taxidermy and had a booth at the show displaying his wonderful works of art. But he was especially keen to talk fishing, especially spring walleye fishing as he and his dad had entered an upcoming tournament.
Putting me on the spot, Travis asked what I thought might be a couple of overlooked winning patterns that he and his dad could employ. I told if it was me, I'd likely start out pitching soft plastic swimbaits that were coloured like yellow perch.
I mentioned, too, that another pattern many walleye anglers overlook is dragging a tube jig. Seems everyone mistakenly believes that soft plastic tubes are made only for bass, but we've had wonderful results dragging them for walleye. Especially when the big 'eyes are grubbing along the bottom eating crawfish and invertebrates.
Well, it seems Travis was listening because he and his father implemented the game plan to perfection, winning the recent Walleye Classic. Needless to say, he was thrilled.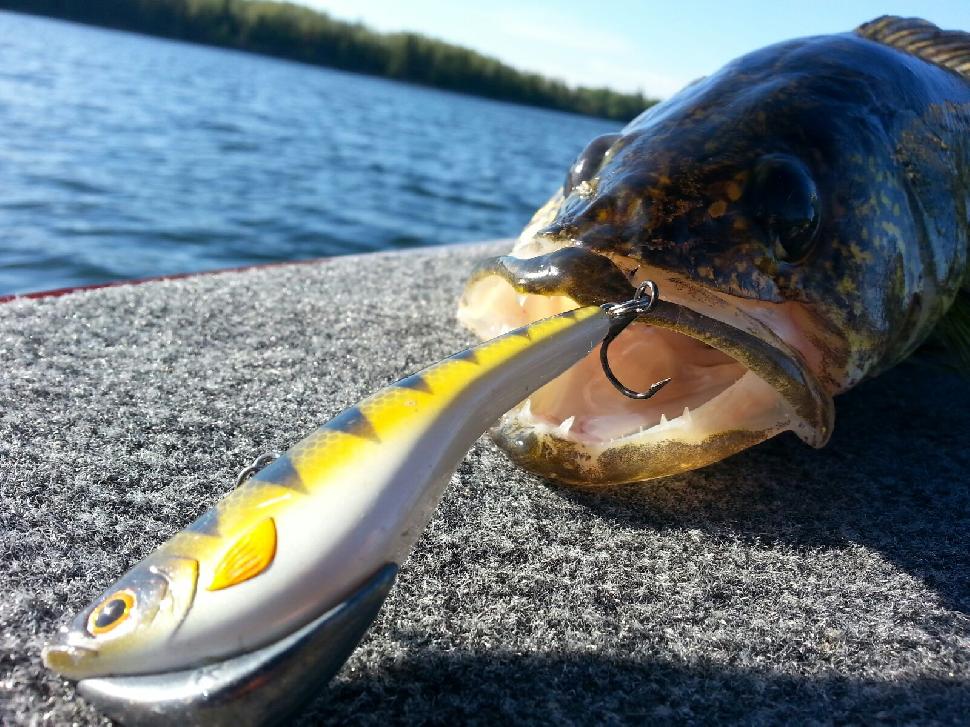 "We were casting the swimbaits in five to six feet of water," Travis said, "retrieving them with light jerks. We started out using a green, yellow and orange (perch) swimbait but we caught so many walleyes on them we ran out baits. So, we switched over to dark green tube jigs and hammered the fish. You name it, walleyes, jacks (pike) and big perch up to 13-inches."
Like I said, how cool is that? But here is the icing on the cake.
Buddy Cameron Tait, who is an Alumacraft/Cabela's pro staffer came over to fish with me the past couple of days and given Travis' tournament winning "intelligence," I decided I better take my own advice and rig up several rods with various perch coloured baits. Lures like the Kammoki Smartfish, Rapala Snap Rap, ReelBait Flasher jig and an outrageous black and yellow homemade swimjig tipped with a yellow Bass Magnet Shift' R Shad.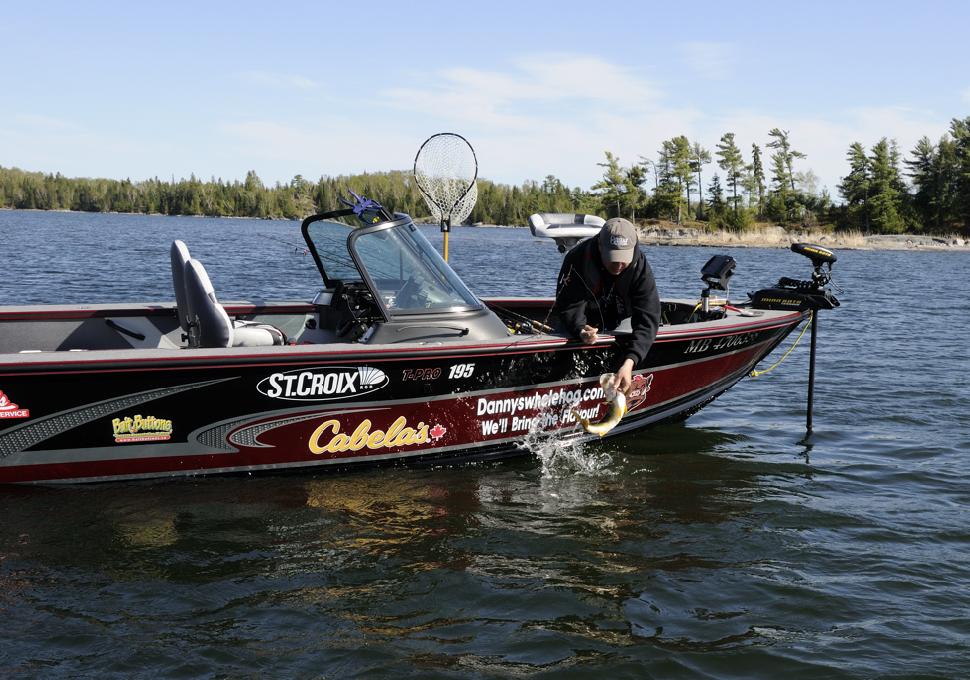 And just like Travis, Cameron and I crushed the walleyes, northern pike and smallmouth bass with the lures. To the tune—I am guessing here—of at least 150 fish over two easy days of angling.
The reason perch coloured baits are so hot in spring is two-fold.
First, walleye and northern pike spawn well ahead of yellow perch in the spring, so as they recover they become hungry. They also look for warm, comfortable surroundings, like cozy, black, mud-bottomed back bays where—by no mere coincidence—hordes of yellow perch are milling about getting ready to spawn. Talk about a banquet.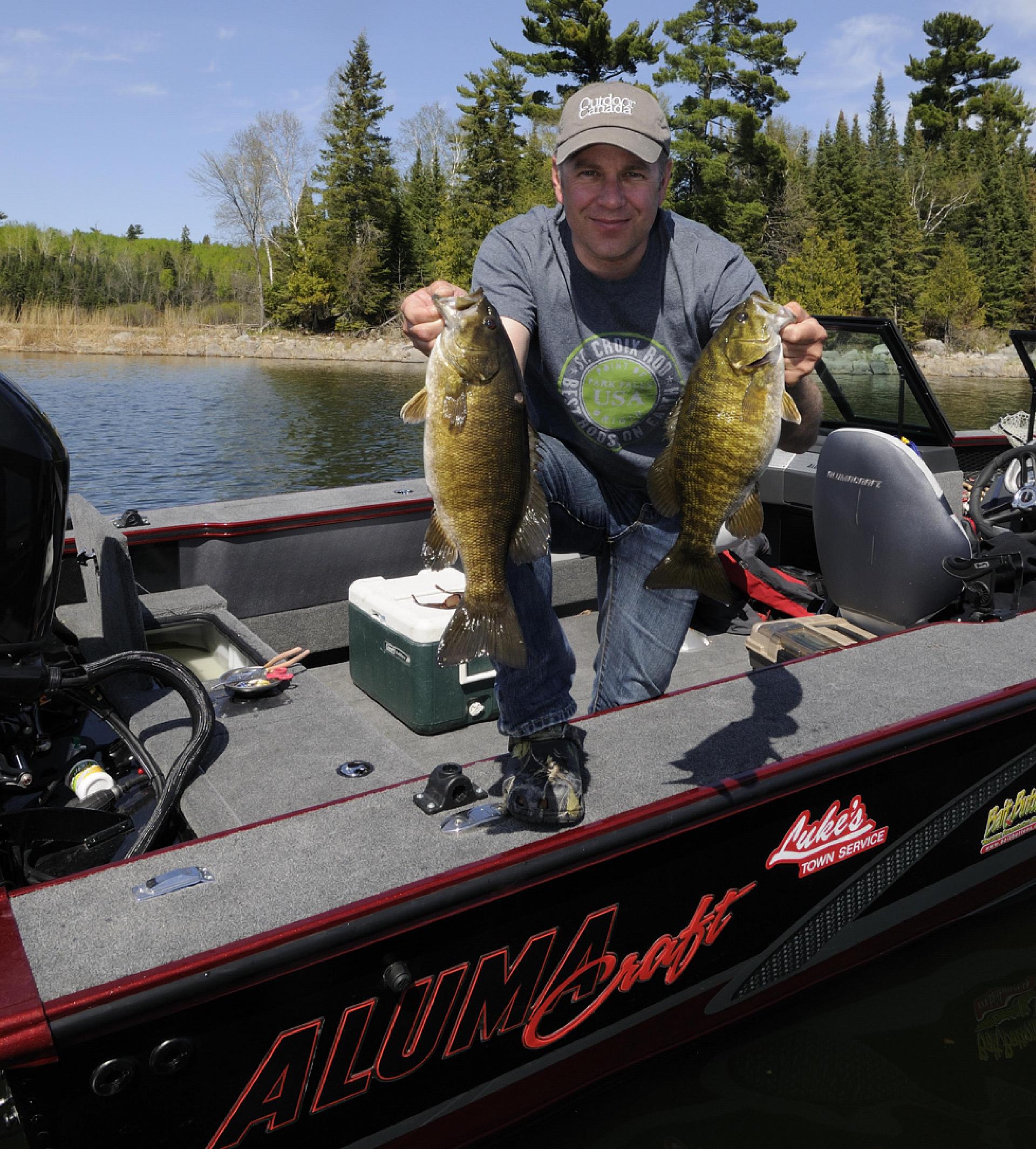 Bass, on the other hand, detest the pesky perch because they know that in a few weeks times when they nest, the perch are going to harass them to no end, darting in and out of the nest, gobbling up eggs and eating the young-of-the-year.
So, show a bass a perch coloured lure in the spring and their eyes glaze over with pure hatred and they go out of their way to crush it.