Fishing hot spots from The Radnecks
Salmon, sturgeon trout and more, from the Central Coast to the centre of B.C.
For our 2016 Fishing Special issue, Outdoor Canada recruited a supergroup of acclaimed Canadian recording artists, who also happen to be hard-core anglers. And these fishin' musicians agreed to sing about their favourite Canadian fishing holes—74 in all. For the full list, see The Fishin' Musicians.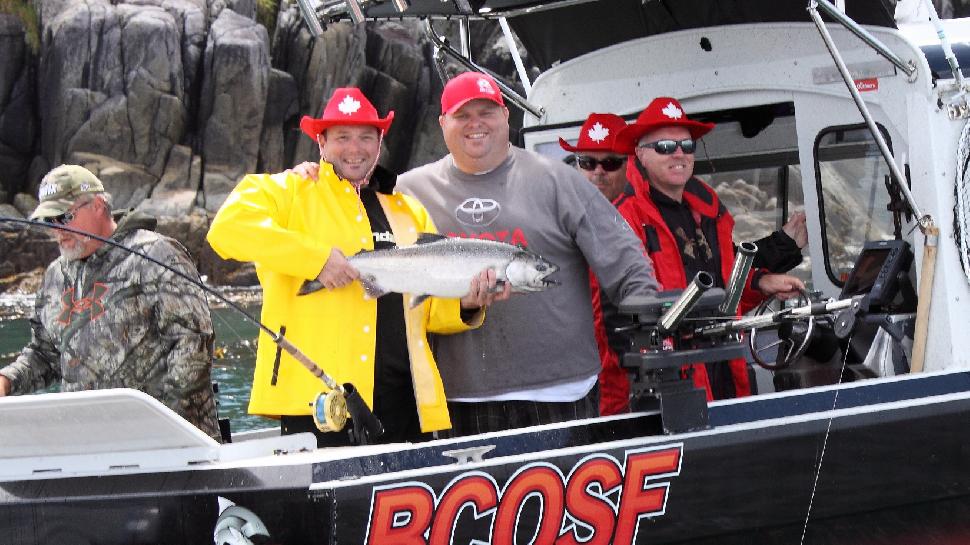 Formed in 2014, The Radnecks fuse classic and modern rock with elements of blues, folk, country and punk. A set from this Port Coquitlam, B.C., trio ranges from foot-stomping Celtic reels to bombastic grunge rock to sweet golden-age ballads. Currently working on new tunes for this summer's festival circuit, The Radnecks also perform the official soundtrack for TV's BC Outdoors Sport Fishing. Drummer-vocalist Archie McAffer (above in yellow), who has been fishing since he was a kid, provided these hot spots on behalf of the band. As you can see, they really do love B.C. sportfishing. Learn more: www.theradnecks.com
Favourite fish: Salmon
Favourite type of fishing: Trolling
Favourite fishing song: "Free Fallin'" by Tom Petty
CENTRAL COAST, B.C.
GPS: 51.805, -128.353
FISH: Chinook and coho salmon
WHY: The fishing is non-stop and the scenery is unbelievable
BEST TIME: July to September
BEST LURES: Anchovy in teaser head, spoon, flash flies
FRASER RIVER, B.C.
GPS: 49.221, -122.800
FISH: Sturgeon
WHY: Best sturgeon fishing in the world
BEST TIME: Summer and fall
BEST BAIT: Fresh roe
LIGHTNING LAKE, B.C.
GPS: 49.061152, -120.832892
FISH: Rainbow trout
WHY: Two hours from Vancouver, with nice camping—fun for the kids
BEST TIME: Summer
BEST BAIT: Worms (for kids)
NICOLA LAKE, B.C.
GPS: 50.169947, -120.529176
FISH: Dolly Varden
WHY: Beautiful country around Merritt, with laid-back folk
BEST TIME: Spring and summer
BEST LURE: Wedding Ring spinner
PITT LAKE, B.C.
GPS: 49.431, -122.539
FISH: Rainbow trout
WHY: Close to home, and the weather always makes it an adventure
BEST TIME: Year-round
BEST FLY: Cat's Whisker