HIGH-TECH HELP
How a new app warns anglers about dangerous ice conditions
No one looks forward more to the buildup of ice on Canada's lakes, rivers and reservoirs than hardwater anglers. Log onto any fishing forum or read posts on social media and you'll see their questions begin as soon as the temperatures start dipping. Has anyone been out on Cook's Bay yet? How thick is the ice in front of Chalet Beach? Are the ice roads being plowed on Lake of the Woods?
Just as predictable, unfortunately, are news reports of eager anglers who push the envelope, fall through thin ice and perish. Such sad incidents are sober reminders of just how dangerous ice fishing can be if you don't take the necessary precautions, especially checking to see if the ice is safe before heading out. Thankfully, a new app launched this past November now makes it easier to gauge ice conditions—and prevent deaths in the process.
CUTTING-EDGE TECHNOLOGY
Developed by Winnipeg's NextGen Environmental Research Inc., the Ice Time app uses radar satellite imagery, unmanned drones and acoustic remote-sensing technology to make detailed maps of ice as it forms, strengthens and subsequently weakens on some of Canada's most popular winter fisheries. This allows anglers to use their smart phone, tablet or home computer to see whether the ice is white, spongy and weak, or black, solid and strong.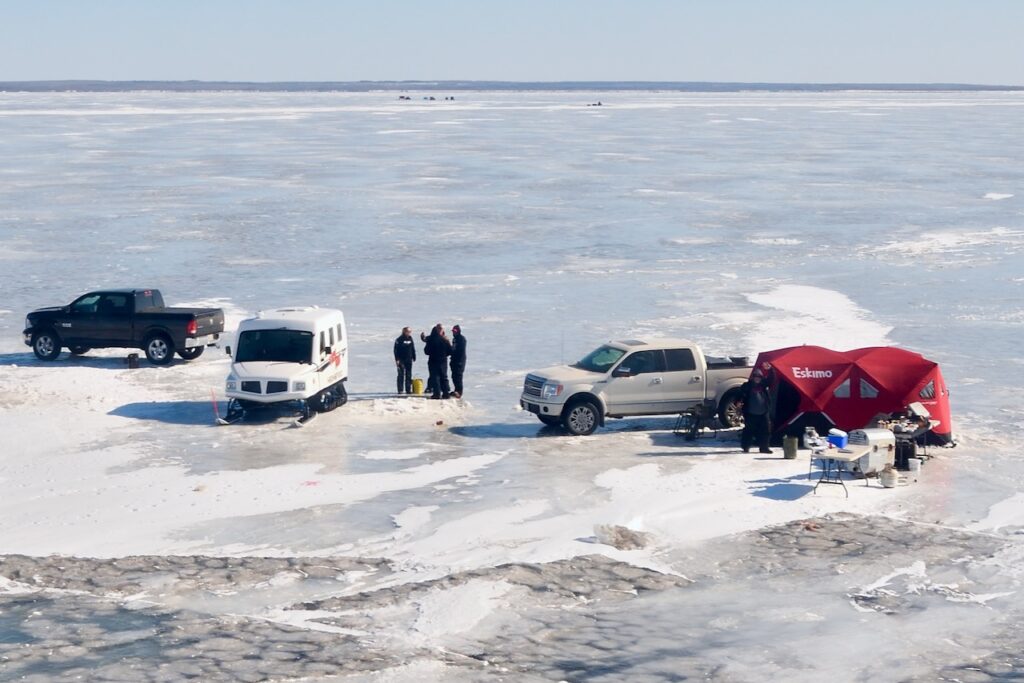 "Ice dynamics are imaged reliably and published in near real-time, within about a day of the satellite overpass," says NextGen's president, Paul Cooley. "Ice Time then lets you view the high-resolution maps and communicate the information with your family and friends. It puts cutting edge-science and near real-time ice information into the palm of your hand for the first time ever."
This year, data is available for lakes in Minnesota, northwestern Ontario and southern Manitoba, including the southern basin of Lake Winnipeg; NextGen plans to add more regions in the coming years (see "Seeking input," below). The app fee starts at $67.99 a year for a personal user licence for one region, and the cost of additional regions decreases as more are added.
MONITORING ICE CONDITIONS
Cooley gave me a sneak peak of Ice Time before its launch, showing me how it uses the Canadian Space Agency's radar satellites to monitor ice formation. The satellites are so sophisticated, they can penetrate cloud and snow cover, even at night, to reach the ice.
To demonstrate the app's usefulness, Cooley pulled up an image from Lake Winnipeg taken last spring. It showed a pressure ridge that had collapsed and opened up, with the exposed lake water freezing paper-thin overnight. A skiff of snow had covered it, however, so to the naked eye it looked deceptively the same as the kilometres of thick ice around it. If you had been driving across the area in a truck, snow machine or ATV, you would have gone through.
That's where the app comes into play. In such a situation, you would receive a colour-coded satellite radar image with easy-to-understand icons revealing the various ice conditions, including ridges, slush and dangerously thin ice. Users can also receive a text message that describes the image and notes any changes from the previous one. Think of it as a weather report, except for lake ice, Cooley says.
"Ice Time doesn't change your need for due diligence to assess safety on the ice," he says. "Instead, it markedly improves your situational awareness by showing you the current and recent states of the ice. Over time, as you monitor the ice dynamics, you will come to understand what to expect, dramatically reducing guesswork and better exposing risk." And that can only make it safer to travel on the ice, not to mention save lives.
To catch Gord Pyzer on the Fish'n Canada Show's live webcast, go to www.fishncanada.com/live.
SEEKING INPUT
With literally millions of lakes across the country, it's not possible for NextGen staff to provide up-to-date Ice Time reports on them all. That's why the company wants ice anglers to suggest which waterbodies should be included in the app. Popular winter fisheries such as Lake Winnipeg, Lake of the Woods and Lake Simcoe are obvious, but what other candidates should the app focus on? To provide your input, and to learn more about this game-changing new app, visit www.icetime.app.