One of the questions I am frequently asked is, "How do you continue to find so many interesting subjects to write about?"
Well, the truth of the matter is, it is not very difficult. Especially when you turn on your computer, iPad, and cell phone every morning and receive as many fascinating questions from folks who like to fish as I do.
Case in point: buddy Leavon Peleikis, who is an ice fishing magician in the Muskoka Lakes region of Southern Ontario is well on his way to achieving a grand slam this winter—that is, a 10-pound or better walleye, a 20-pound-plus lake trout, and a 20-pound-plus northern pike.
Leavon has already iced the trophy walleye and lake trout, but he's having a bit of trouble finding the big pike.
Here is what he has to say about it: "I put in a fairly good effort last March, hanging big dead baits outside of spawning bays and fishing in 3- to 30-feet of water, but with no success. Believe it or not, I was actually catching big lake trout on the baits!
This has left me pretty stumped, to say the least. Could it be possible that the larger pike are primarily feeding on lake trout? We have a decent smelt population but not a tremendous amount of herring. On the other hand, we have numbers of small lake trout in the 1- to 3-pound range and it's not uncommon to catch 20 to 25 some days. Every winter I catch several small trout (up to 5 pounds) with huge scars and in the spring pike often cough up trout."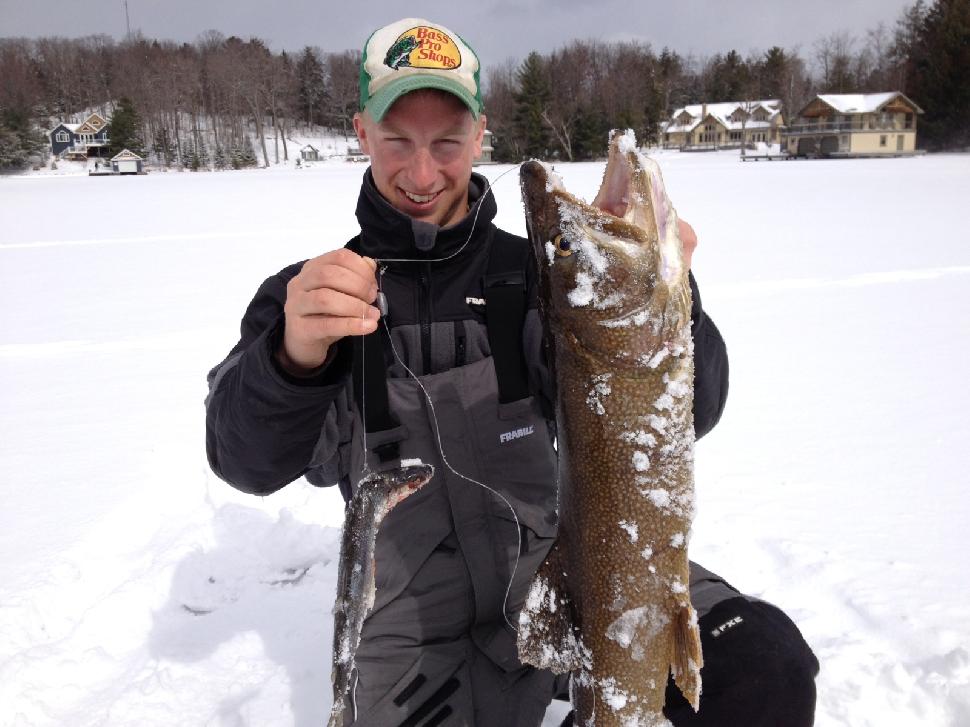 As for the crux of Leavon's question, however, whether the pike would be targeting trout, I don't think so, and here is the reason why:
While there is no question pike are opportunistic feeders and will pounce on just about anything that swims their way, it is doubtful they would adopt a full court press and zero in on lake trout. If that was the case, Leavon and his friends would be getting bit off constantly by the big toothy critters while they jigged for trout and from what he tells me, that isn't the case.
The other thing to remember is that lake trout are adept open-water swimmers while pike are ambush predators, so from an expenditure of energy perspective, chasing lake trout out in the open would be a dicey proposition, if not a waste of time.
Think of a lion and gazelle on an African grassland.
So where can he catch the pike of his dreams? If I were Leavon, I'd be looking for main lake points, rocky humps, and shoals—walleye structure, if you will—and I'd be running and gunning with a fairly aggressive jigging routine.
Indeed, because you can use two lines in the winter, our favourite plan of attack for trophy pike in mid-winter is to set a quick-strike rigged dead bait under a tip-up for every angler in the party on top of the structure and along the edges of the breaks – while we jig a series of other holes keeping our lures about 3 feet off the bottom.
With two or three anglers we can usually cover a decent size structure in 20 to 30 minutes, at which point, if we haven't caught a big pike, we pack up and move to the next location.
By the way, we'll fish these main lake structures from as shallow as 7 or 8 feet deep out to 20 or 25 feet, depending on where the breakline exists. And on a good day, we're happy if we catch six to eight big toothy critters in the mid- to high teens or better.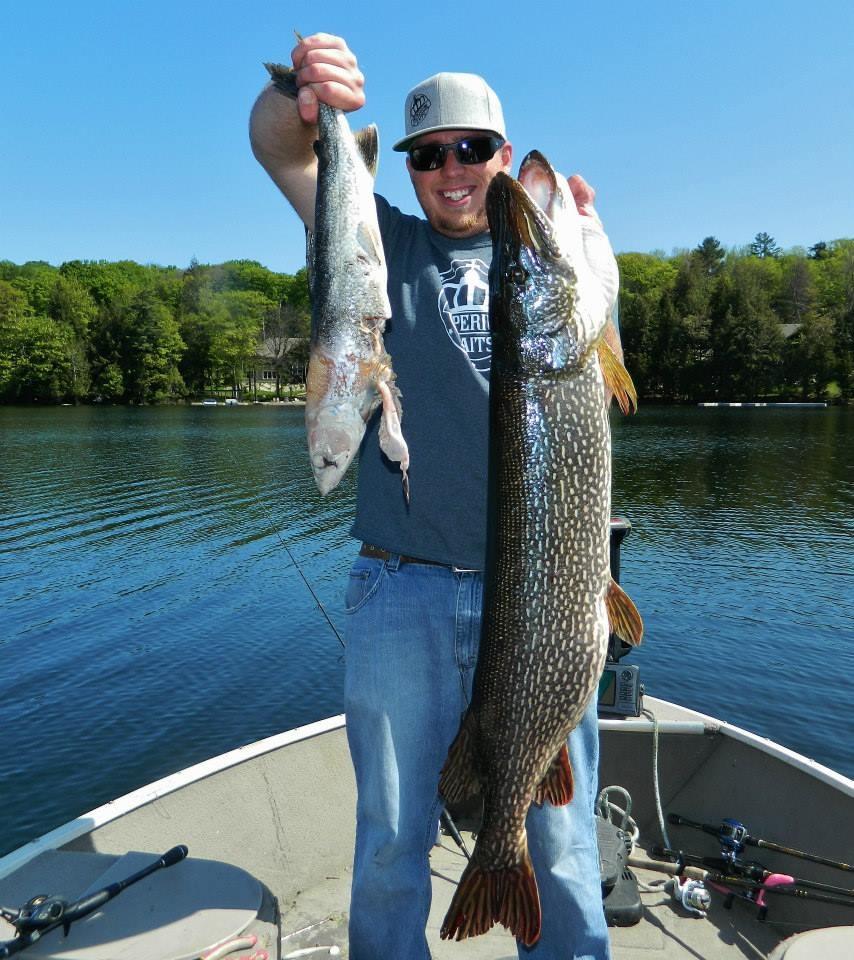 Still, the absolute best way to catch the pike of your dreams in the winter is by quick-strike dead baiting at last ice. Leavon mentioned that he tried this out to as deep as 30-feet plus, but I rarely set tip ups in water deeper than 15-feet at last ice.
My favourite locations are lead-in points at the mouths of major spawning bays where I hang the baits in the middle of the water column in the shallow holes, less than 10 feet deep, but keep them three-feet or so up off the bottom in the deeper 10-, 12- and 15-foot holes.
Sticking with this game plan, we can usually average a better than 20-pound gator every trip out. We can't use smelts for bait in Northwestern Ontario (even dead ones), but where they are legal smelts have always proved to be the best bait going. Tulibees, also known as ciscoes or herring are a close second, with fresh dead suckers rounding out the top of the batting order.
By the way, we'll often push the late winter bite and start testing it in February, even January during particularly warm winters, especially if the spawning bay borders the main lake and lies immediately adjacent to deep water. It's the best way I know how to catch a 20-pound or bigger northern pike, which is often the toughest of the Grand Slam to accomplish.