Lethal legacy
Don't let your next big outdoor adventure end with a bang
We Canadians pride ourselves on our pristine wilderness and waters. What many of us don't realize, however, is that there's a dangerous wartime hangover lurking under the landscape: lost munitions such as bombs, grenades and mortars that failed to explode as originally intended.
The Department of National Defence calls such devices "unexploded explosive ordnance," or UXO, warning they can pose a threat to unsuspecting hunters, anglers and others who spend a lot of time in the outdoors. According to the DND, most of the UXO in Canada stem from military training conducted between the First World War and the 1990s. Ammo dumps, marine disposals, testing areas and crash sites also account for wayward ordnance.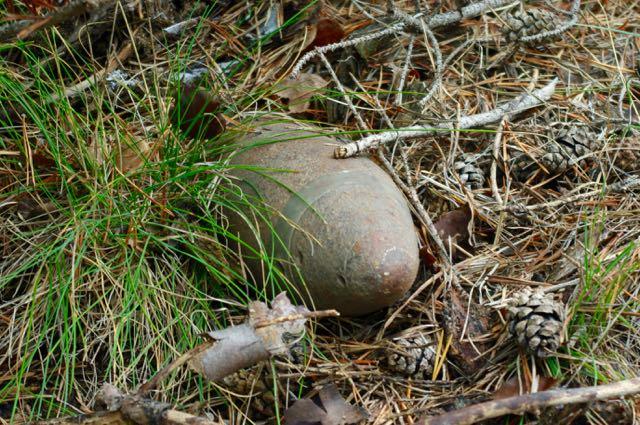 In 2003, the department launched the 10-year Warfare Agent Disposal Project "to address gaps in the information surrounding the historic disposal of warfare agents and any environmental impacts." The project included a comprehensive historical review of all warfare activities on Canadian land and water, and the creation of a database identifying locations where ordnance were stored, used or disposed of.
In all, the study identified 849 suspicious UXO "legacy sites" in every province and territory. Many are on former military bases or firing ranges, while others are on land and lakes surrounding such areas. The challenge for the public is that some sites are no longer DND property, and therefore may not be adequately posted. Plus, local knowledge of the locations of firing ranges and so on has often been forgotten. Compounding the problem, erosion and water currents have shifted or exposed buried or sunken ordnance in some areas.
The DND also warns that UXO sites are often not visibly different from UXO-free areas, so don't rely on signage as the definitive authority on the safety of a site. The ordnance is often buried or concealed, but if you see something above ground, that's a good indication there's more below. Indications that UXO may be present include ammo casings and discarded wooden, plastic or metal containers that may have contained munitions. The devices themselves come in a variety of shapes and sizes and may not even look like bombs—some are severely corroded from spending years in the ground or underwater.
Finally, what should you do if you come across something you suspect might be UXO? Leave it alone, warns the DND. Don't prod it or pick it up—just give it a wide berth, make a precise note of the location and immediately call 911. And when you make that call, the DND advises, don't use a cellphone or radio within five metres of the device—the signal could trigger an explosion.
Where are Canada's UXO sites? Find out at www.outdoorcanada.ca/uxosites.
Explosive finds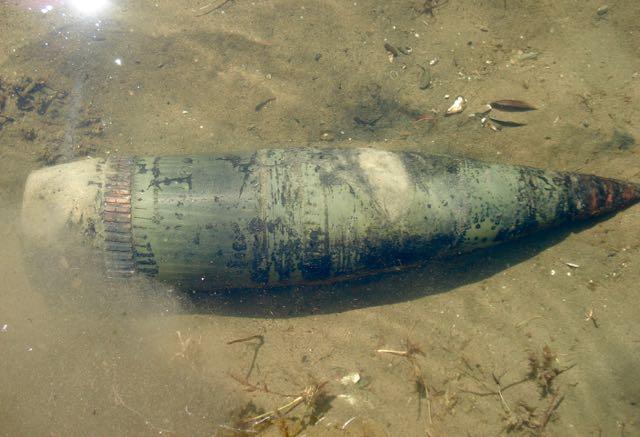 While the DND says it doesn't have statistics on UXO casualties in Canada, the National Post reported in 2013 that there have been 15 deaths and 20 injuries over the years.
One of the earliest incidents was in the 1960s, when four people died picking up items on the shore of Labrador's Forteau Bay, near the site of the 1922 grounding of HMS Raleigh. In 1945, an explosion in the naval magazine on the shores of Bedford Basin, Nova Scotia, dispersed munitions across such a wide area that the DND continues to conduct risk assessments on any construction activity within a 1.6-kilometre radius of the blast site. In 1999, a bomb from the explosion was found in a Dartmouth building site.
More recently, in 2007, a Manitoba farm worker was burned when his lawn mower activated a bomb fuse. Then in 2013, an Alberta farmer found a live aerial practice bomb jutting out of his field. Authorities believe it was from the No. 8 Bombing and Gunnery School in Lethbridge, which was part of the British Commonwealth Air Training Plan during the Second World War.
Finally, in June 2014, a young boy walking on a beach near Saint John, New Brunswick, found a Second World War-era grenade washed ashore. Two years earlier, a couple walking the same beach found UXO that had to be disposed of by experts from CFB Gagetown.