NO MAN'S LAND
To catch elusive muskie, target spots you might normally overlook
I've just returned from a four day stay at beautiful Eagle Lake Island Lodge, situated on Eagle Lake between Vermilion Bay and Dryden, Ontario, While there, my grandson Liam and I fished for walleye, northern pike, smallmouth bass and, of course, the muskies for which Eagle Lake is world-renowned.  
As I often do when I take my own boat to a lodge on a lake where I have little or no experience, I invited one of the guides to hop into the Kingfisher and take us for a quick "boat-about." It's a great way to chart safe travel routes, and waypoint rocks and hazards that could take off your lower unit—or worse—and ruin the trip.
As luck would have it, camp guide Adam Henrickson had a couple of hours to spare after breakfast the first day, so clutching a muskie rod adorned with a double-ten bladed bucktail, he hopped into the boat with us. As we criss-crossed the gorgeous 110-kilometre-long, island- studded Eagle Lake paradise, Adam suggested we pause for a few minutes and make a few casts at one of his favourite muskie haunts: a beautiful shallow shelf jutting out from an island point that featured boulders, lush cabbage and green-as-grass pencil reeds.  
As Liam and I started casting toward the obvious visible cover, though, I noticed that Adam fired his bucktail out in the opposite direction—into no man's land—on the other side of the boat. When I mentioned it to him, he chuckled, and said he was fishing the "Canadian" side of the boat.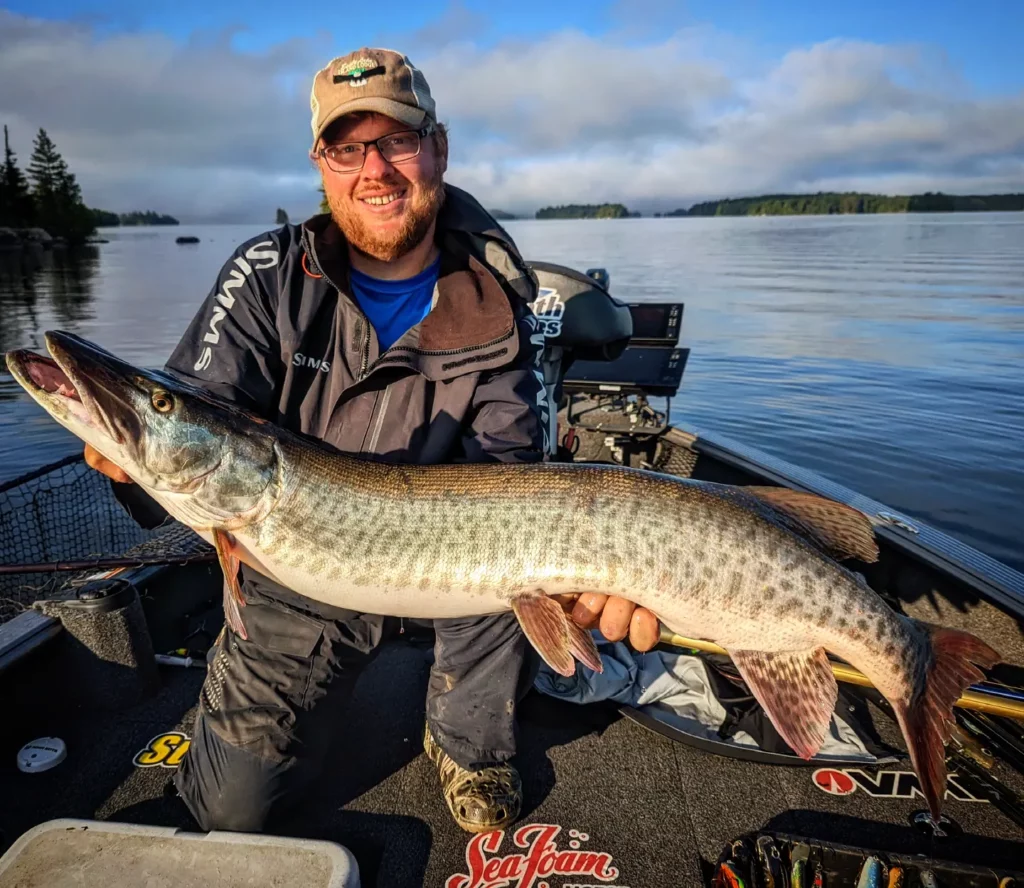 Most of Adam's guests are American visitors staying at the lodge, so it's understandably important for a guide to give them the first shot at the very best locations. Let's face it, there's nothing worse than having the guide catch the trophy of a lifetime that you've waited years and travelled far to catch. At the same time, though, it's important to assess fish activity levels in and around the area. Hence, Adam's decision to check the Canadian side of the boat.
After we enjoyed a good laugh, however, I told him that his comment struck a chord from a conversation I once had with friend and muskie researcher, Dr. Sean Landsman. Sean authored Project Noble Beast, that discussed his years of tracking muskies on the Ottawa River. When I asked him about a few of the things that surprised him the most, he said one was the fact that muskies are often positioned where we least expect to find them. Examples include a well-used cottage dock on a warm summer afternoon, beneath our boats as we're fishing along a shoreline and out in open water away from obvious structure and cover. In other words, no man's land.
As a matter of fact, Sean, who's an avid muskie angler as well as a fisheries scientist, told me that since he discovered this unique behavioural trait of muskies, he routinely lobs his bait in the opposite direction every 15 to 20 casts. 
In other words, from the Canadian side of the boat.