KEYS TO SUCCESS
Three days, eight species of fish, multiple shark attacks and one (perhaps) world angling record. How a Canadian got his fishing groove back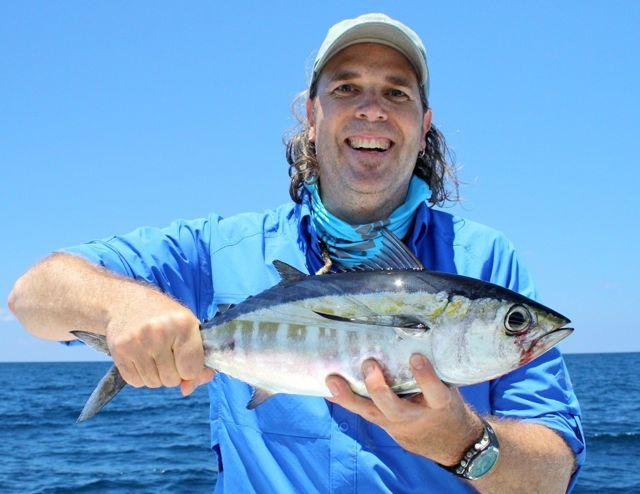 Blackfin tuna
Despite captain Tony Murphy's confidence, our first morning on his 28-foot, centre-console Contender starts slowly. We undertake a fruitless search for what the locals still call dolphin, but the rest of the world knows as mahi mahi or dorado.
Around noon, Murphy echoes my unspoken thoughts when he starts reeling in lines. "Any more of this bloody trolling," he says, "and I'm going to lose my mind." Murphy, by the way, was born and raised in central London, England, but has lived in Florida for more than 25 years, hence the name of his boat: Key Limey. He also has a pleasant but bizarre accent I can only imperfectly describe as a Cockney drawl.
Our new plan is to drop butterfly jigs over an artificial reef made from a sunken bridge, in 240 feet of water. We break out five-foot-long, heavy-action rods, and big reels spooled with 50-pound braid and 40-pound fluorocarbon leaders. Minutes later, we've got a double-header, with rods bent and drags singing.
There's a trick to fishing a butterfly jig: forget everything you've ever done in freshwater, and work the bait like a crazy person. After dropping the lure to the sea floor, which takes a good minute or two at this depth, you crank the reel as fast as you can while aggressively jigging the rod. It would be exhausting, except that you typically get hit within 30 feet of the bottom.
After a couple of break-offs when the fish ran down into the sunken bridge's sharp metal structure, I haul one clear and land it. It's a blackfin tuna, and it puts up an astonishing tussle for its four-pound size. Much smaller than bluefin or bigeye, this species rarely tops 30 pounds. But like their immense cousins, blackfin are disproportionately strong. Holding my first-ever tuna (above), I briefly marvel at its robust body, long pectoral fins and oversized eye. Then back it goes into the ocean.