The Other Great Lake
Often overshadowed by Great Bear Lake, the NWT's Great Slave Lake offers stunning scenery, affordable access and endless lake trout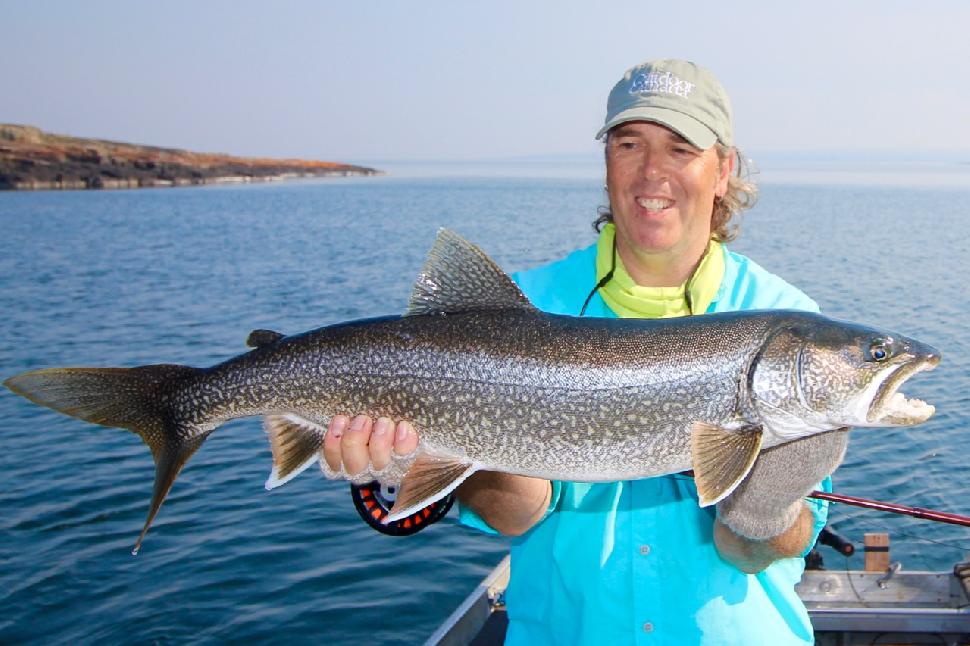 The Lighthouse
You know that sense of relaxation you get when you've done everything you wanted to, but still have another 24 hours in paradise? That's how I felt on our final day of fishing. We took it easy, mostly trolling near a long, narrow granite point adorned with a small lighthouse. I used my fly rod exclusively and, with a deepening sense of satisfaction, learned that the fish I'd caught at the narrows wasn't a fluke. In water ranging from 20 to 100 feet deep, I trolled my fly right next to Lynn's spoon and we practically matched each other fish for fish, including a couple of double-headers.
I used the same fly all day, a nameless pattern of my own design (above) based on the classic saltwater Seaducer fly, but supersized with a three-part articulated body, a stinger hook and a bulky head of plastic, wool and synthetic fur. With flash, vibration and a snaky action, it was simply lethal. For the capper, I hooked a powerful trout in relatively shallow water, but as we drifted into the main channel, the fish sounded, disappearing into the depths with my entire 90-foot fly line, and at least another 100 feet of Dacron backing. When lakers are deep, you have to take care not to stress them by pulling them up too quickly. With this fish, that wasn't going to be a problem. But after much lifting and cranking, gaining line and losing it again, I finally landed the fish—a picture-perfect, silvery-grey 15-pounder (above).
The checklist for a dream fishing trip includes many items: clear weather, good company, plentiful or memorable fish, comfortable lodgings, stunning scenery, excellent food and drink, and the opportunity to challenge yourself and learn new techniques. If I can tick just a few of those boxes, I've had a great trip. But every once in a while, you get incredibly lucky, as Lynn and I did on Great Slave Lake, and tick every single box. I'd say it would be impossible to top, but we're fishermen, so you know we're going to try.
The Lodge
Operated by the legendary Plummer's Arctic Lodges, Great Slave Lake Lodge is open in July and August, and can accommodate 44 guests in modern cabins with full amenities. Plummer's offers three-day, four-day and week-long trips to Great Slave, complete with meals, lodging, guides, tackle and flights between the lodge and Yellowknife.
Learn more about Great Slave Lake Lodge at www.plummerslodges.com.
Find out more about fishing and adventure travel in Canada's spectacular Northwest Territories at spectacularnwt.com.
And finally thanks to Chuk Coulter of Plummer's Arctic Lodges, and the awesome team at Northwest Territories Tourism for their help in making this adventure happen.