OUTDOOR CANADA WINS BIG AT NATIONAL AWARDS
Check out some of the latest award-winning fishing and outdoor articles from Outdoor Canada

The Outdoor Writers of Canada just announced its 2022 National Communication Award winners, and once again Outdoor Canada has nabbed a pile of plaques.
The accolades went to columns, feature stories and photographs, including 1st place awards for both writing and photography. Winners include fishing editor Gord Pyzer, with two awards, associate editor Scott Gardner with three, and photographer Mark Raycroft, who nabbed four for his work in Outdoor Canada. Mark, along with his wife, Pili Palm-Leis, also won for their book Caribou: Wind Walkers of the Northern Wilderness.
And of course, congratulations are also due to the entire team, including editor-in-chief Patrick Walsh who takes everyone's work to a higher level, and art director Sandra Cheung, who makes every issue of the magazine look more stunning than the last.
To read our award-winning stories, please click the links below. Also scroll down for a complete list of all of this year's OWC award winners and sponsors.
COLUMN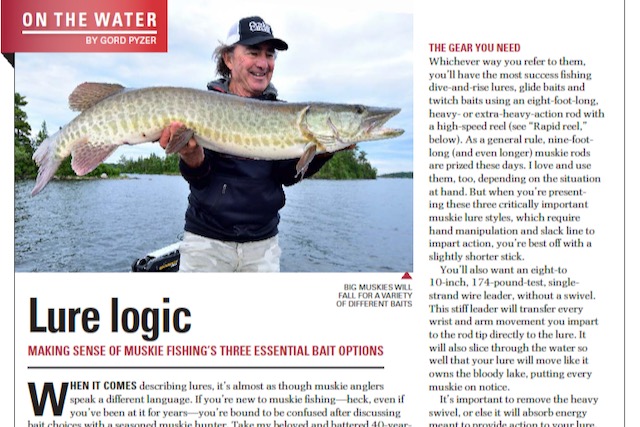 2nd place, "Lure Logic" by Gord Pyzer, Outdoor Canada, July/August 2022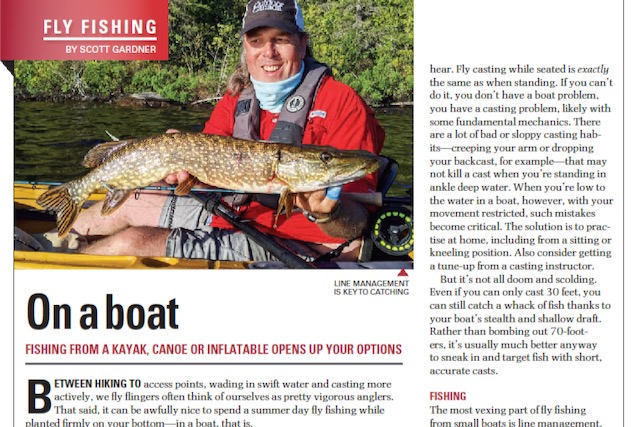 3rd place, "On a Boat" by Scott Gardner, Outdoor Canada, July/August 2022
FISHING FEATURE
1st place, "Winging It" by Scott Gardner, Outdoor Canada, May/June 2022

2nd place, "Kasba Lake Offers the Triple Crown of Northern Fishing" by Scott Gardner, www.OutdoorCanada.ca, August 5, 2022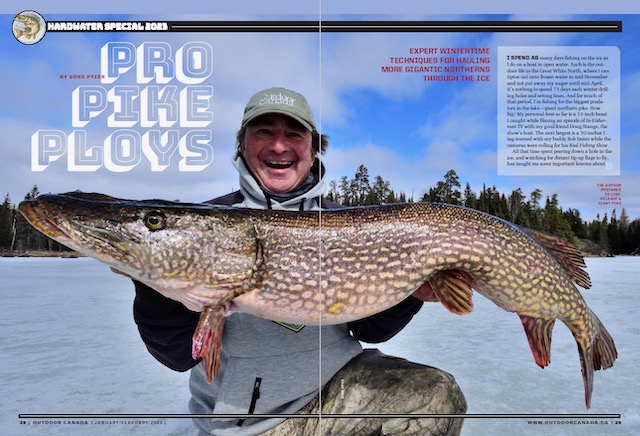 3rd place, "Pro Pike Ploys" by Gord Pyzer, Jan/Feb 2023
Learn more about the Outdoor Writers of Canada at www.outdoorwritersofcanada.com. 
OUTDOOR WRITERS OF CANADA NATIONAL COMMUNICATION AWARDS
Awards sponsored by Tourism Saskatchewan, Shimano, Outdoor Group Media, Ducks Unlimited Canada, Benelli and Delta Waterfowl
COLUMN
1st Al Voth
Title: Coyote School – Death & Rebirth
Publication: MDT Life
2nd Gord Pyzer
Title: What's in a Name/Lure Logic
Publication: Outdoor Canada
3rd Scott Gardner
Title: On a Boat
Publication: Outdoor Canada
BOOKS
1st Dennis Reid
Title: A Man and His River
Publication: Hancock House Publications
2nd Mark Raycroft/Pili Palm-Leis
Title: Caribou: Wind Walkers of the Northern Wilderness
Broadcaster: Firefly Books
3rd Randy Nelson
Title: The Wildest Hunt
Broadcaster: Harbour Publishing
TELEVISION/VIDEO
1st Vanessa Harrop
Title: Calling Late Season Elk in Alberta
Broadcaster: Sportsman Channel Canada
2nd T.J. Schwanky
Title: Island Elk
Broadcaster: Sportsman Channel Canada
3rd Vanessa Harrop
Title: South-Eastern Ibex in Spain
Broadcaster: Sportsman Channel Canada
HUNTING FEATURE
1st Joshua Martin
Title: A Deer, a Dog, and a Donor Walk into a Bar…
Publication: Conservation
2nd Steve Galea
Title: The Gathering
Publication: Ontario Out of Doors
3rd Steve Galea
Title: Silent Alarms, the non-vocal whitetail language
Publication: Ontario Out of Doors
FISHING FEATURE
1st Scott Gardner
Title: Winging It
Publication: Outdoor Canada
2nd Scott Gardner
Title: Kasba Lake Offers the Triple Crown of Northern Fishing
Publication: Outdoor Canada
3rd Gord Pyzer
Title: Pro Pike Ploys/Ice Pike, The Fish of Dreams
Publication: Outdoor Canada
OTHER FEATURE
1st Brad Fenson
Title: The Best Ways to Use Bear Fat
Publication: Outdoor Life
2nd Justin Foster
Title: Three-Oh-Hate
Publication: Handloader Magazine
3rd Jeff Helsdon
Title: Ruffed Times for Ruffed Grouse
Publication: Farmer's Almanac
PHOTOGRAPHY – Fish, Wildlife and Wild Spaces:
1st Mark Raycroft
Title: Barren Ground Bull Caribou in Autumn
Publication: Outdoor Canada
2nd Mark Raycroft
Title: Bull Moose in Autumn Wilderness
Publication: Outdoor Canada
3rd James Smedley
Title: Ice Cave Icicles
Publication: Northern Ontario Travel
PHOTOGRAPHY – Outdoor Activities
1st Brad Fenson
Title: Spring Snow Goose Magic
Publication: Tourism Saskatchewan Hunt & Fish Stories
2nd Mark Raycroft
Title: Chesapeake Bay Retriever Happy Place
Publication: Outdoor Canada
3rd Mark Raycroft
Title: Hunting Bonds
Publication: Outdoor Canada
THE FUTURE OF HUNTING IN CANADA AWARD
Sponsored by Delta Waterfowl
1st Brad Fenson
Title: A Boy's First Goose
Publication: Alberta Outdoorsmen
2nd Jeff Helsdon
Title: On the Wild Side
Publication: Turkey Country
3rd Brad Fenson
Title: Momma's First Goose
Publication: Alberta Outdoorsmen
THE DUCKS UNLIMITED CANADA AWARD IN CONSERVATION
Sponsored by Benelli
1st Jeff Helsdon
Title: Canada's Forgotten Conservationist
Publication: Canada's History
2nd Brad Fenson
Title: Conservation Hunts for Spring Snow Geese
Publication: North American Outdoorsmen
3rd Brad Fenson
Title: Crossbows Expanding Role in Wildlife Management
Publication: Petersen's Bowhunting