Vancouver Island: 5 fantastic fishing spots
Where the staff of the River Sportsman shop go for steelhead, salmon and rainbow trout
Owned by the Enns family since 1964, the River Sportsman offers a vast array of salt- and freshwater fishing tackle, plus hunting gear. Manager Dan Drover says the hot baits include flashers and hoochies for salmon, and wool gooey bobs for steelhead. Drover's spots show off Vancouver Island's year-round angling.
More info: River Sportsman, 1-800-663-7217, www.riversportsman.com
QUADRA ISLAND, STRAIT OF GEORGIA, B.C.
GPS: 49.959, -125.145
FISH: Chinook salmon
HIGHLIGHT: Both migrating and resident fish, off the southern lighthouse
WHEN: February to July
ECHO LAKE, B.C.
GPS: 49.987, -125.410
FISH: Rainbow trout
HIGHLIGHT: Stocked lake, with great accessibility and good fishing
WHEN: Year-round
CAMPBELL RIVER, B.C.
GPS: 50.0350, -125.265
FISH: Chinook, chum, coho and pink salmon
HIGHLIGHT: Accessible, action-packed fishing
WHEN: July through October
GOLD RIVER, B.C.
GPS: 49.753, -126.050
FISH: Steelhead
HIGHLIGHT: Pristine river with good fishing for wild steelies
WHEN: February and March
BROWN'S BAY, DISCOVERY PASSAGE, B.C.
GPS: 50.162, -125.371
FISH: Chinook, chum, coho, pink and sockeye salmon
HIGHLIGHT: Good fishing with consistent weather and moderate tides
WHEN: June to October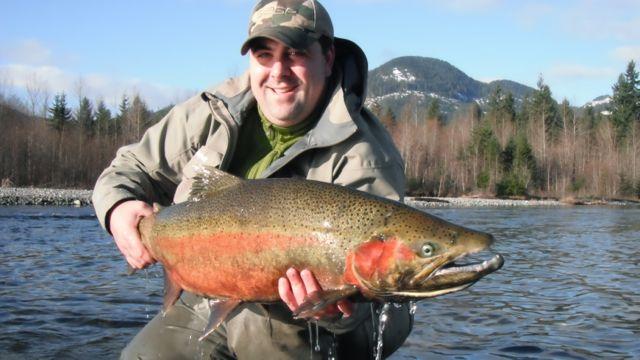 Check out our cross-Canada list of hot angling destinations