Sitting on the frozen waters of Lake Huron over 130 feet of water can be somewhat unnerving, especially at 4 a.m. as the expanding ice booms and echoes under a pre-dawn winter sky. But I was used to ice fishing these big waters, and besides, my graph had my full attention. Suddenly, a mark shot off the bottom toward the spoon I had doing the salsa at 80 feet. I began to raise the bait to draw a strike and, at 50 feet, the mark on the graph caught up with my spoon—the hit left little doubt my hook had connected.
Immediately, the fish peeled off line and headed back to the bottom. Adding pressure on my heavy-action ice rod, I worked the fish back up in the water column only to be answered with another furious run, this time out to the side under the ice. My angling partner, Dennis, was already kneeling beside me at the ready with a gaff, and after a half-dozen more runs we had seven pounds of silver thrashing on the ice. What was this sleek, powerful fish at my feet? A lake trout? Whitefish? Steelhead?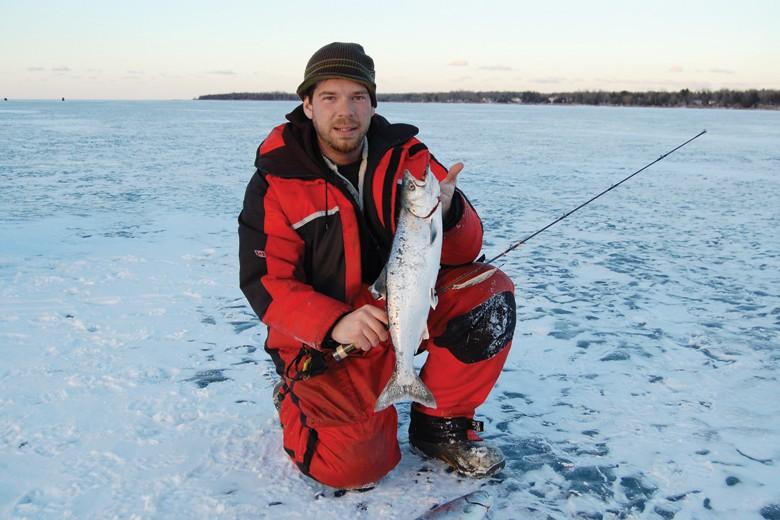 None of the above. It was a chinook salmon that I'd carefully patterned, tempted and iced—a feat that may sound outrageous to many. But for well over a decade now, a handful of us in the know have been ice fishing for salmon on big water. Here's how you can get in on the action, too.
Location: Both Lakes Huron and Superior ice up during normal winters, making them the destinations for ice fishing for chinook. Unfortunately, nothing Mother Nature has thrown at us in terms of weather has been normal in recent years. Sometimes Huron freezes, sometimes it doesn't, and that includes Georgian Bay. The same thing can be said for Superior—the Gitche Gumee can see ice, but it's not always safe. And, of course, safe ice conditions are the first prerequisite when it comes to chasing winter salmon.
Chinook are migratory fish, so they tend to be around one day, gone the next. Careful planning is required to chase them in open water, let alone under the ice during winter. A good starting point is to focus on bays off the main lake that are at least 70 feet deep. Lake Superior, from Nipigon to Sault Ste. Marie, has a multitude of deepwater bays that can support winter salmon. On Huron, areas in the North Channel off the shores of Manitoulin Island's west end have produced chinook, as have the bays and inlets of Georgian Bay—specifically, the waters along the eastern shore of the Bruce Peninsula.
Behaviour: Winter salmon tend to hug bottom contours and structure, so concentrate on drop-offs in water deeper than 70 feet. I prefer to find the basin of the bay I'm fishing and work my way shallower to the first major break in depth. That may be at 150 feet or as shallow as 70. As well, target areas where chinook are caught on the troll during the open-water season; they'll usually set up in these same places well before the ice leaves.
Understanding how bait move can also lead you to winter chinook. On both Superior and Huron, the salmon follow schools of smelt. And while their stomach contents suggest they don't eat many smelt during the winter, there's little doubt salmon follow the smelt, regardless of whether they're actively feeding.
Timing: Chinook are most active during mornings and evenings, when you'll find them off the bottom and roaming around breaks. During the night, they seem to stick close to major bottom structure; then, as sunrise draws near, the salmon become more active and begin to suspend slightly. These are the aggressive fish, so when you find them on your electronics, jig aggressively and at different depths to get them to strike.
Once the sun has crept above the horizon for more than an hour, the fish will once again head back to the bottom of the water column, staying close to structure along deep breaks. Mobility is key to success—use your sonar, GPS and charts to find likely areas and have faith that the fish will be there.
Presentation: Work your spoon with quick, erratic snaps, much like how you would fish for aggressive lake trout. Chinook salmon love to give chase, and often. Watch your electronics carefully to read how the fish are behaving. They can race up in the water column in the blink of an eye, and the strikes are usually blistering. Just be prepared for action once you've drawn the attention of one of these mighty salmon. Work the spoon fast, lifting it 15 to 20 feet up and away from the pursuing chinook, then get ready for Canada's hardest-fighting fish to go ballistic—right beneath your feet.
Gear: I have dropped dozens of lures for hardwater salmon, and nothing performs better than a spoon. My favourites include Williams Ice Jigs, Whitefish, Dartees and Wablers, as well as Mooselook Wobblers and Thinfish. They're all candy for winter salmon.
Because these are hard-fighting fish, picking the right rod and reel is crucial. I use a heavy baitcasting-style ice stick that's roughly 30 inches long and rated for 10- to 25-pound-test line; it's paired with a Shimano Calcutta 100 loaded with 14-pound-test super-line. A stiff rod is imperative because a chinook has an incredibly bony mouth—you can't ram a hook into it during a vertical strike using a soft rod. With a stiff rod and no-stretch super-line, hooksets are virtually instant and you'll miss fewer fish.
Make no mistake—these salmon are strong. When hooked under the ice, they'll surely top any other fish in terms of fighting ability. Just remember to add 15 to 20 inches of high-quality fluorocarbon leader, such as 15-pound-test Maxima, to your main line. This provides a small bit of cushion and an invisible connection to the spoon. Tie a uni-knot to attach the leader to the set-up, or add a micro-swivel, which can also help prevent line twist due to vigorous jigging.