Night Stalker
Why Fishing After Dark Is So Awesome, and How To Get In On the Action
There's nothing like spending a day fishing on your favourite lake. But when the action slows down, it's time to head over to the dark side: night fishing. Once you realize how peaceful, simple and, above all, productive night fishing is, you'll be an instant convert. But what's familiar by day becomes a different world after dark, so here's how to get started.
Preparation
Make sure all your equipment is in top working order. Clear your boat of unnecessary clutter, and double-check that you have all the required safety gear on board. Let someone know where you're heading and bring a GPS unit and cellphone (or, even better, a marine radio).
Knowledge
Night is not the time to explore unfamiliar water. Stick with areas you already know well, and water that isn't strewn with deadheads, sunken rocks or other navigational hazards. Note landmarks such as lighted docks, tall trees and towers that can be seen against the night sky. Stick to areas close to your launch point until you become more comfortable venturing further into the darkness.
Lighting
Always display your boat's navigation lights when you're moving, and keep your white stern light on at all times so other boats can see you. To keep your hands free when changing lures or landing fish, a small LED headlamp is just the ticket, and be sure to carry a powerful flashlight as well, such as the Fenix TK 16.
Gear
Use tackle you're familiar with, and only bring what you know you'll use. You normally won't need to make long casts, so you can thumb baitcasters a little harder or finger the spool on your spinning gear to minimize tangles. And don't underestimate the value of a good-quality, closed-face spincast outfit—its trouble-free qualities shine at night (and no one will see you using it). For easy, after-dark releases, barbless hooks and rubber landing nets are a must.
Lures
Spinnerbaits, tight-wiggling crankbaits and, of course, topwater lures that pop and gurgle all work well at night. Keep retrieves slow and steady—even with topwaters—so fish have a chance to home in on them. Some nighthawks swear by battery-lighted lures, but before using them, check the regulations to make sure they're legal on your waters.
Action
Large fish become aggressive at night and often strike with reckless abandon. Though bass and walleye are the usual nighttime suspects, don't be surprised if you tie into a monster catfish or even the occasional pike or muskie (yes, they do strike at night). Even panfish such as bluegills and perch are game for the night bite. Whatever the case, you'll enjoy a peaceful, beautiful night while adding a new dimension to your fishing.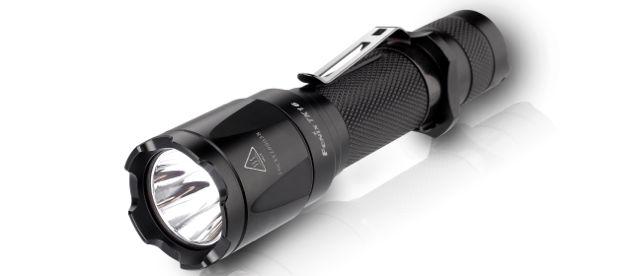 This story was brought to you by Fenix, makers of the tough, ultra-bright TK 16 flashlight, which features one-finger operation, and four brightness modes topping out at 1,000 lumens.