FUEL THE FIRE TV
HOST NEIL DEBASSIGE
Neil Debassige's awesome Ontario hot spots list includes salmon, walleye, bass, muskie and lake trout waters
To compile Outdoor Canada's 2020 fishing hot spots feature story, we turned to our friends at Sportsman Channel Canada. The hosts of 19 Canadian fishing shows agreed to reveal their top choices, along with tips on when to go and how best to tackle the fish. For all the hot spots, see our 2020 Fishing Special issue, or check out the growing list at www.outdoorcanada.ca/2020HotSpots.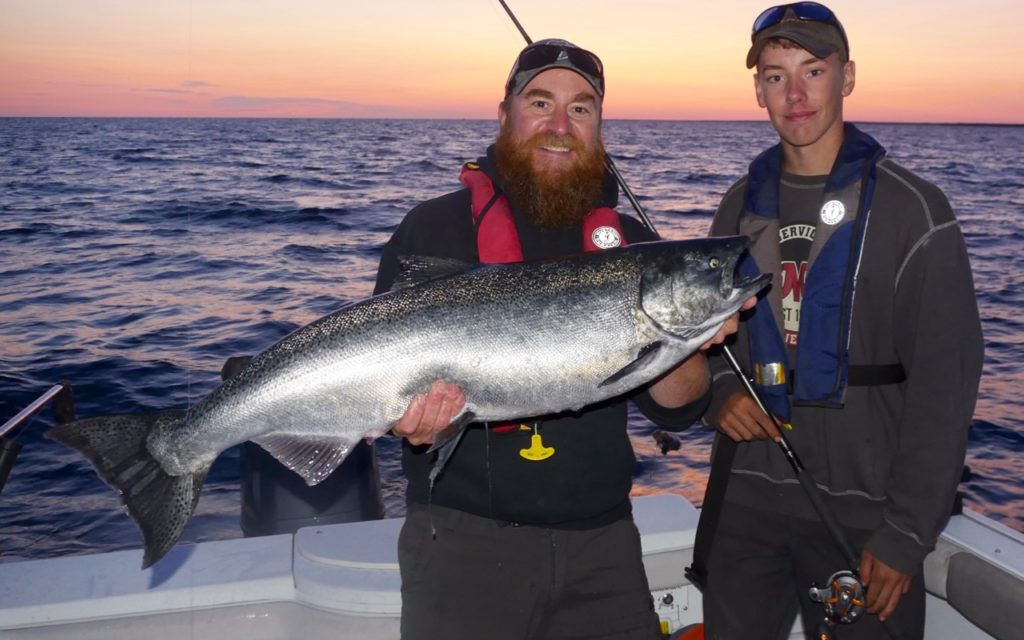 ABOUT THE SHOW
Fuel the Fire TV aims to show how anglers and hunters are participants in maintaining nature's balance, and how the outdoors can in turn help viewers maintain their own emotional, spiritual, physical and mental balance—and fuel their passion to get out there. Learn more: www.fuelthefiretv.ca
MANITOULIN ISLAND, ONTARIO: Chinook salmon
THE ATTRACTION: Fishing along Manitoulin's south shore, the chance to catch big chinook, such as this 26-pounder landed by Jasen Millette (at right, above)
BEST TIME: June through September
TOP TACTIC: Downrigging plugs, spoons and flasher/fly combos.
LAKE OBA, ONTARIO: Walleye
THE ATTRACTION: Accessible by snowmobile, Oba promises an impressive ice-fishing adventure, both in terms of the quantity and quality of walleye
BEST TIME: Mid- to late winter
TOP TACTIC: Suspend live bait below tip-ups.
LAKE BEJEAU, ONTARIO: Largemouth bass
THE ATTRACTION: A breathtaking backcountry paddling trip along Point Grondine Park's Tri-Lakes canoe route to reach Bejeau's bass
BEST TIME: Late summer
TOP TACTIC: Fish topwater frogs and poppers.
LAKE ST. CLAIR, ONTARO: Muskies
THE ATTRACTION: Thanks to St. Clair's conservation efforts in sustaining the muskie sportfishery, you can expect a monster-fish fall bite, with the chance for a 50-incher
BEST TIME: Fall
TOP TACTICS: Troll large hard-plastic baits with erratic actions, or cast and retrieve large soft-plastics.
LAKE MINDEMOYA, ONTARIO: Yellow perch
THE ATTRACTION: This lake on Manitoulin Island hosts a great fall and early-ice bite for jumbos up to 15 inches in length
BEST TIME: October and January
TOP TACTIC: Vertical jigging with live bait.
SPANISH RIVER, ONTARIO: Walleye
THE ATTRACTION: Flowing into Lake Huron's North Channel, the Spanish is a phenomenal example of a healthy walleye fishery
BEST TIME: Mid-May through June
TOP TACTIC: Troll warm harnesses.
LAKE MANITOU, ONTARIO: Lake trout & burbot
THE ATTRACTION: The largest lake on Manitoulin Island, Manitou is home to a great lake trout and trophy burbot fishery, with a fantastic winter bite.
BEST TIME: Winter
TOP TACTIC: Jigging with tubes through the ice.