8 hot spots from the fishing team at Cabela's Winnipeg
The finest waters for trout, walleye, pike, bass and more in southern Manitoba and beyond
After humble beginnings in 1960s Nebraska, Cabela's came north in 2007. Today Cabela's Canada has seven stores, with three more planned, giving it a coast-to-coast presence. Fishing lead Bruno Maynard (above) and outfitter and fly expert Stu Thompson (below) and from the flagship Winnipeg store teamed up to offer these (mostly) Manitoba hot spots.
More info: Cabela's Canada, 1-800-265-6245, www.cabelas.ca
BIRD LAKE, MANITOBA
GPS: 50.667, -95.251
FISH: Walleye
HIGHLIGHT: Camp or stay in a cabin in beautiful Nopiming Provincial Park
WHEN: May and June
LAKE OF THE WOODS, ONTARIO
GPS: 49.115, -94.417
FISH: Crappies, muskies, northern pike, walleye
HIGHLIGHT: Big water with big fish, especially muskies
WHEN: Fall
NUTIMIK LAKE, MANITOBA
GPS: 50.157, -95.676
FISH: Sturgeon
HIGHLIGHT: Catch-and-release rules have increased sturgeon numbers and size
WHEN: May to early June
PATTERSON LAKE, MANITOBA
GPS: 50.647, -100.585
FISH: Brown and rainbow trout
HIGHLIGHT: Small lake with trout up to 30 inches, and little pressure
WHEN: Year-round; spring and fall for trophies
PERCH LAKE, MANITOBA
GPS: 50.446, -100.008
FISH: Brown trout, smallmouth bass
HIGHLIGHT: Beautiful scenery, solitude and very large fish
WHEN: Early spring for trout; early summer and fall for bass
RED RIVER, SELKIRK, MANITOBA
GPS: 50.143, -96.864
FISH: Bigmouth buffalo, carp, channel catfish, freshwater drum, goldeye, northern pike, sauger, walleye
HIGHLIGHT: Fly fishing for big, very strong, non-typical species
WHEN: All summer; June is best
SHOE LAKE, MANITOBA
GPS: 50.658, -95.468
FISH: Northern pike, smallmouth bass, walleye
HIGHLIGHT: Vast numbers of bass make it ideal for novice fly rodders
WHEN: June and September
TWIN LAKES, MANITOBA
GPS: 51.563, -101.457
FISH: Tiger trout
HIGHLIGHT: Unusually aggressive and fast-growing fish
WHEN: Spring and fall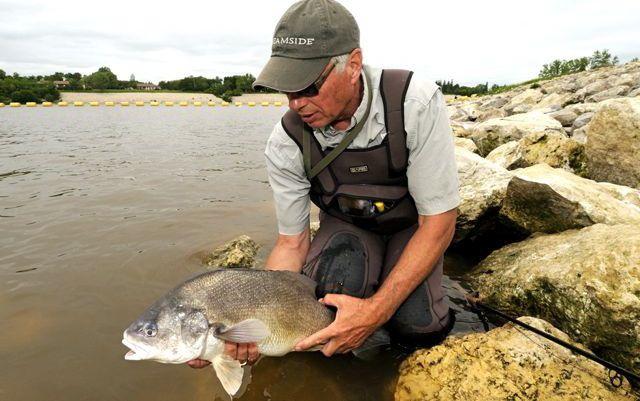 For more on fly expert and rough-fish pioneer Thompson (above), see Gord Pyzer's 2014 blog about fly fishing for drum and channel cats with Stu.
Check out our complete list of hot Canadian angling destinations