Old School
Want to hook kids on angling? Don't treat them as kids
When my grandson Liam was two years old, he would stand on my lap and help me steer the boat. He's 14 now and taller than I am, and he can effortlessly rein in the outboard's 225 horses as we weave through the 14,000-island tangle called Lake of the Woods. And me? I now get to sit in the passenger seat, taking life easy. Liam can also cast a baitcasting outfit more accurately than 90 per cent of adults, and as for using sonar units, GPS chartplotters and electric trolling motors, well, you know how good today's kids are with electronics.
It's the same thing in the winter when Liam and I snowmachine into the backcountry to go ice fishing. If our machines were to break down and we had to spend a night in the bush, I can't think of another person I'd rather rely upon. Here's a kid, after all, who can start a shorelunch fire without matches, build an emergency shelter in freezing temperatures and tie superb knots.
The Gussy Factor
Thirty years ago, I benefited from a similar relationship with a young kid down the street. Jeff "Gussy" Gustafson has since grown up to become not only one of the best bass anglers on the continent—he finished third this year in the FLW Angler of the Year race—but more importantly, a model citizen. I like to think I've played a small role in helping shape these two angling fiends, but at the same time, watching Jeff and Liam evolve has taught me plenty. I say this because most of what I have read and heard over the years about teaching kids how to fish is unadulterated fluff.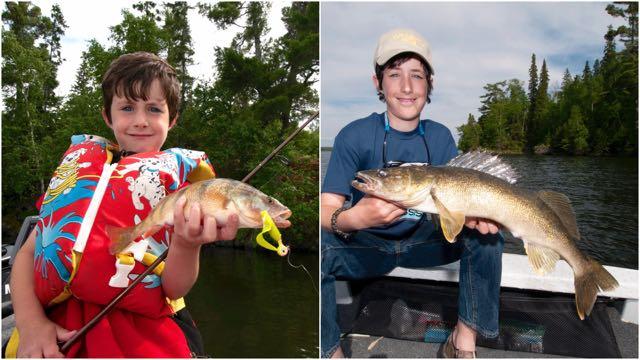 Here is the most important thing I have learned about fishing with young anglers: Don't treat them as kids. We all know that sitting in a boat for hours waiting for a bobber to go under is as exciting as watching paint dry, so don't inflict that punishment on a kid learning how to fish. Instead, let them have at it. As any fly angler will tell you—and as every kid knows intuitively—casting is half the fun of fishing. It's also routinely the best way to catch fish. So, show your young anglers how to do it properly, outfit them and yourself with protective sunglasses, and get out of the way.
I'll never forget smiling every time a young Gussy hopped into my boat wearing his Snoopy life jacket and clutching a quiver of rods in one hand and a multi-tiered tacklebox in the other. Even if Jeff had 35 lures stuffed into his tacklebox trays, I can assure you that by night's end all 35 lures would be wet—even when we were fishing for bottom-hugging walleye that were practically waiting to be picked off with a jig and minnow. Looking back now, I think that's why the kid from Kenora, Ontario, is such a versatile fisherman, and why he's tearing up the bass circuits.
Let Them Fish
You also have to consider a young angler's preferences. In my northwestern Ontario stomping grounds, where we find walleye, lake trout, northern pike and smallmouth bass in abundance, largemouth bass are an exotic species, relegated to a select few locations. Yet for some reason, both Jeff and Liam immediately gravitated toward these big, green fish. I think part of the reason is we targeted them with big rods, thick lines and heavy lures. Plus, casting for bucketmouths in dense cover is exciting.
Even today, Liam will flip, pitch, punch mats and frog for largemouth in spots where the chance of catching one is about the same as winning the lottery. But he loves to do it, as Jeff did before him, so why would I deny him the pleasure? And with that kind of practice, he'll be an ace when he finally does get into good largemouth bass habitat.
The same goes for playing with all of the high-tech tools that grace our boats these days. If you're reluctant to let your eight-year-old touch your sonar unit or chartplotter, think again. A smartphone is dull compared to these fun fishing toys. Before you can open up the manual to check if the kid is doing it properly, he or she will be setting the pages to split screen, saving your favourite profiles, renaming waypoints, programming iPaths and linking up everything via ethernet.
So, take a deep breath and stop treating young anglers as kids. They'll love your fishing trips together even more. And so will you.