A Fishing Guide's Early-season Walleye Tricks
When Top Guide Taro Murata Has to Put Clients on Fish, Here's How He Does It
With the walleye season in full swing across the country now, it is an interesting contrast, to say the least, looking inside the average walleye angler's boat and comparing it with buddy Taro Murata's.
In the spring, most walleye anglers have one, maybe two favourite presentations—typically jigs, rigs and/or spinners—and they stick with those presentations, come what may.
Or, should I say, they live and die by those baits.
Not Murata, who operates Fish City Tours, one of the most unique guiding services, because it not only caters to anglers living in the country's most populous region, but also to tourists visiting Toronto.
And Taro fishes in some of the most improbable locations.
Like a bygone era's "have gun, will travel" bounty hunter, Murata will go to any length to put his guests on fish—usually big fish!
So it is not surprising when you peek inside his Alumacraft boat early in the walleye season, to see more fishing rods than quills on a porcupine.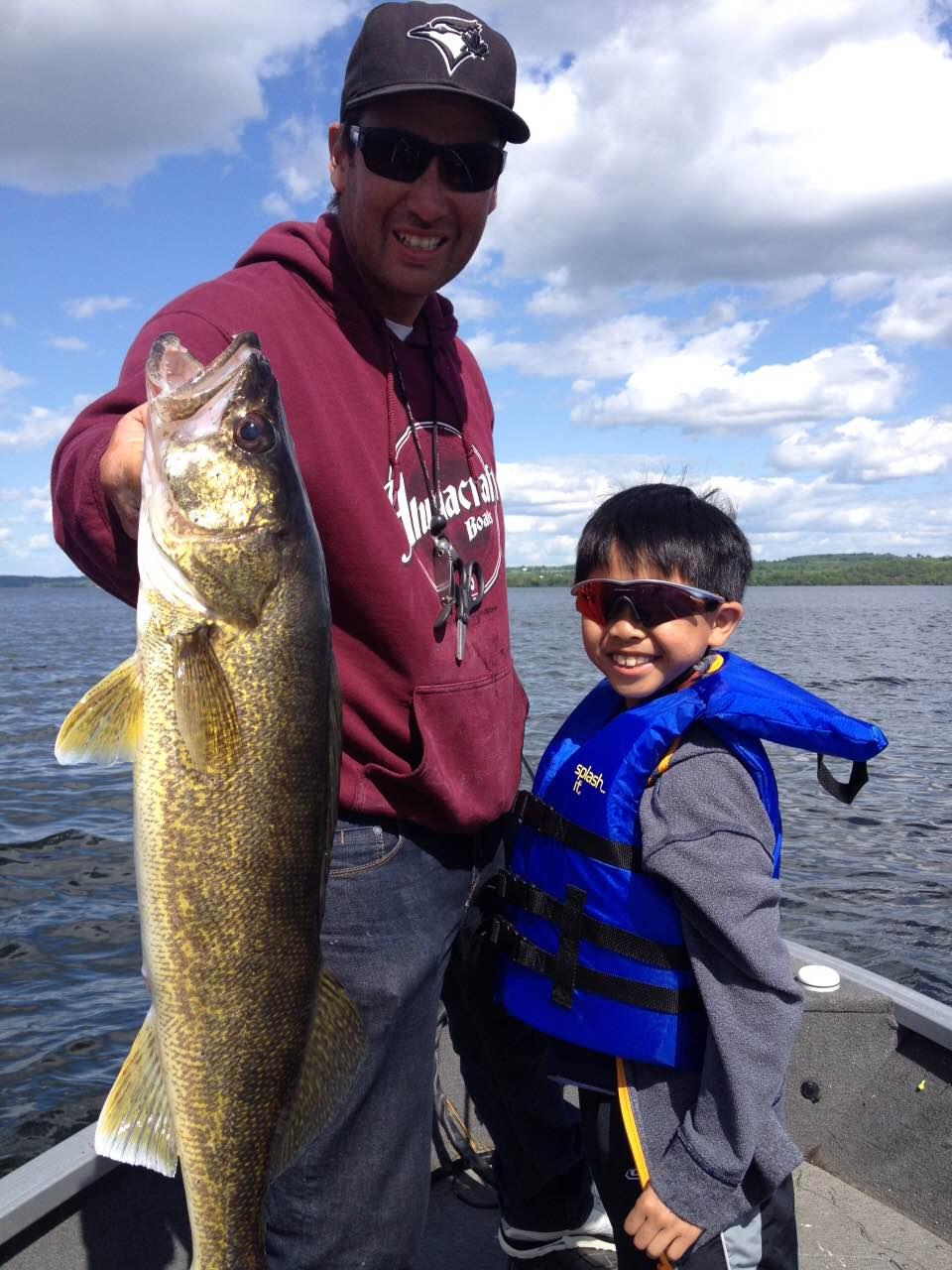 "For me," says Murata, "you can break down early spring walleye patterns into two general categories based on the wind. There are calm patterns and windy patterns, and you need to explore them both, on any given day, to see what is working best."
When the wind is blowing strongly, Murata likes to anchor behind an island that buffets the breeze. Then he drifts jigs tipped with leeches, positioned under a slip float, around horseshoe-shaped weedlines where wind is blowing in. He says the walleyes bunch up on these small spots on windy days.
"When the walleyes are aggressive, however, I like to cast big five- and six-inch swimbaits along deeper weedlines," Murata says. "Typically, at this time of the year, the grass stops growing in about 10 to 12 feet of water."
On hard bottomed, rocky, Shield-type waters, on the other hand, where weeds are often scarce, Murata favours ripping blade baits along deep drop offs, and in holes that range from 15 to 30 feet deep.
"A silver Binsky and a Heddon Sonar with green or chartreuse highlights are two my favourite blades," says Murata.  "I'll also vertically jig Rapala Jigging Raps in these same holes. And if I notice any nearby weed growth, I'll rip a 3/8-ounce black/red or black/yellow bucktail jig.  A Mooneye jighead tipped with a Lunkerhunt Bento Minnow is also awesome."
And what adjustments does the personable pro make when the wind lays down and the surface of the lake is calm?
"Oh, boy, I'll try any number of presentations when it is calm," says Murata. "Gliding light 1/8-ounce hair jigs along weedlines will produce walleyes in the spring. So will dunking and pitching a four-inch jigworm with a chartreuse or bright orange tail.
"I always take the time to experiment, as well, with suspending jerkbaits and floating minnow baits in the spring. You don't need to overwork them, just a nice steady, stop-and-go retrieve will catch plenty of walleyes.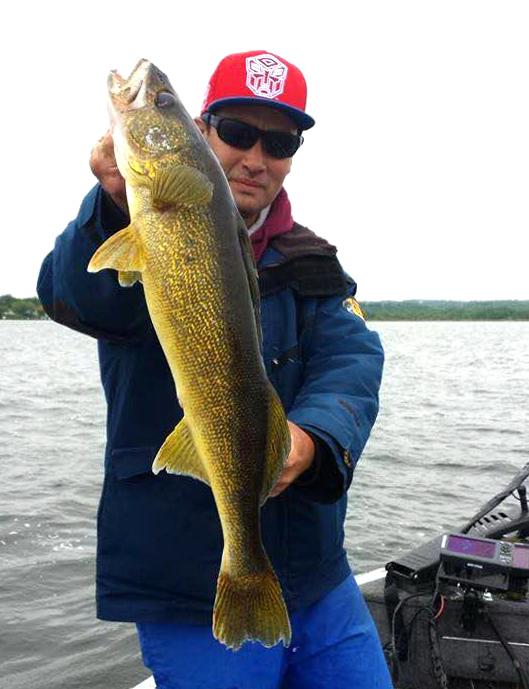 "On sunny days I really like chrome-coloured lures. The flash pulls walleyes out from the weeds and makes big fish hammer your lure. And here's a little secret for you: I never fish a hard bodied bait if it doesn't have an orange belly. If it is lacking one, I'll use orange nail polish to paint it on."
The thing about being a guide is that no matter what the weather throws at you, you're always expected to put your guests on fish.  Excuses simply don't cut it. So, what does Murata reach for in his early season walleye bag of tricks when the bite is tough?
"A veggie-head jig tipped with a leech is deadly when the chase-type of bite falls off," says Murata. "When weeds start to die back, but the walleyes are still holding in the vegetation, this presentation will whack them. It is great any time the strike zone shrinks.
"Firetiger, gold and sunfish coloured lipless crankbaits are walleye killers too. I like fishing them on sporadic weeds flats. I cast them out and retrieve them using a repetitive slow sweep and pick-up-the-slack-style of retrieve. A steady retrieve is also often deadly, especially when you just tick the weeds occasionally. The sound changes in the rattlebait when you bump the lure into the vegetation and it drives the walleyes crazy. The same presentation also works wonders with Tail Dancers, Flicker Shads and Shad Raps.
"Finally, backtrolling a gold, silver, chartreuse, purple or firetiger worm harness is deadly when you notice the weedlines are starting to become less definitive."
Hmmm … now tell me, do you really think that having one rod rigged with a jig or spinner rig is all you need to fully exploit the walleye possibilities this spring?