Recipe: Ancho Venison
This succulent whitetail roast has a touch of heat and a little smoke
Why not enjoy your late-fall whitetail harvest by kicking it up a notch with some herbs, a touch of heat and a little smoke? This dish is just the ticket, promising to awaken your taste buds with flavours that pop. And while this recipe calls for venison roast, practically any cut will work—including the tougher shoulders and hindquarters—thanks to the bacon wrap preventing your hard-earned venison from drying out. Serves 4.
[easy-tweet tweet="This #venison roast from Chef @CameronTait92  is tasty, tangy and utterly succulent, with a touch of heat and a little smoke" user="OutdoorCanada" hashtags="wildfood, deer, elk"]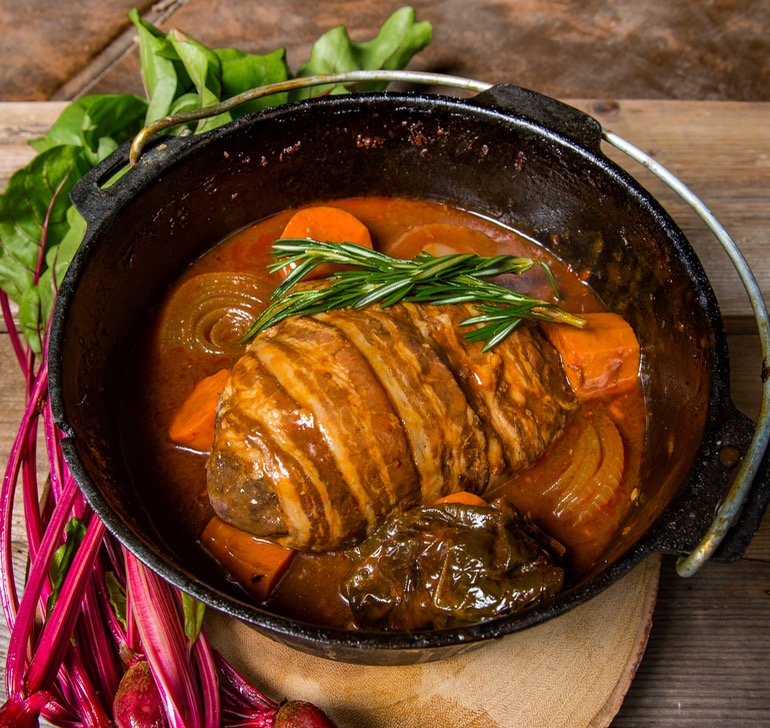 2-3 lb venison roast
4 cloves garlic, halved
Chipotle pepper, to taste
Kosher salt, to taste
6 slices bacon, thick cut
1 onion, peeled, sliced in three rounds
4 carrots, peeled, sliced 1″ thick
1 ancho chili pepper, dried (or fresh poblano)
2/3 cup red wine
½ cup canned tomato purée
½ cup barbecue sauce
¼ cup balsamic vinegar
1 tbsp Worcestershire sauce
4 cups beef broth
1 sprig rosemary
Trim away any sinew and blood spots from venison. Using a small paring knife, make eight one-inch-deep slits, spaced evenly across roast. Insert a half-clove of garlic into each slit.
Season venison with chipotle pepper and salt, then lay bacon on top, slightly overlapping the slices.
Put onions and carrots in a Dutch oven pot, and place prepared roast on top. Add ancho, wine, tomatoes, barbecue sauce, vinegar, Worcestershire and beef broth, then bring to a simmer on a stovetop.
Put a tight-fitting lid on the pot and place in a 300°F oven for 3 hours, or until venison is very tender when pierced with a fork.
Carefully remove venison and let rest for 15 minutes on a cutting board. Transfer carrots, onion and ancho pepper to a platter, and bring remaining sauce to a boil; adjust seasoning to taste if necessary.
Thinly slice venison and place on platter with vegetables; pour sauce overtop, garnish with rosemary and serve.
To watch Cameron Tait prepare this dish and others, go to www.outdoorcanada.ca/food.

FOR THE GLASS
Boasting an aromatic bouquet of currants, blackberries, black tea and cocoa, this dry, full-bodied 2016 Cabernet Franc from Trius Winery at Hillebrand pairs perfectly with venison.