Back to the bobber
Introducing what may be the world's easiest way to catch bass
My friend and In Fisherman magazine contributor Matt Straw is one of the finest bass anglers I know, regularly landing jaw-dropping lunkers from tough fisheries. So, when he wanted a way for his physically challenged son, Clifford, to catch as many toads from the back of the boat as he was catching up front, it didn't take the "Strawman" long to find a solution.
Enter what he calls the bobber-wacky rig. As the name implies, it features a wacky-rigged soft-plastic worm dangling beneath a sensitive float. Essentially, it lets you deadstick in the middle of the water column, and as we all know, deadsticking a bait is one of the best ways to catch pressured fish. While Straw mainly targets smallies with the technique, it works just as well for largemouth bass.
Clifford has since not only used the presentation to match his old man bass for bass, but he's also convinced him to put down his jig, tube and topwater rods to join in the fun. "On many of the lakes I fish, the bobber-wacky rig is king," Straw says. "Many days, it's the only method that produces quality fish." Here's how it all works.
TACKLE
For this rig, Straw spools his reels with 10-pound-test braided line to facilitate long casts. He slides the line through the centre of an A-Just-A Bubble, which has surgical tubing inside that you twist to hold the float in place with the desired length of line dangling below. He then adds a small swivel and ties on a three- to five-foot leader fashioned from six- to 10-pound-test fluorocarbon. Straw finishes the rig with a single AAA splitshot just below the swivel, and a three-, four- or five-inch soft-plastic worm skewered through the centre on a #4 Eagle Claw Wacky Worm Hook or Gamakatsu Baitholder Hook. To cast the rig out as far away from the boat as possible, he uses an eight-foot rod.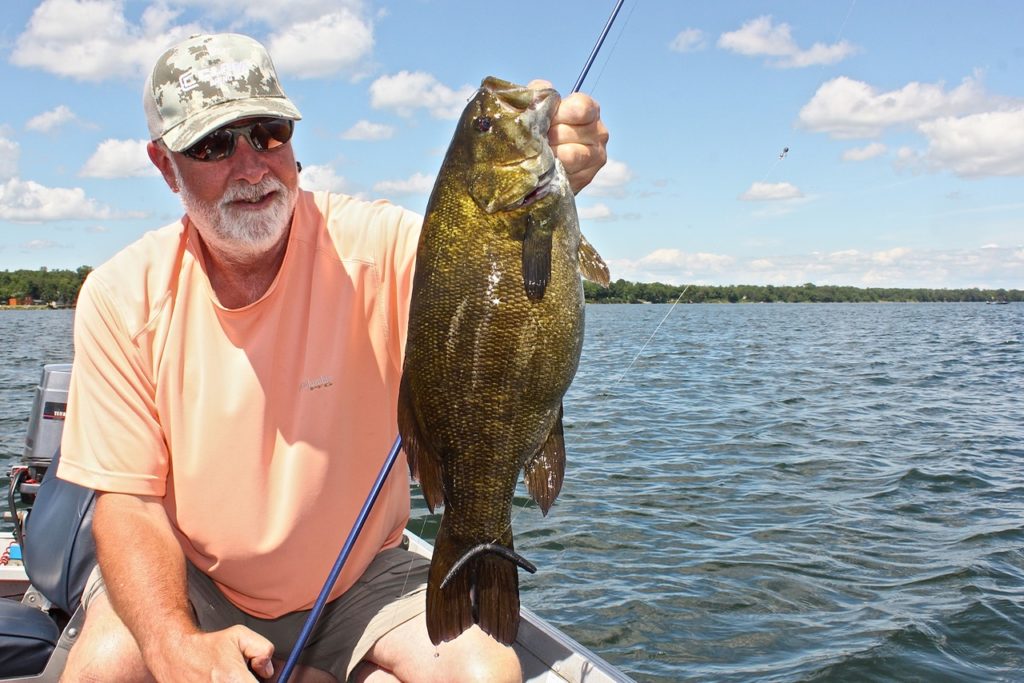 LOCATION
"I use this rig over boulders, sometimes with scattered cabbage along the edge," Straw says. "I also use it around reed beds and for fish suspended off the edge of sharp breaks. Some days you need to twitch the bobber vigorously in place, or while pulling it slowly toward you. Other days, the bass want the up-and-down drift under the waves."
And speaking of waves, Straw says the wind complements the presentation, making it even better. "I've experienced huge success when water was coming over the bow of the boat and people on board were turning green," he says with a chuckle. The best scenario, he says, is a one- to two-foot chop so that the resulting up-and-down motion of the rig is a little slower and more rhythmic. No matter what the conditions, he says he'll chuck out a bobber-wacky rig whenever he's otherwise busy with the likes of tying knots or eating a sandwich.
TECHNIQUE
As with most elite bass anglers, Straw's boat is equipped with the latest gadgetry, including a powerful electric trolling motor with an automatic-positioning feature. Still, he insists it's better to drop an anchor, sometimes two, to precisely position the boat. "I do much better if I position the boat so I can drift the worm over key spots," he says. "Then I cast either crosswind or downwind and let the bobber drift and cover water."
Straw recently fished on a popular lake in Texas with legendary guide Richie White, who says every big fish of 10 pounds or better has already been caught several times. "And every time it has been caught, it heard the whir of a trolling motor just prior," Straw says, stressing the need for a quiet presentation for heavily pressured fish. "I turn off everything—depthfinders, trolling motor and livewells. That's what bass fishing is coming to, and why bobber-wacky rigging is so successful."
Catch Gord Pyzer on the Outdoor Journal Radio Show on the Fan 590. See www.odjradio.com for times.

Straw's selects
In Fisherman's Matt Straw cycles through a variety of soft-plastic worms to find the size, shape and colour the bass like best for his bobber-wacky rig. For years he's relied on three-, four- and five-inch Jackal, Yum, Gulp! and PowerBait finesse worms. More recently, he added Senko-style stick worms to his arsenal. As for colours, Straw opts for natural hues, noting that the real attraction is the subtle vibration of the worm, not the colour.