Beyond Tarpon
In Tortuguero, fishing isn't the only game in town. Other pleasures include shopping, spas, blender drinks, beaches and eco-tours.
By Jacqueline Kovacs
You have to figure the editor-in-chief of Outdoor Canada—a man who is happiest out on the water fishing or quietly hunting in the forest—would be married to a woman who shares such outdoor passions. Or at least likes to camp. But you would be wrong.
While I'm not a shopaholic or a weekly salon client, I am a city girl and I love what big cities have to offer: gorgeous architecture, fine dining, sight seeing, shops, open-air markets and five-star hotels. In short, I don't like to rough it in any way on holidays. To me, the term "rustic vacation" is an oxymoron.
But I also hate cold weather, so when my darling husband dangled the prospect of a getaway to Costa Rica in frigid February, resistance was futile. Besides, my role on this trip—to suss out activities for non-fishing spouses—had great appeal.
And so it is that I find myself at Toucan & Tarpon, in the rainforest of Costa Rica, and about as far away from a five-star hotel as the -25°C weather is. And both are actually good things. A sprawling hotel complex would truly spoil the experience of sleeping in the jungle—the rain on the tin roof and the howler monkeys' wake-up calls—but our little cement-and-tin cabana fits right in. So does the planet-friendly off-grid infrastructure, set up by owners Jeff and Sue—electricity comes from solar panels and the clear, very drinkable water is from an on-site well.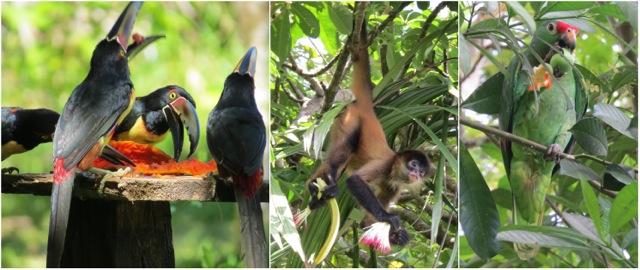 The grounds themselves include the kitchen hut, four guest cabanas, a tiny wading pool and a couple of hammocks to chillax in while reading or watching the toucans, parrots and monkeys (above). Not a bad way to pass some time while hubby seeks the tarpon.
But I'm not one to sit around long. So for $2, I take a five-minute taxi boat into the village of Tortuguero, population 1,500, and easily take in the local culture—easily because the spit of land that makes up the village is accessible only by boat or plane, so getting around means biking or walking. I start with a stroll down the main drag—a dirt road that winds past little shops and kiosks with jewelry, purses, beach cover-ups and trinkets, restaurants offering full-on meals or snacks and batidos (what we would call fruit smoothies) as well as local outfitters offering guided canoe rides through the area's famous canals. And even a city girl like me was intrigued—how many people can say they've paddled through the only growing rainforest on the planet?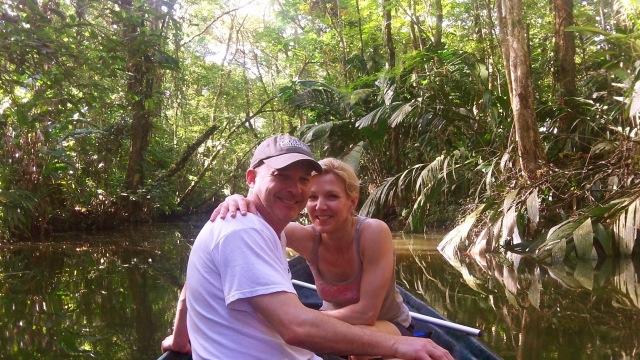 And now I can—and so can my husband (above). Seems that, while I was out strolling the village, he was busy landing an 80-pound tarpon (see "Welcome to the Jungle.") Which is awesome, except he hurt his shoulder. So that meant a day off from fishing and company for my rainforest paddle. Guess who did most of the paddling? Yeah, that would be me so that Patrick can rest his shoulder. But that's because I'm something of a gym rat and adopting an easy pace for a couple of days makes me crave a little activity. Boy, did I get it.
Our three hours of canoeing through the rainforest canals of Tortuguero National Park is amazing—the unbelievably green, dense, vine-covered jungle is movie-set perfect, with surprisingly sweet air. The birds are spectacular—green parrots, ospreys, kingfishers, herons, toucans and my fave, Montezuma oropendulas. The place is a birdwatcher's paradise. Still, it's hard to beat seeing the graceful spider monkeys move swiftly, arm over arm, occasionally with a clinging baby, over our heads. Also cool, but on a much smaller scale, ,was our safe-distance look at a bright red frog—no bigger than my thumbnail—that is apparently deadly.
Having done all of this outdoor stuff, including a two-kilometre jungle hike along the national park's Gavilan Trail, I figure by day four it's time for a little girly indulgence. Lucky for me, the village has just the place—The Espanola. To find this hidden gem, you have to walk all the way down the main road, then follow the signs down a path and over a makeshift bridge. Suddenly ,you arrive at a two-story building with a set of stairs on the outside.

At the top of those stairs is another world: an open-concept, cool white room with a cushy lounge area, a single hair-washing stand and a hairdressing station. The owner, Christina, gives me a friendly greeting and motions to the massage area. Located outside on an upper balcony overlooking the jungle, the massage table is discreetly cloaked by long white curtains that billow in the breeze. The one-hour massage, complete with incense and scented oil, is beautifully enhanced by the calls of wild birds and the distant roar of the ocean.
It's that same ocean I'm longing to swim in, but we've been warned that the current has deadly strength and that even the locals rarely go swimming. Still, to be by a beach and not actually on said beach seems criminal to me, so that is where I spend part of our last day.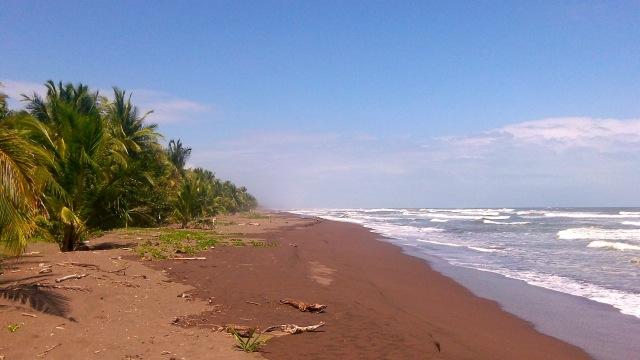 The Tortuguero beach (above) is actually a huge tourist attraction, but not so much for the sun, sand and surf. It's a protected, world-famous nesting ground for four species of sea turtle—a phenomenon that brings thousands of ecotourists to the tiny sandbar village every year.
As I sit reading my book and trying not to think about swimming, little groups of camera-toting tourists shoot pictures of the dozens of three-foot wide hollows in the sand where the giant turtles come to lay their eggs. But since it's not nesting season, the groups are few and far between. So I get to enjoy my book, the ocean breeze and a whole lot of bliss. The perfect wrap-up to a no-frills—or few-frills—getaway.
Which just goes to show: even a city-slicker type like me can get healthily recharged by unplugging and spending a little quality time with nature—no fishing required.
Tortuguero, Costa Rica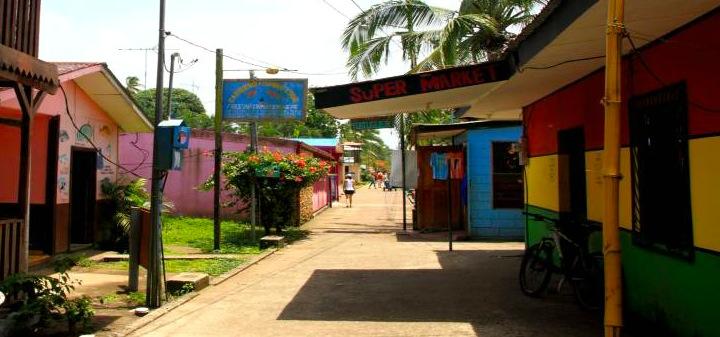 For a complete guide to Tortuguero and environs, go to www.tortuguerovillage.com.