Welcome to the Jungle
Tarpon, toucans, monkeys, good eats and more, on a his-and-her tropical getaway to Costa Rica
The last time I saw Sue Sutton, she shot a black bear that was brazenly wandering through the grounds of Johnston Island Lodge. That was in 2012, her 16th and final season of keeping visiting anglers happy and well-fed (and protected) at the Lakers Unlimited lodge on northern Saskatchewan's Lake Athabasca. And the last time I was saw her partner, Jeff Perala, was a few years before that. He was helping guests catch giant northern pike out of Johnston Island's sister fish camp, Spring Bay Lodge, farther to the west on Athabasca. So, I was somewhat surprised when I got an e-mail from them saying they were opening a new lodge, an entirely eco-friendly operation in the Costa Rican rainforest.
Okay, I wasn't entirely surprised. For Jeff, 54, and Sue, 51, the lodge life is clearly in their DNA—and the more far-flung the better, apparently. After Jeff sold his interest in the two Lakers Unlimited lodges in 2011, it was only a matter of time before he and Sue would set up elsewhere. That same year, in fact, Jeff decamped to the warmer climes of Tortuguero on Costa Rica's Caribbean coast. He'd already been going there since 2004, during northern Canada's fishing off-season.
"I wanted to see cool bugs. I wanted to see snakes. I wanted to see everything," Jeff says of his first visit to the remote village, which can only be reached by air or water. "I wanted to get away from the pressures of Canada and see something totally different."
At the time of that first visit, Jeff and Sue had already been toying with the idea of buying a property in the tropics, and Jeff was soon enough sold on the idea of Tortuguero. The next year, he brought Sue with him. "Sue got off the plane, saw those parrots, and said, 'Yeah, I'm in.'"
That year, they purchased a five-acre slice of jungle across the Tortuguero River from the like-named village. "When we bought the property, we thought, 'What are we going to do?'" says Jeff. The answer was to create "a small, intimate jungle lodge," something the Tortuguero area, already well served by a number of high-end fishing resorts, did not have.
But it wasn't until late 2012, once they'd both left Lakers Unlimited, that the pair began to build the off-grid Toucan & Tarpon Lodge, aiming to lure ecotourists and anglers alike to their newfound paradise. "It was pure jungle," Jeff says, describing the property when they first started making clearings to build the initial three cabins and communal kitchen and dining area. And it still is, as the locals say, pura jungla.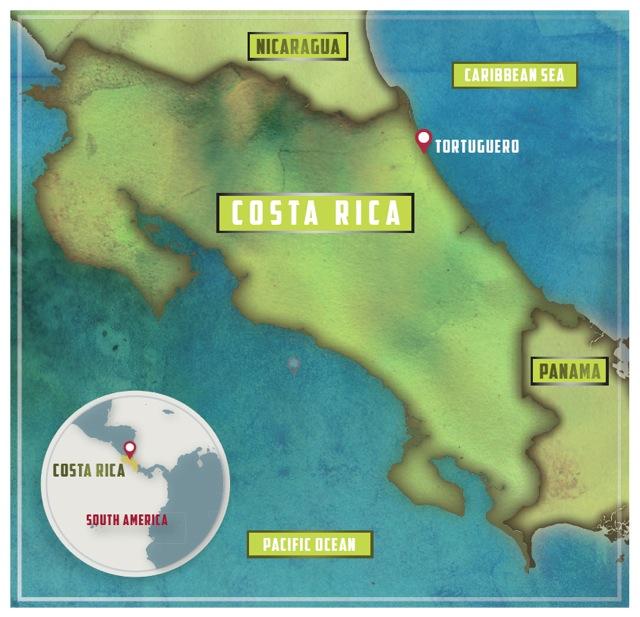 Back to that e-mail announcing their new Central American venture. What really caught my eye was the word "tarpon." There's a reason they added it to the name of their lodge: while billfish, roosterfish and tuna are the prized quarry for anglers off Costa Rica's Pacific coast, the main event on the Caribbean side is tarpon. Sure, you can also tackle the likes of barracuda, dorado, jack crevalle, snook and wahoo along the east coast, but I was singularly interested in catching Megalops atlanticus.
These are hefty fighters, the biggest maxing out at around eight feet and weighing as much as 350 pounds. "It's rare to catch a tarpon less than 60 pounds," Jeff says of the Tortuguero variety. "Most of the ones we've caught have been between 60 and 110 pounds." His biggest? Almost 200 pounds. "A friend of ours caught its double a couple of years later."
And tarpon are pure muscle, renowned for legendary runs and repeatedly heaving their chrome-scaled mass completely clear of the water once hooked. I'd seen enough videos of these fish in action to know just one thing: I had to, sooner or later, catch one. Plus, I'd never been to Central America, so the idea of paying Jeff and Sue a visit was intriguing.
With all that in mind, I replied to the e-mail: "When can I come?"
And oh, I slipped into the message, in so many words, can I bring my wife?
Here's the thing: I embrace winter. I downhill ski. I love to tromp through the snow-filled grouse woods on crisp, clear December days. I enjoy fishtailing my truck on slick roads. And I'm always up for trekking into frozen backcountry lakes to catch trout through the ice. My wife, Jackie, does not embrace winter. She hates winter. Loathes it, actually. So for me to take off to some southern clime for a week without her, it would have been, well, a tough sell.
So I came up with a plan: while I worked diligently at scratching tarpon off my piscatorial bucket list, Jackie, who is also a journalist, would investigate Tortuguero's decidedly non-piscatorial pursuits, and together we would write about our his-and-her getaway (see "Beyond tarpon" for Jackie's take on Tortuguero).
All of this meshed nicely with Jeff and Sue's goal of catering to anglers as well as those simply wanting to experience Tortuguero's famed flora and fauna. "Not a lot of guys brought their spouses to Lakers Unlimited," says Sue, "but there's a lot more to do here for those not so keen on fishing." And so they invited Jackie and me down early last February to check it all out.
As it turned out, I was the lodge's first official angling guest, so Jeff was as eager as I was to put some tarpon in the boat. I was confident he would be able to put me on the fish, having watched him and his guides in action up on Lake Athabasca. Plus, he long ago had the foresight to hire the services of brothers Toni and Denis Williams, who grew up fishing the Tortuguero River and myriad canals sluicing through the surrounding coastal rainforest.
Our first day out, Toni, 29, joined us aboard Jeff's 28-foot fibreglass panga, its name Sabaloco an amalgam of the local Spanish word for tarpon, sábalo, and, quite fittingly for a fishing-mad guy like Jeff, the Spanish word for crazy, loco. Along with providing enough room for four anglers to fish in comfort, the boat was custom-made in neighbouring Nicaragua for the additional purpose of hammering through the breaking surf to reach the open waters of the Caribbean.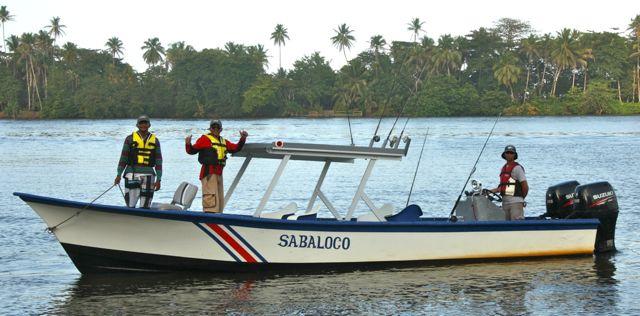 "After fishing here for six or so years with Toni, and watching the rivermouth, it was clear that the local sportfishing charter boats they use often had a lot of trouble getting out," says Jeff. "Then one of the locals with his 28-foot panga, known as a 'Rambo' boat because it can take on anything, would come around the corner and out he'd go, no problem. If we wanted to get out almost all the time, we needed something like that."
On this day, though, we wouldn't be heading out to sea in Sabaloco. Although the air was jungle hot, it was raining and windy, and the surf, a series of four different breakers actually, looked particularly nasty. Jeff had warned me that February can be a tricky time for traversing the surf to reach the prime tarpon waters. "The ocean is a bit rougher on average at that time," he says, "but there are options for great fishing. No doubt about it."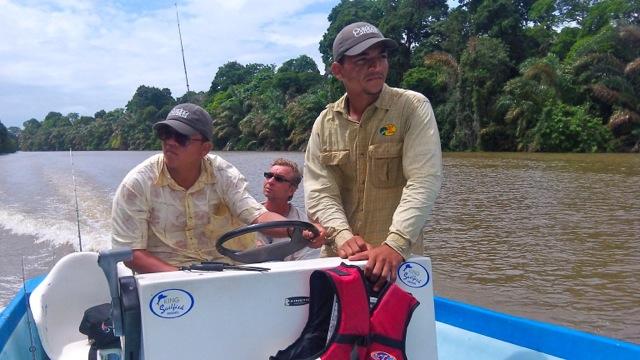 So instead, we fished the mouth of the Tortuguero, inside the crashing waves, hoping to pick up some tarpon making their way up the brackish river to feed or spawn. The game here was to throw out giant Rapalas, letting the tidal backdraft suck them out toward the surf, then hold them in place, quivering in the current, waiting for a strike.
While we didn't connect with any tarpon that first day, I did manage to cross another species off my fishing bucket list—the jack crevalle, a tough, blunt-nosed customer that clearly did not enjoy getting hooked. These fish put up a great fight, and despite what I read about them not making for terribly good eating, they were delicious—either that or Sue is just that good in the kitchen, armed as she is with her long list of multi-cultural fusion recipes. I particularly enjoyed her ceviche creation, which I secretly snacked on for the rest of our visit.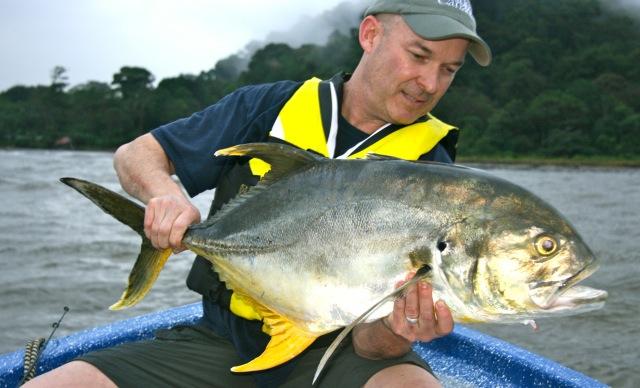 The next day, 26-year-old Denis joined Jeff, Toni and me, and this time we were determined to get beyond the surf. Since Denis had long ago proven adept at this tricky task, he took the helm, waiting for just the right alignment of the four different breakers to pick a course and punch the twin 115-horse outboards. I have to admit, it was a hairy ride, and I let out a whoop as we crested the final breaker and shot out into the open expanse of the Caribbean.
Unlike fishing the tidal surge on the inside of the breakers, this time we would be jigging, dropping down size 10/0 circle hooks pinned with live, miniature jack crevalle the size of tiny bluegills. We'd them caught earlier on our way toward the rivermouth, using light spinning gear to cast and retrieve sabiki rigs—arrays of six or so dressed stinger hooks branching off a main line. My record was four hook-ups at once, and we filled the bait bucket in short order.
I'm a start-to-finish type of angler, so I'd like to think it was one of my tiny jacks that sealed the deal on my first-ever tarpon. We were anchored in 50 feet or so of water in the gently undulating swells, and I was doing exactly as instructed when it happened: let the bait, aided by an inline weight, drop to the bottom, reel in a tad so it's suspended, then wait for the tell-tale tick, tick, tick of the big level-window as a fish takes the offering. Then it's time to quickly reel down to take up the slack, engage the drag and reef up on the rod, setting the hook.
At the sound of the rod ticking, Toni exclaimed, "Hey! Set!"
"I know," I said calmly, and seconds later the battle had begun, with the fish immediately rocketing to the surface as I reeled in like mad to keep the line taut.
"Reel, reel, reel!" yelled Denis, watching the line bow slightly as the fish got closer to making it's first appearance.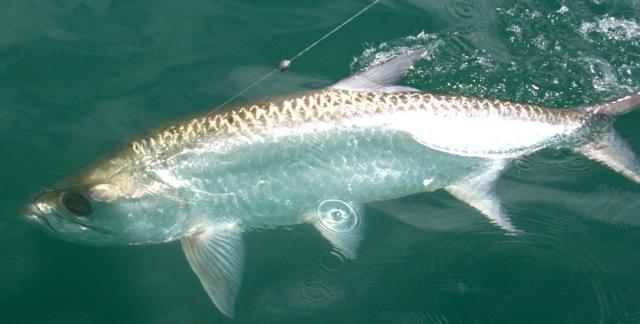 And then it broke the surface, flinging its entire body into the salty air (feature photo, top of page). It was indeed a tarpon, and as far as I could tell, a big one, too. Three more times it put on a Sea World-worthy show, punctuated by screaming runs that surely tested the 120-pound fluoro leader and 40-pound braid main line. When I finally got the beast boatside and somewhat subdued, out came the gaff.
I really didn't know what to expect, and at first I was taken aback at the prospect of sticking the fish. But because the gaff tip only makes a small incision in the membrane inside the tarpon's lower jaw, lip gaffing is considered fairly safe for the fish. My only regret is that in the ensuing pandemonium of hauling the giant fish aboard, removing the hook and getting it back into the water as soon as possible, we really didn't get the best trophy pictures. But we did get photographic evidence, and I suppose, along with actually catching the thing, that should more than suffice.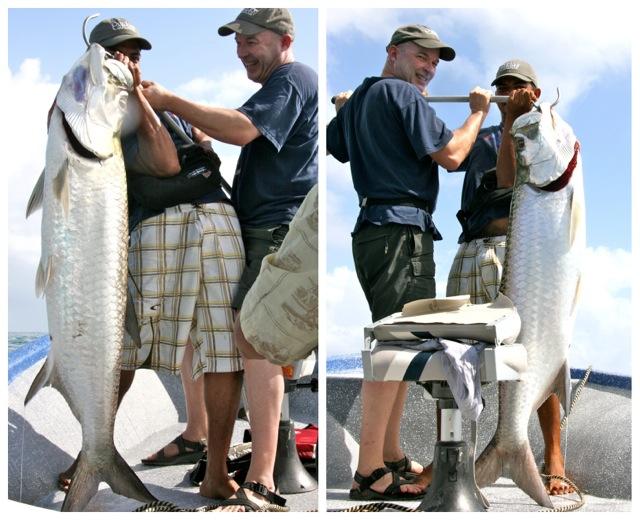 And on we fished, catching more jack crevalles and then, my second tarpon, an even bigger one that mustered two full-bodied aerials before I final got it to the boat. Jeff eyeballed it at 80 pounds, but if you'd asked me, I would have bicep-bet it was 20 pounds heavier. But I deferred to his better judgment. Unlike Jeff, three years my senior and still wiry tough, I could probably use a reality-check gym visit.
And while my chronically aching right shoulder was crying out for Ibuprofen, I was a very happy man. Mission accomplished, freeing me up to join Jackie for a few couple's excursions during our remaining days at the lodge. Jeff, Toni, Denis and I would go on to do more fishing, chasing multi-hued vieja, snook and such in the canals, and even taking a run up the labyrinthine canal system to Rio Colorado, another renown tarpon river, near the border with Nicaragua. But those first two bucket-list tarpon remained the angling highlight of my time in Tortuguero.
My own personal rumble in the jungla.
Toucans & Tarpon Lodge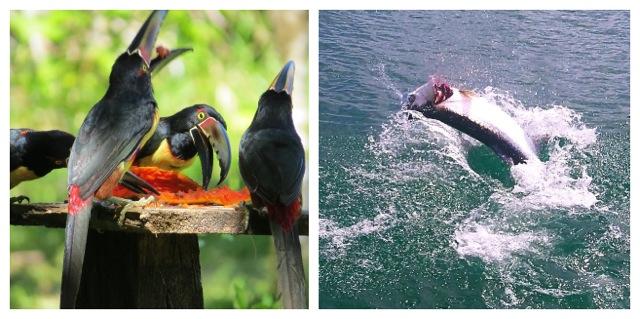 To learn more about Toucan & Tarpon lodge and the fishing opportunities, visit www.toucanandtarpon.com.