Blue Fish Radio
Exploring the salmon vs. bass controversy in the Maritimes
Outdoor Canada is pleased to present Blue Fish Radio—podcasts about the future of fish and fishing in Canada. The program, produced and hosted by Lawrence Gunther, is dedicated to sharing first-hand angling knowledge, scientific discoveries and supporting local champions who protect and enhance their waters.
Once nearly extirpated, striped bass populations in eastern Canada (and New England) have exploded. And in some areas, Atlantic salmon advocates believe this has had the undesired side effect of reducing salmon populations, as the bass gobble up young salmon.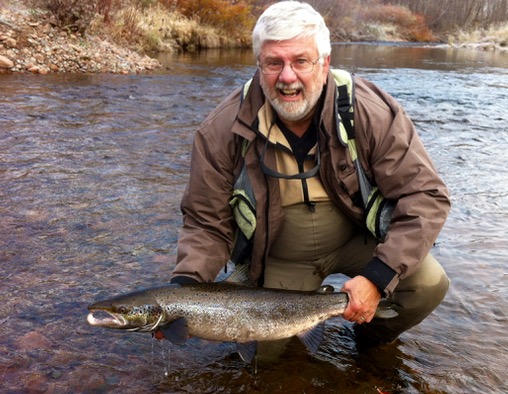 In this episode, host Lawrence Gunther talks to Nova Scotia fishing guide and outdoor writer Carroll Randall (above), who describes how and why river fishing along Canada's East Coast is changing. Randall sheds light on the issues facing the region's recreational fisheries, and what they mean for the future of fish and fishing.
To listen now, press PLAY below. To download this podcast to your device, go to the Blue Fish Radio home page.
To learn more about Carroll Randall (or to book a guided fishing adventure) visit: www.dacarafishin.ca