BOB IZUMI'S REAL FISHING SHOW
HOST BOB IZUMI
Bob Izumi's top spots span the country, including B.C. halibut, Ontario brookies, Quebec bass and more
To compile Outdoor Canada's 2020 fishing hot spots feature story, we turned to our friends at Sportsman Channel Canada. The hosts of 19 Canadian fishing shows agreed to reveal their top choices, along with tips on when to go and how best to tackle the fish. For all the hot spots, see our 2020 Fishing Special issue, or check out the growing list at www.outdoorcanada.ca/2020HotSpots.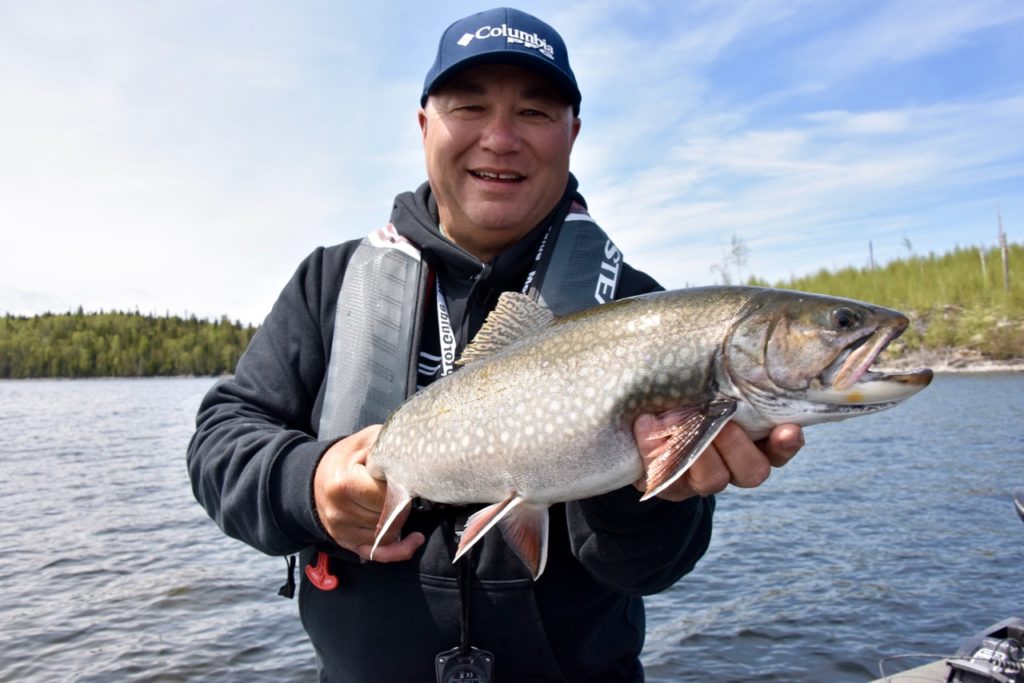 ABOUT THE SHOW
First aired in 1983, Bob Izumi's eponymous show has made the affable host one of Canada's most recognizable angling personalities. Each episode is designed to educate and entertain anglers on all aspects of angling, from techniques to tackle to travel, all with an emphasis on having fun. Learn more: www.realfishing.com
LAKE NIPIGON, ONTARIO: Brook trout
THE ATTRACTION: There's a good chance of not seeing another angler for days as you catch multiple trophy brookies
BEST TIME: The entire brook trout season
TOP TACTIC: Cast small spoons, such as the Johnson Shutter, around boulders in shallow water.
LAKE ONTARIO, ONTARIO: Smallmouth bass
THE ATTRACTION: The smallmouths are getting bigger each year, with some tipping the scales at more than seven pounds
BEST TIME: Late June to September
TOP TACTIC: Drop-shot finesse baits such as three-inch Gulp! Fry (green pumpkin) or four-inch MaxScent Flat Worms (black or green pumpkin)
LAKE ST. FRANCIS, ONTARIO/QUEBEC: Smallmouth & largemouth bass
THE ATTRACTION: The opportunity to fish shallow or deep for smalljaws, or probe heavy cover for fat bucketmouths
BEST TIME: The entire bass season
TOP TACTICS: Flip for largemouths in reeds with a PowerBait Crazy Legs Chigger Craw; drop-shot finesse baits for smallies.
LAKE WINNIPEG, MANITOBA: Walleye
THE ATTRACTION: The light, iridescent colours of the resident "greenbacks," combined with the chance to hook a trophy
BEST TIME: The entire hardwater season
TOP TACTICS: At the southern end of the lake, jig half-ounce lipless crankbaits, such as the Berkley Warpig or Sébile Flatt Shad
LANGARA ISLAND, B.C.: Pacific salmon & halibut
THE ATTRACTION: Breathtaking scenery in a remote location, with great fishing and the chance to see whales, orcas, bald eagles and other wildlife
BEST TIME: May through September
TOP TACTICS: Try mooching for salmon with cut-plug herring, and bottom fishing for halibut
ALSO PICKED: Lake Erie, Ontario, for smallmouth bass
*This hot spot was picked by other anglers in our survey. Find the complete list at www.outdoorcanada.ca/2020hotspots.