Pro Pointers from Bob Izumi
How to crush both largemouth and smallmouth on opening day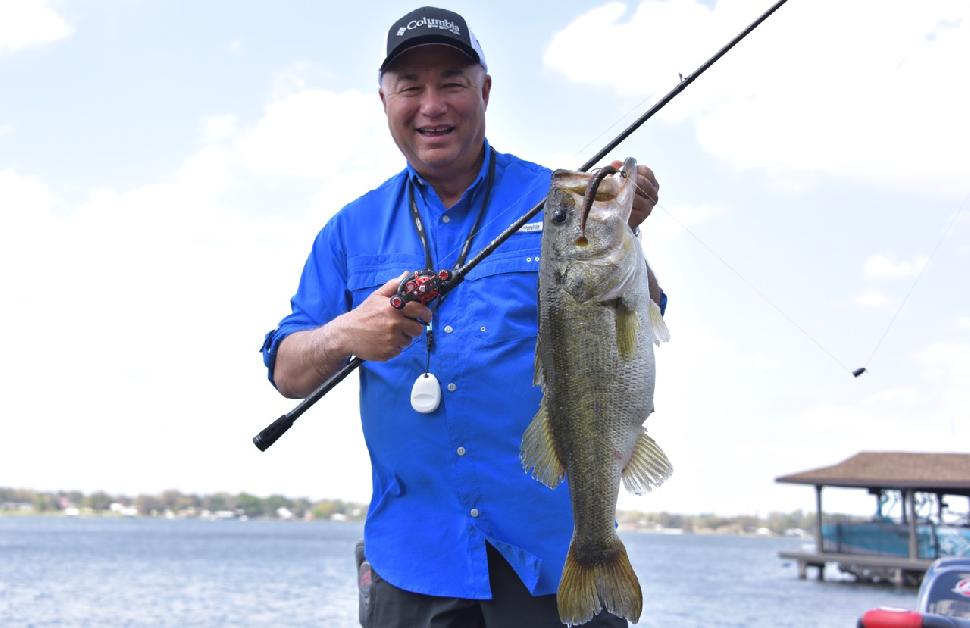 Largemouth Bass
Start Shallow
Once the season opens, Izumi rarely targets largemouth in water deeper than five feet and doesn't stray far from their spawning areas. He covers a lot of water to find the biggest fish, which are most often solo. Finding big, spawned-out females already off the beds and starting to recuperate is the goal. Izumi also looks for areas that are "alive" with other species, a good sign that baitfish are in the vicinity. If he hears sunfish smacking at the surface as they feed, for example, or simply swimming around, he knows he's in the right place.
Find Shade
Play the angle of the sun early and late in the day, Izumi says, noting that docks are prime shady spots. But you have to fish them properly. For example, it's always important that your first cast, skip or flip be to the shadiest side, he says. Under wavy conditions, however, he fishes the wind-blown side first. "The best docks offer ample shade and are constructed of wood."
Even if a dock's not ideal-looking, it can still be a high-percentage spot to hold fish if it's the only dock in the area. If there are several docks around, on the other hand, first target the ones that are lowest in the water, as they offer the most shade. If they're bordered by weedlines, Izumi adds, all the better. And don't overlook the depression created by the prop-wash of a docked boat, as it can often hold fish.
As for presentation, Izumi skips a green pumpkin or black Berkley Havoc Flat Dawg or Yamamoto Senko soft-plastic stickbait beneath docks using a seven-foot medium-heavy spinning rod. He spools his reel with 15-pound braid and ties on a four-foot fluorocarbon leader. Rigged weightless—either Texas or wacky style—the stickbaits excel in clear water, Izumi says. "I skip it under a dock or throw it along a shade line and let it soak and use my rod tip to drag it three or four feet. The fish will hit it as it's sitting on the bottom, or when I scoot it up and let it fall back down."
Pick Apart Cover
In clear water, Izumi also seeks out largemouth that are using reeds and undercut banks as cover. He prefers isolated pockets of pads around the same size as a boat or the hood of a truck. "You can cast on either side, the front face, the side face and right in the middle, dissecting them in six casts." For this, he uses soft-plastics with appendages, such as black-and-blue Berkley PowerBait Crazy Legs Chigger Craws. Strike King's Rage Tail DB Structure Bugs are also a great choice. He rigs them on a stout straight-shanked hook with the lightest tungsten sinker possible that can penetrate the cover.
Meanwhile, on overcast days, early in the morning or when it's raining, he targets weedflats in less than eight feet of water. In this case, he fishes parallel to the weeds, but targets the inside and outside edges, as well as the middle of the flats.
Move Around
Since largemouth bass don't group together in the early season, as they do later in the summer, you have to search as much water as possible to find them, Izumi says. A swimbait rigged weedless with a belly-weighted swimbait hook is one of his favourite patterns for covering a lot of water.