Decadent Almond-Crusted Walleye
You'll be blown away by this simple, sumptuous fish dish
One of the highlights at the Mid-Canada Boat Show every year is the Celebrity Chef Cook Off, sponsored by AlumaCraft and headed up by good friends Andrew Klopak and Michelle Trudeau. Along with a number of other fine sponsors, including Cabela's Canada and Black Cellar Wines, they knocked it out of the park again this year.
It was such a crowd pleaser.
I was lucky to be invited to participate in the daily Cook Offs—it was standing room only in the Convention Centre—and even more fortunate when the four judges, and dining gods, smiled kindly on me. I won the four day Cook Off with a recipe I often use to impress family and friends, when we pull the boat up to one of the picture postcard island on Lake of the Woods and enjoy shorelunch.
To be honest, I can't remember when I first learned the recipe, I've been making it that long, but I am pretty certain it was from good friend Doug Stange, the host of the In-Fisherman TV. Like me, Doug enjoys eating freshly caught fish almost as much as catching them.
And like most of the shorelunch recipes that I prepare over an open wood campfire, I don't rely on fixed amounts of ingredients. So I never worry about measuring, or using too little or too much of anything.
I should mention, too, that I usually put each ingredient in a Tupperware-style container and store it inside a cooler in the boat, so when shorelunch rolls around I am not wasting time.  The ingredients below are perfect for two (2) people, so if you're preparing shorelunch for four, six or more folks, just increase the amounts proportionately.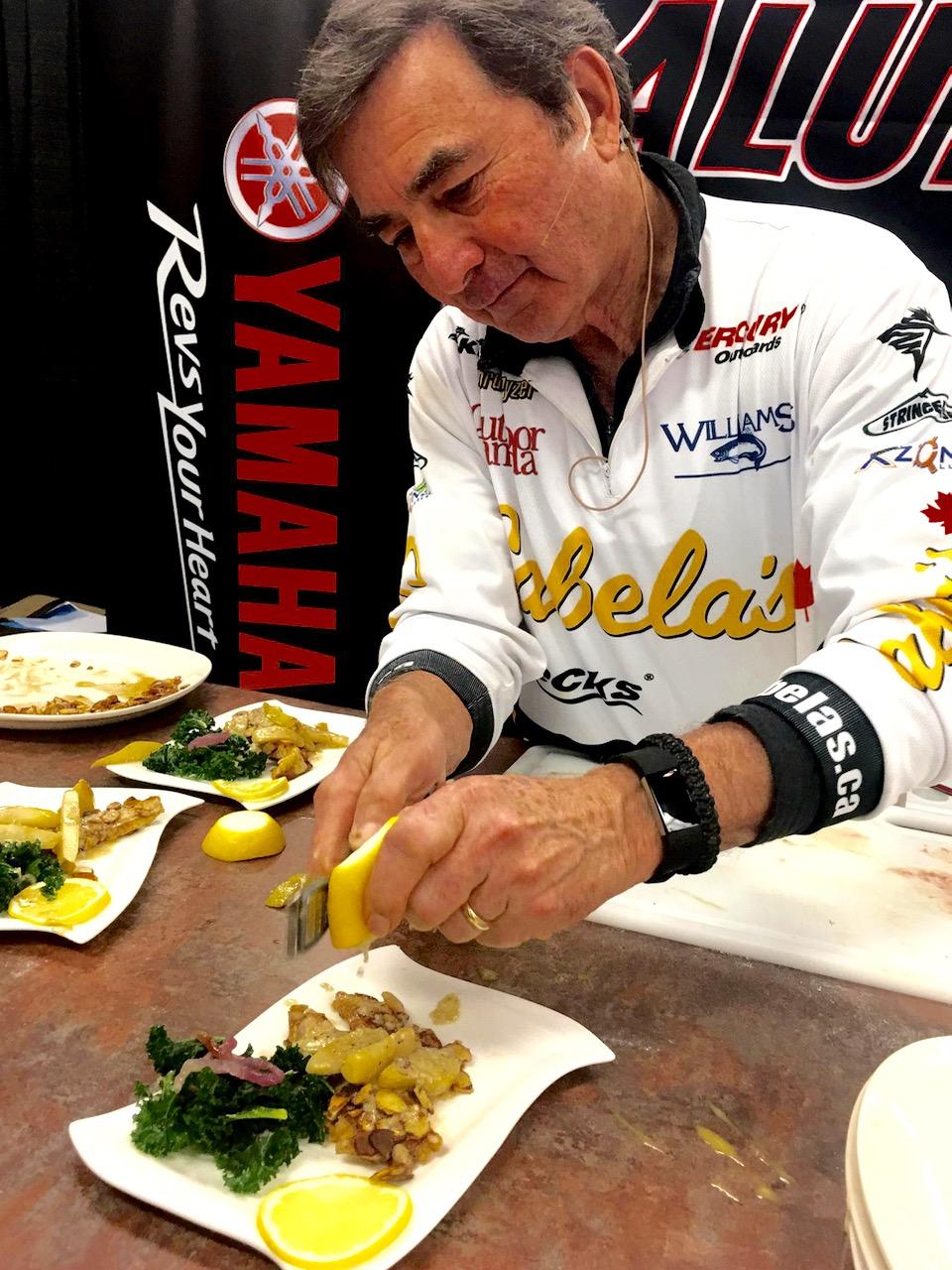 Ingredients 
two 15- to 17-inch walleye fillets (one per person)
two scoops of flour, seasoned with kosher salt and black pepper
two well-beaten eggs
two or three pears (I like to use different varieties like Bartlett, d'Anjou and Bosc) washed, cored and cut into thin slices
two handfuls of sliced almonds
a couple of finely diced green onions, scallions or shallots
¼ stick of butter
splash of olive oil
good splash of white wine
good splash of cream
blue cheese
lemon
Preparation  
It only takes a couple of minutes to cook the fish. I start by melting the butter and olive oil in a frying pan, I prefer cast iron for the even heat distribution that it provides, on medium heat. I dip each fillet into the seasoned flour, coat it well and shake off any excess.
Next, I dip each filet into the egg bath and then onto the almonds so it is well coated. Then I transfer the fillets into the frying pan and cook them for about 5 minutes on each side, or until the almonds are golden brown. When the fish has cooked I put a filet on each serving plate.
Having done that, I gently clean the frying pan with a couple of paper towels to remove any almond crumbs and return it to the fire. Then, I add a good size nub of butter and when it has melted, I toss in the sliced pears and onions and cook them for a couple of minutes until the pears are soft and buttery. While they're still sizzling, I spread the pears over top of the fish.
Finally, I pour a good splash of white wine into the frying pan and whisk it around to incorporate and mix with all the buttery juices. Then I add the cream, continue whisking, and after a minute—no more—I add the juice from half of a lemon and taste the sauce to see if it needs a last minute pinch of salt and pepper.
And then, the piece de resistance.
At the very last minute, I add a good chunk of blue cheese to the frying pan and whisk it gently until melts and the sauce thickens. That is the signal to pour the sauce over the fish and take a giant step backward, so you're not trampled to death in the stampede to eat, what one of the judges at the Cook Off described as …. "purely decadent".
Bon appétit!