Finding Dory
Traditional fishing boats offer exciting angling, followed by a "scoff" of freshly caught cod
Holding a four-pound bronze codfish up by the gills, Darren Park declares, "That's a prime T-bone fillet, right there." Like many Newfoundlanders, Park takes pride today more than ever in hooking a single specimen of that most edible of fish, the great cod. From the way he says it, and because we share family histories in the fisheries, I suspect Park and I hold a sense of privilege and good fortune at still being able to land the fish that settled a continent, fuelled the economy of Eastern Canada and fed millions for five centuries—a fish that nearly went extinct in our lifetime.
Park operates Four Seasons Tours, the only dory-fishing excursion in Newfoundland and Labrador, out of Cox's Cove on the Bay of Islands near Corner Brook. The dory was once the most common boat on the continent—its construction and use employed countless millions—and Bay of Islands is one of the last places it's built and still used for fishing (see "The dory story" below).
Park knows dories and cod like he knows his own face in the mirror, having fished the bay all his life, though never commercially. And for the past dozen years, he's guided many visitors, including television crews from the Discovery Channel, to its secret corners and depths. Dressed head to toe in camo, Park doesn't look like a TV star, but his informal duds do suggest he's full of that famous laid-back Newfoundland hospitality and humour, which he proves soon enough.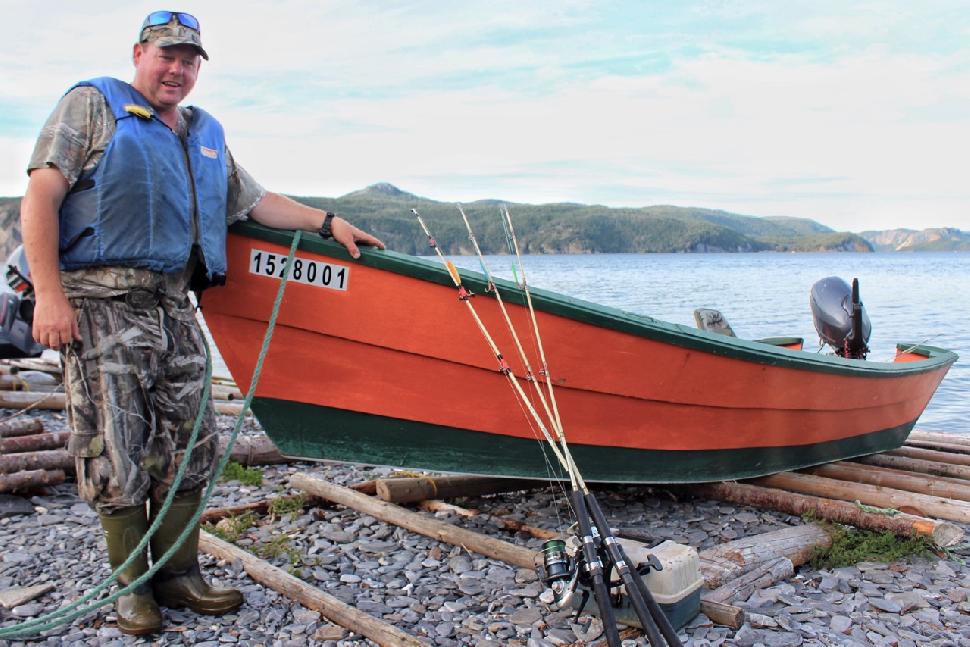 While we fish, Park points out the lay of the land, starting across the bay with a peak he calls "The Old Woman's Nipple." It's a craggy crest roughly the shape of—now that he mentions it—part of a woman lying on her back. It looms over Woman Cove, where there are five cabins, one of which belongs to Park. He says we'll head over there later for a traditional "boil up," by which he means a fish fry in the cabin. First, though, we have fish to catch.
Jigging Tricks
We're idling just off Sammy's Beach in Brake's Cove, a former outport where only a few cabins remain. In the 1960s, residents floated their houses out of seaside villages such as this one all around the bay to Cox's Cove. Park holds the dory steady here at the edge of the main body of the bay. And when I say edge, I mean spitting distance from shore, where a 140-foot-deep channel runs beneath us past the beach. In the strong current, he has to keep the motor running. "The line has got to be pretty well straight," he says. "If I drift, the line is gonna drift. Trying to jig on an angle, you're not going to catch fish."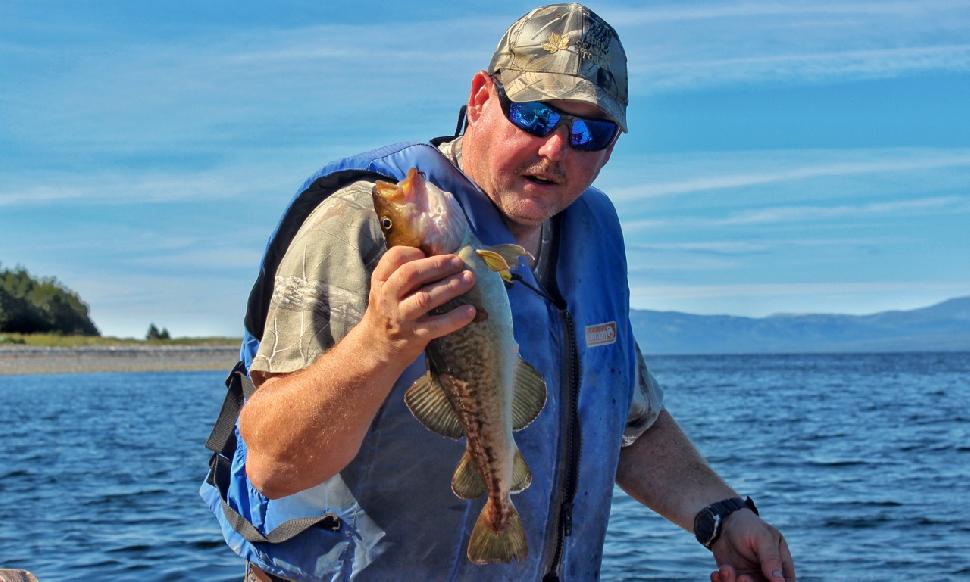 We're using a couple of cheap rod-and-reel combos that Park picked up at Canadian Tire. This kind of fishing doesn't require any special equipment, and no bait—just 2½-ounce minnow jigs attached to 30-pound braided line. He says he catches all the fish he wants with these simple jigs. "The orange or the green is usually the killer. I'm trying to imitate the shrimp that the fish are feeding on. Nothing fancy."
With that, Park walks me through the traditional Newfoundland cod-jigging technique. "When you release the minnow, that's going right for bottom," he says. "You reel up four to five feet and stop. That's your position. You're jigging from there, where the fish is."
I drop my minnow over the side of the boat, and when it touches the bottom, I reel in five feet and wait. Now and again, I jig the line, unsure of what might happen along and grab the minnow. While we wait, Park goes through the possibilities. "These minnows I use catch cod, mackerel, perch, flounder, halibut, herring. I've done a bit of trolling for sea trout and even hooked and released 10- to 15-pound Atlantic salmon."
With visions of flounder and salmon in my head, I feel a tug on my line, then a solid pull. A couple of minutes later, I pull a bright, spiny redfish, also called an ocean perch, into the dory. It's not a salmon or even a cod, but it will make for a delicious addition to the pan of fried fillets when we get to Park's cabin. He easily releases the hook and pops my fish into the bucket. It's important to him that he uses a minnow rather than a bare hook. "A lot of guys use the traditional handline and a jigger," he says. "If a fish is jigged by the guts and you release that fish, it's going to die."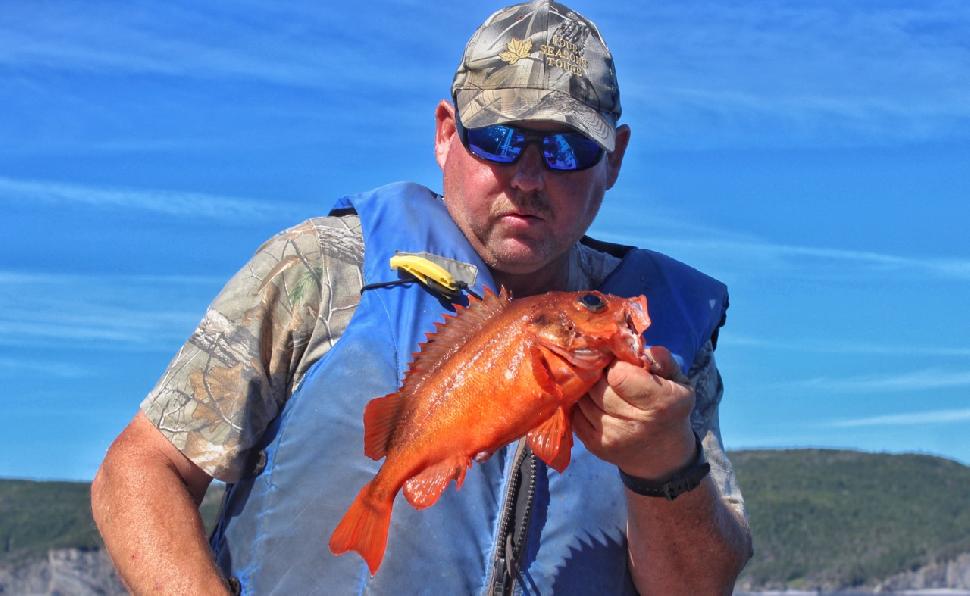 With minnow jigs, on the other hand, Park says 99 per cent of the fish get hooked by their lips or mouths as they chase the jig, thinking it's live bait. And they don't get foul-hooked, as they did with the jiggers used by fishermen in bygone days. He says he's hooked cod weighing up to 45 pounds and halibut up to 30. The bag limit is five groundfish per person, or 15 per boat, during the open season, which runs much of the summer. There is no bag limit on mackerel, but salmon and halibut are always released.
In less than a half-hour, we've caught our quota, including several cod, another perch and a vibrantly coloured sculpin, which Park releases. We stow our gear and head across the bay. As we skim the waves in his heritage vessel, I shout a question: "Is Brake's Cove the best fishing spot on the bay?"
Park laughs and replies, "No, it's number 10. Or more!" He explains he has so many options on the bay, he's never had a client go away skunked.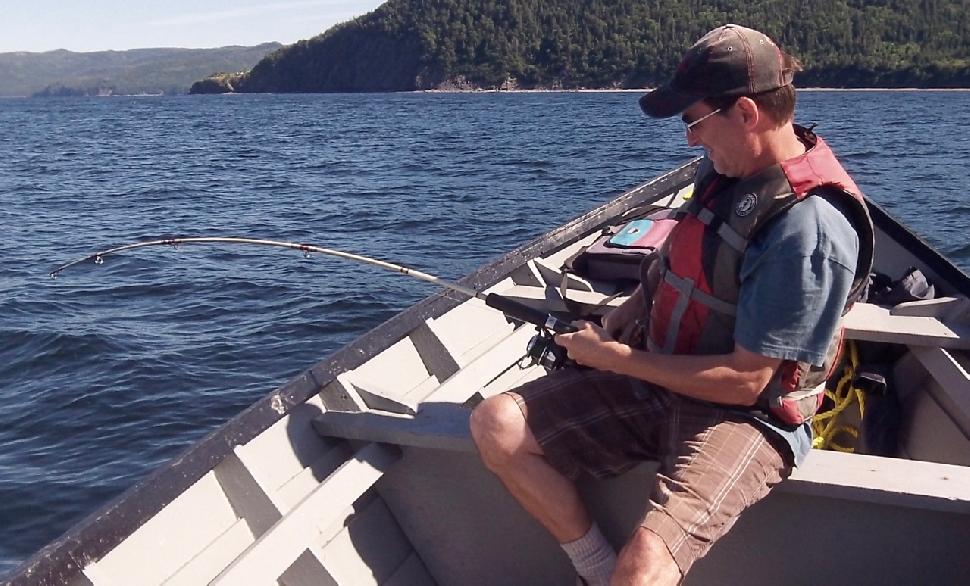 When I ask what his top spot might be, he cheerfully reveals it, perhaps because he knows I can't get there without him. He says it's Earl's Bank, named for Earl Warren, a local skipper who rowed his dory out there pretty well every day to jig for cod. It's about the size of a school bus, right in the middle of the bay, surrounded by up to 600 feet of water. "It's a very precise position. A lot of times, you drift off it really quick, but I've had some beautiful fish in there."
When the Discovery Channel crew came to town, Park took them to Earl's Bank. "Man oh man, the average fish that day was six to eight pounds," he says. "Nice, clean, white-belly codfish. When I cleaned up that morning when the tour was over, I had 25 pounds of pure cod fillets. Between the codfish, the perch and a few mackerel, we cooked up a big do at the cabin for 50 people. That was a big hit."
A Fresh Scoff
At times, the Bay of Islands boils over with life, often with the arrival of the capelin. Park describes one day when he drifted into a school of 100 dolphins on a feeding frenzy. He says the codfish also migrate into the bay chasing the baitfish, as do tuna. On this day, having caught our limit, we cruise around the bay to check out an eagle's nest, a waterfall and Penguin Head, a massive cliff that drops 10 storeys straight into the sea.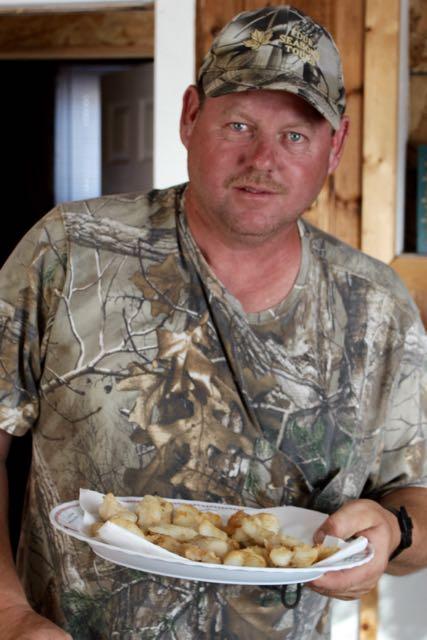 Afterward, we pull into Woman Cove and head to Park's cabin, where he quickly fillets and skins the fish. When the fish hit the pan, I realize I'm famished from a day on the ocean. As we wait, we devour steamed wild mussels and cod-aux-gratin Park made beforehand with potatoes and onions from his own garden. When he finally serves up a heaping plate of fish, we devour the piping hot fillets with our fingers.
"This is far from gourmet," Park says, chuckling and adjusting his camo hat.
"Thank goodness," I say, wiping my fingers on a paper napkin printed with the image of a mackerel and nodding in agreement. "What a scoff!"
Learn more about Four Seasons Tours at www.fourseasonstours.ca. And for more info on Newfoundland and Labrador's recreational cod fishery, visit www.dfo-mpo.gc.ca.
Darcy Rhyno is an award-winning travel writer and photographer from Lockeport, Nova Scotia. Follow him on Twitter @GypsyAdvisor.
The Dory Story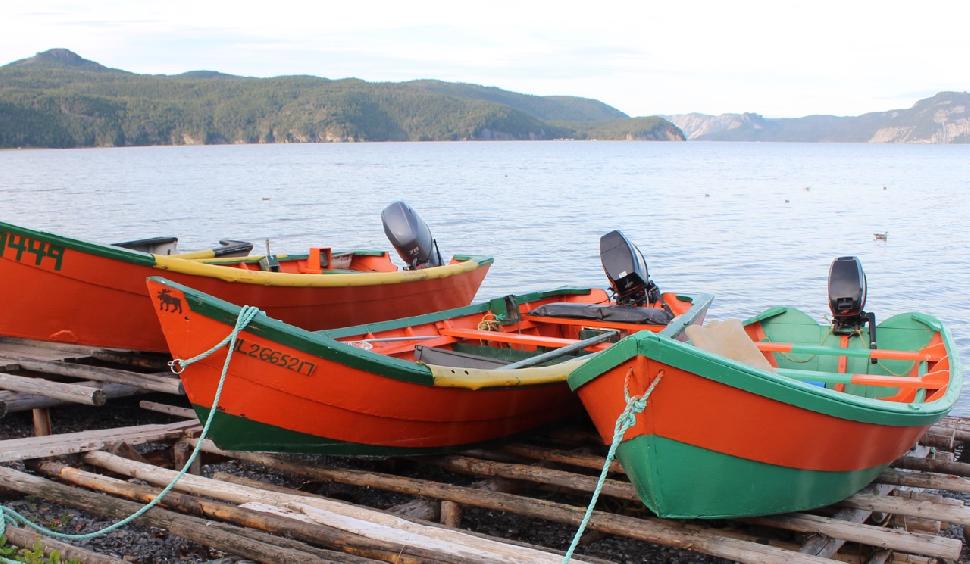 Designed to be stacked and lashed onto the decks of schooners headed for the Grand Banks, then lowered from the mother ship to jig for cod, Grand Banks dories were once one of the world's most popular boats. Sidney Mahaney, a particularly prolific builder in Shelburne, Nova Scotia, claimed to have constructed 10,000 of the little flat-bottomed boats with flared sides.
The Dory Shop Museum in Shelburne still builds the odd dory, as does Lowell's Boat Shop in Amesbury, Massachusetts, considered the birthplace of the dory. The oldest continuously operating boat shop in the U.S. and now a National Historic Landmark, Lowell's turned out 1,000 dories a year at the turn of the 20th century, peaking with the manufacture of 2,029 dories in 1911.
In Newfoundland, the dory I fished in with Darren Park was made by his neighbour, Ira Payne, one of several locals still making dories and painting them the traditional Bay of Islands bright orange. Though once far more popular, the sturdy, wave-riding craft have never gone out of fashion in the bay, where some 50 men fished from dories before the cod moratorium in 1992. These days, eight or 10 holdouts continue to fish the bay from their bright orange boats.