The Final Adventure
His dying wish was to feel the tug of wild brook trout, one last beautiful time
There is no airstrip per se at Tunulik II Fishing Camp, just a patch of windswept, subarctic meadow demarcated with pylons. The pilots of the Twin Otter take a low pass to ensure the area is clear of wildlife, and the next thing you know we're hopping and bouncing down a runway of wildflowers and springy, ground-hugging shrubs.
Eight of us, anglers all, disembark and get a first look at where we'll be living for the next five days: a clutch of tiny clapboard cabins and a slightly larger kitchen/dining room facility. The whole compound is painted a kind of traffic cone orange, and it huddles forlornly on a granite shelf surrounded by scruffy, defeated-looking forests of black spruce and tamarack. In the depths of winter, with the fishing season over and the camp long abandoned, this patch of Quebec's far north must be one of the most desolate places on earth.
Now, though, Tunulik II is operating at full capacity. Camp manager and head guide Calvin Buckle meets us at the plane and piles our gear onto a trailer pulled by a camo-painted quad. His wife, Carole, is camp cook, and her brother Elvis (yep, Elvis) is responsible for housekeeping, while Inuit guide Peter Pootoogee rounds out the four-person staff.
There are two outhouses with flush toilets. There's a shower stall with hot water and a generator that fires up at 6:30 each morning—don't bother turning the lights on before then. At night there are mosquito coils for the cabins. You'll need those, we're told.
All this for more than $4,000 per person per five-day stay. And if that seems a tad dear given the extreme rusticity of Tunulik II, all you have to do is look out over the granite shelf and down to the river and remember where you are. Do that, and the glittering promise of those five days suddenly seems a bargain.
At any price.
***
Where would you go if you had one last great fishing trip in you? In the summer of 2014, after various failed treatments, my quick-marching, stage-four cancer was diagnosed as incurable and unstoppable. Not to suggest I was going to keel over on the spot. I could yet live for years, according to one of my oncologists.
"Not five or 10 or anything like that," he noted. "But maybe one. Or possibly two."
"Three?" I asked.
He demurred. "Wouldn't that be nice."
Sure. Why not. But I had to admit, I wasn't well. A walnut-sized tumour at the base of my throat was gradually closing off my windpipe and sapping my energy. I coughed a lot, bent at the waist and sounding like a corgi choking on a chicken bone. I felt all wrung out.
So, where would you go if you had one last, great fishing trip in you?
Well, if you were me, you'd go fly fishing, which means chasing trout—big, wild ones, preferably sea-run. And if you could catch, say, 20 of them in a day, and they exploded on dry flies like they hadn't seen a meal in a month, that'd be good, too.
I gave it some thought, but I really didn't have to. Donald Thom, my fly-fishing buddy of the last dozen years sorted it out for me: the Lagrevé River, 1,500 kilometres north of Montreal near the frigid shores of Ungava Bay in Quebec's remote Nunavik region.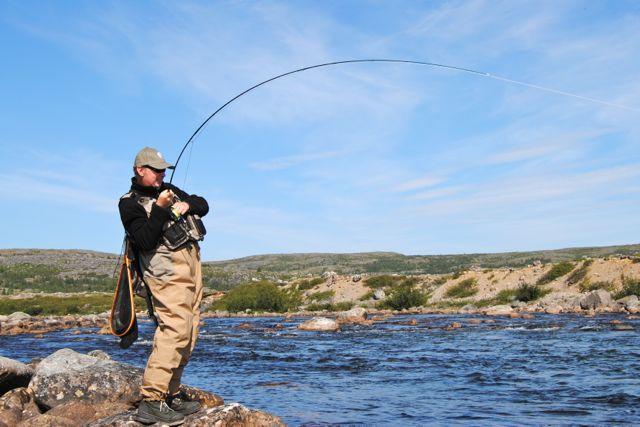 Each August, big sea-run brookies begin migrating up the Lagrevé by the thousands, preparing to spawn when the water temperature dips to 4°C. They haunt the pools by the hundred, and when the big canoes move upriver, they part in vast, shimmering clouds. The sheer numbers, combined with the colossal size of the resident native fish—eight-pounders are not uncommon, with double digits possible—may just make the Lagrevé the world's best brook trout river. (Fly Fisherman magazine pronounced it one of the top five brookie waters on the planet; I won't quibble.)
And it gets better: mixed with the brookies, especially later in the season, are a smattering of Arctic char weighing up to 20 pounds, and Atlantic salmon bigger than that. Oh, and it doesn't hurt that Inuit-owned Tunulik II is the only camp serving the river and its 16 kilometres of blue-ribbon water and classic, wadable pools. Or that the camp caters to a maximum of eight anglers per week, and is open for only four weeks per year, ending mid-September, making for exceptionally low fishing pressure and correspondingly high catch rates.
Finally, what's a fishing trip without buds? Donald Thom is not only a great friend, he's one of the funniest guys I know, a natural-born storyteller with a wicked sense of humour. Significantly, he's also fished the Lagrevé at least eight times over the years, pioneering techniques and ferreting out the river's secrets to the point where today the largest pool on the system bears his name.
Plus, he's a consummate angler, the only North American to ever earn an individual medal at the World Fly Fishing Championship, when he won silver in Scotland in 2009. If anyone knows how to get fish out of the Lagrevé, it's Donald.
So when he phoned me up and told me to get my gear together, that he'd reserved a spot for me in his eight-man fishing party and we'd have Tunulik II Fishing Camp to ourselves for the week of August 15, it wasn't a tough decision. I told him I'd be there. And coughed.
***
Dawn here comes early. It doesn't jar you awake like an alarm in the dark, but slowly floats you into consciousness as the sun crests the bluff and the world outside the walls begins to brighten. The generator fires and before long I hear the stirrings of my cabin mates, Donald and Scottish angler Alistair Mair, dressing for breakfast.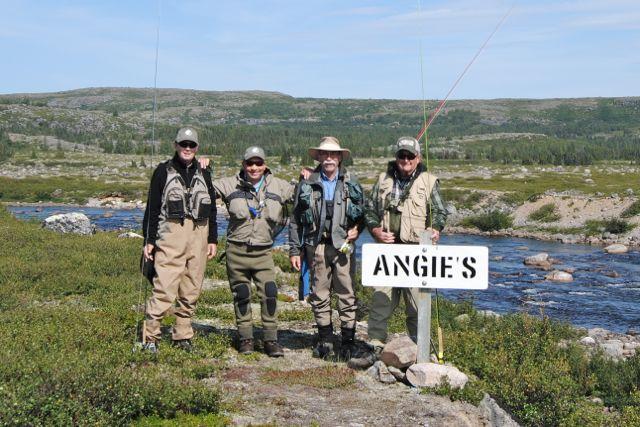 I lie in bed. After a while, I realize that tears are streaming down my face, unbidden and for no particular reason. Encore une humiliation! as they like to say in la belle province, though maybe not up here in Nunavik. I make my way to the cookhouse and watch as platters of bacon, sausage and scrambled eggs are demolished by ravenous anglers.
Between bites, everyone's talking. Yesterday, because we arrived in the late afternoon, the boats didn't go out and we made do with wading the three kilometres of river below the camp. Things were slow on my dry flies, but I ended the day with maybe 10 fish, none bigger than two pounds.
Today, though, would be the first full day on the water, navigating the shallow, boulder-strewn channel of the Lagrevé in 22-foot wooden freighter canoes and fishing the prime upstream pools. Unsurprisingly, there's a palpable excitement in the air.
But my head's pounding, my breath's ragged and I feel all chewed up. I crawl back to bed, and when Donald and Alistair come back from breakfast, I tell them I'm too sick to fish…
Epilogue
Mark's travelogue about his final angling adventure ends there. He passed away October 16, before he had a chance to complete the piece. Fortunately, his widow and soulmate, Catherine Lindquist, wanted his story finished for Outdoor Canada, and forwarded his notes and photos from the trip. And from those notes, we know that while he struggled under his failing health, he did manage to keep on fishing with the help of Donald Thom and his other angling buddies. As we know from his 11 years of contributions to Outdoor Canada, Mark's love of angling and appreciation of Canada's north country was just that strong.
And from his notes, we also know that he enjoyed some of the best fly fishing of his life. Day three at Angie's Pool, named after Calvin and Carole Buckle's daughter, was particularly successful, despite the fact he was unable to fish non-stop. Mark's thoughts about the experience begin with the ride up the Lagrevé River in a motorized freighter canoe.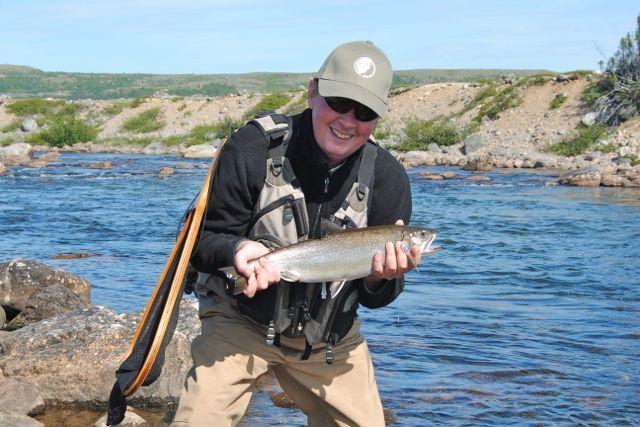 "Takes two hours," he wrote. "I sleep on a sleeping bag over a couple of life jackets on the ride up, bumping over the occasional rock. Then a 20-minute hike up a dry gulch and a flat precipice overlooking the river. Angie's is a 200-foot pool where the river forks and meets again as it goes around a large island. Stop to pick a few blueberries. Hot, strenuous hike. Hike down to the pool, throw the mouse in and start stripping back. Four massive boils. Eleven trout on the mouse. I rest between fish, sit with my back against a boulder, and watch the others fish. Best, most explosive pool I've ever fished. The trout are BIG."
That's how the story would have flowed from where Mark left off, with details about his time on the water, about the awesome fishery and how he managed to convince those wild brook trout to take his offerings. In an email discussing the assignment to write about his Tunulik II experience, he was clearly reticent about dwelling too much on his illness.
"It's going to be a great story with lots of good narrative lines: Aboriginal ownership and stewardship, spectacular wildlife, increasing Atlantic salmon populations as global warming heats up the Arctic Ocean and, of course, the best brook trout fishery in the world," Mark wrote. "Let me consider whether, or how, to work my personal situation into the mix. I wouldn't want it to come off as my last great once-in-a-lifetime fishing adventure before kicking the bucket—and then linger on for another 25 years writing fishing stories. Readers might be confused (or worse, disappointed!). Let me give it some thought."
Clearly, by the time Mark sat down to write about his adventure, he knew it was to be his last. And for that we're at once profoundly saddened, yet honoured that he would share it with us and you, our readers. And that he gave fishing a starring role in his final chapter. Thank you, Mark.
—Patrick Walsh, friend and editor
Go to www.arcticadventures.ca/tunulik to learn more about the location of Mark Anderson's his final fishing adventure. And for more about Mark's work with Outdoor Canada, go to www.outdoorcanada.ca/anderson.