Crown Land kings
Can't get permission to hunt for whitetails on private property? Go public instead this fall to get your trophy buck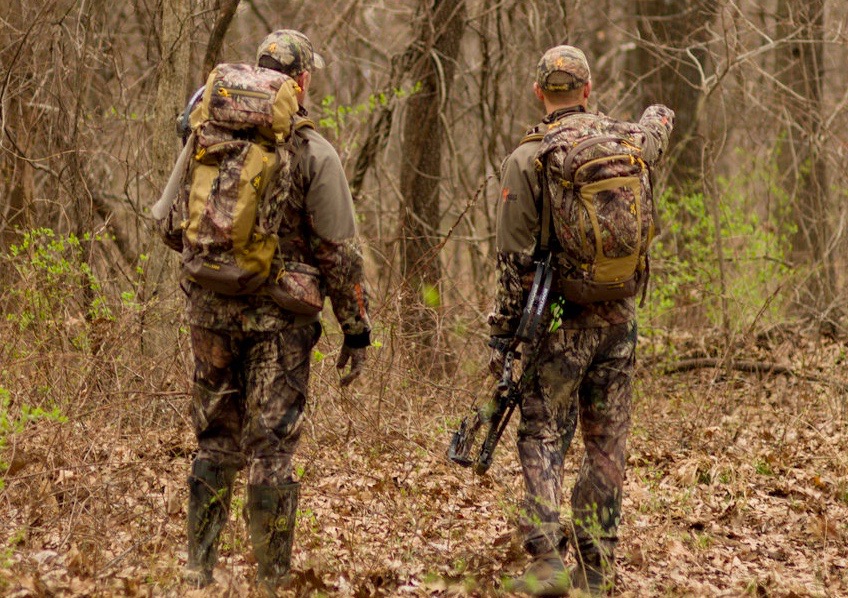 #4 STAY MOBILE
My latest and greatest strategy for DIY hunts on public land is to use a climber stand. These portable units are ideal because nothing is left behind to possibly get stolen, or giveaway your favourite spots to other hunters. Climbers also allow for greater flexibility in set-up locations, which has the added benefit of preventing the local deer from patterning you. My tree choice can easily change from day to day to account for shifts in wind direction or the discovery of fresh sign, such as a new monster scrape. (If the weather is poor, or if I plan to hunt a remote section of public land for several consecutive days, I will consider also leaving a ladder stand or clip-on stand locked to a tree.)
You can also quickly make critical adjustments throughout the day with a climber stand. A good example was when I was hunting a narrow cutline full of deer sign in northern Alberta last fall. I had scaled 18 feet up an aspen with my Summit climber, and everything seemed perfect. By 10 a.m., however, the wind had swung 180 degrees and was moving straight out across the opening—not ideal. So I shimmied down, removing the stand in the process, and stretched my legs. Fifteen minutes later, I had relocated to another aspen on the opposite side of the narrow cutline, where I continued hunting for the remainder of the day.
You can quickly make critical adjustments throughout the day with a climber stand
A climber stand also comes in handy if you're like me and find it too long to sit in one spot from dawn until dusk. I need to move to keep the blood flowing, so I always relocate midday to another carefully selected spot. The change of scenery for the afternoon also helps to keep the hunt interesting, and by relocating, I can look after any biological needs along with way—not right at my ambush site. When I use my climber during the much colder days of the post-rut, meanwhile, I always descend before my extremities get too numb to do so safely.
Climbers do require a good level of physical fitness. When I purchased mine, I first practised with it on a tree at home until I was comfortable enough to try a few ascents and descents while wearing my full hunting attire (also keep in mind that you'll likely have to do this in low light during an actual hunt). Be sure to use the included safety equipment, and always clip the foot and seat sections together with the provided rope before climbing. And, of course, watch the included instructional video before you get started.
Using a pop-up ground blind is another excellent mobile tactic for DIY hunts on crown land. With their backpack straps or shoulder slings, modern versions are very portable, and most are surprisingly quick to set up. Just be sure to keep it scent free, and to always brush it in with branches and nearby vegetation. Even with a camouflaged exterior, it will otherwise get noticed if it's in a big buck's home.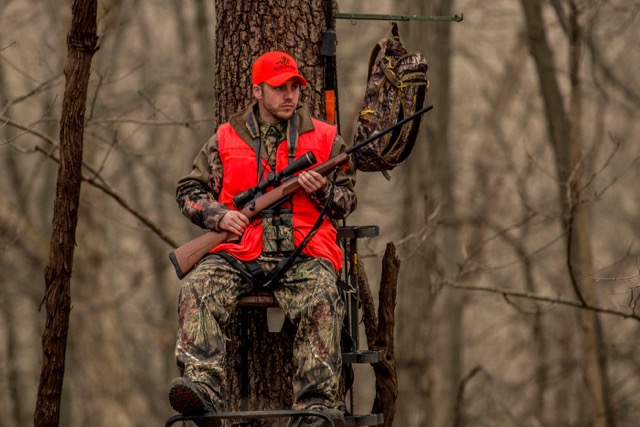 BONUS TIP: STAND STUFF
When hunting from a climber stand, I bring along a small backpack or waist pack containing the following:
A quality headlamp.
A cell phone (or an emergency beacon device such as Garmin's InReach).
A mini folding handsaw to trim away small branches.
A reusable water bottle (say goodbye to single-use plastics).
Scent-free snacks, such as protein bars.
Handwarmers for colder days.