This new unit is a game changer
Don't think ice-fishing electronics can get better? Think again
Is it just me or does it seem like everything is a "game changer" these days, especially when it comes to fishing products?  It is an ironic opening statement, I know, because I've been using an Ice Helix 7 sonar/GPS chartplotter this winter and the first thought that has come to mind every time I have turned it off at the end of the day has been…. game changer.
Case in point: I've hooked more and bigger lake trout this winter than any previous season on the ice. It is no coincidence.
Another reason why I feel the way I do, is because I never thought anything could, or would, replace the Humminbird Ice 55 unit that I've relied upon for so many winters. Gotta' confess, I was certain it was the ultimate.  So I was sceptical when the Ice Helix units (they come in 5- and 7-inch options) came along. Man, was I wrong.
As a matter of fact, within the first hour of turning it on, I did something I never thought I would.  I turned off the flasher view in favour of the split screen 2D sonar chart mode and relied on the zoom feature.  The option is remarkable.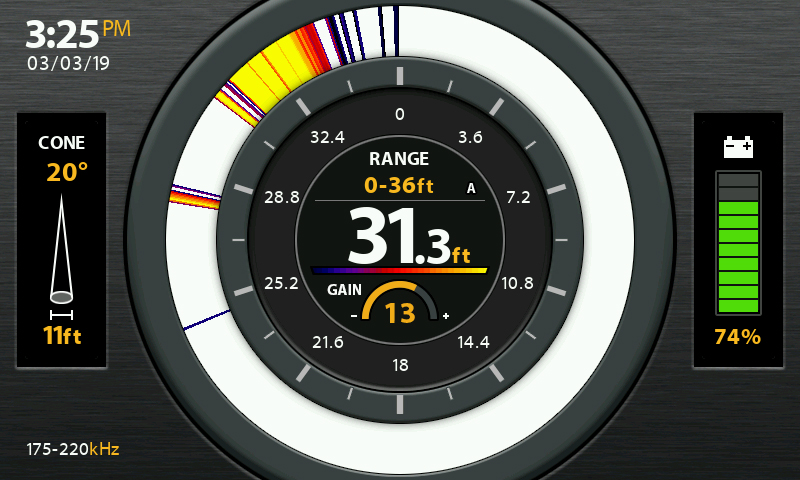 Not only can you zoom in 2, 4, 6 or 8 times, but you can fine-tune the area within the water column—right down to a one-foot difference in depth. This means that if you're ice fishing for walleyes, whitefish, yellow perch or black crappies that are relating to the bottom, you can zoom in and highlight only the necessary few feet of fish-filled water. And when you combine this with the dual spectrum CHIRP frequency—in other words, the target separation—your ability to watch individual fish respond to your lure is nothing short of ridiculous.
And you can forget about lag speed, which has always been a top concern of mine. If you see a fish racing up to your lure, the moment you see it arrive is the same instant you feel it bang the door.
And I have to tell a tale out of school, and say that some people will love the fact that the adjustable-width 2D real-time sonar (RTS) records history.  At least a dozen times this winter, my grandson Liam has been on his cell phone, only to look up and notice that a fish had snuck in and swung up to look at his lure. As soon as he noticed the jet trail displayed on the screen, he jigged his bait frantically, called back the fish and enticed it to bite.
The 2D sonar/zoom split screen is also ideal when two anglers are fishing together inside a confined area, like an ice shelter, as Liam and I were doing on the weekend. While I jigged smaller baits near the bottom, Liam ripped his bigger baits through the top half of the water column. And get this: we drilled two holes, fished for four hours and caught walleyes, sauger, yellow perch, northern pike and lake trout. If a fish swam anywhere through the adjustable-width cone—from inches under the ice right down to the bottom of the lake—we were able to spot it, attract it and trigger it to bite.  We watched as the pike, by the way, streaked down to clobber his lure, while the lake trout shot up from the bottom.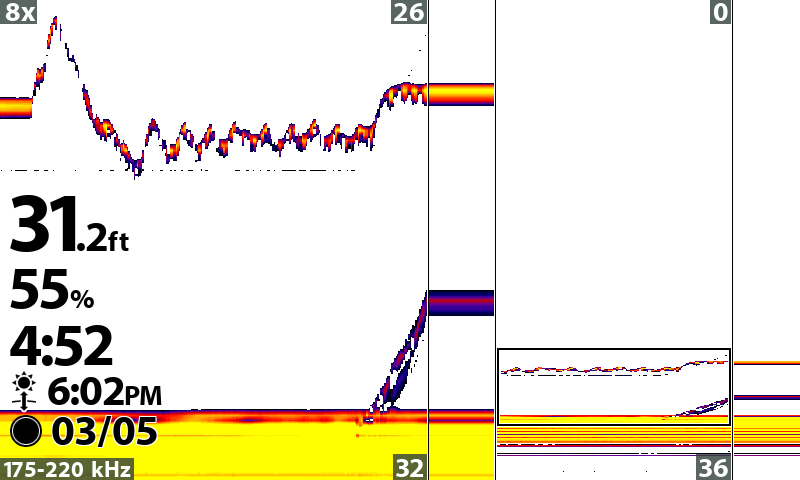 Part of the reason why we were so successful is a feature that Humminbird calls Switchfire.  It is a simple 2D chart option that lets you select between Max and Clear modes.
What happens when you set your unit to Max is that you turn off "time variable gain" (TGV) that distinguishes between the various sizes of the fish beneath your hole.  So you see absolutely everything in the water, from minnows to muskies.
Now, seeing so much sometimes can be ideal, but other times it is too much of a good thing.  So I leave the Switchfire feature on the Clear setting that does just that: it clears up the screen, removes extraneous signals and shows me only the sonar returns from decent-sized fish.  As a result, I don't waste time trying to coax a four-inch perch that I think is a 18-inch walleye into biting my lure.
Bet you're wondering, too: what are the irritants or downsides?  I honestly struggle to find any, but as a cautionary note I would say that because you have so many features and options at your disposal, depending on the settings you choose, the unit gobbles up battery power faster than simple sonar units.  At the end of most days, for example, I am typically down to anywhere from 20- to 50-percent of battery power, depending on how long I have had the unit turned on.  I've noticed, too, that the drain is more pronounced when I am ice fishing outside in cold weather versus inside a warm, heated hut.
So, there you have it: my initial three months on-the-ice assessment of the Ice Helix 7 G2.  And I didn't even talk about its spot-on GPS capabilities or the fact there are so many more functions you can run (including Autochart Live) when you put it in your boat in the summer time.  These are topics I'll address at a later date.  Suffice to say, right now, this thing is a game changer.