Brook trout through the ice
Everything you need to know about location, tackle and presentations
Brook trout are a beautiful sight to behold, especially the males, with their hooked jaws, scarlet bellies and flanks peppered with ruby dots inside blue halos. And while they don't live for a long time—any brookie eight years of age or older is considered ancient—they grow quickly.
These trout are also easy to culture in hatcheries. That makes them a favourite with provincial fisheries agencies that use fast-growing brood stock, such as the world-record Nipigon strain, to produce fingerlings and juveniles for stocking lakes.
LOCATION
Brookies devour a vast array of fauna, including insect larvae, minnows, leeches and freshwater shrimp. And like teenage boys, they're always hungry. So, if something moves and appears to be edible, a brook trout is likely to eat it. Knowing that can help you pinpoint the typically shallow, fertile locations that are best for targeting these fish through the ice. I usually drill holes in waist-deep water, largely avoiding depths that are over my head.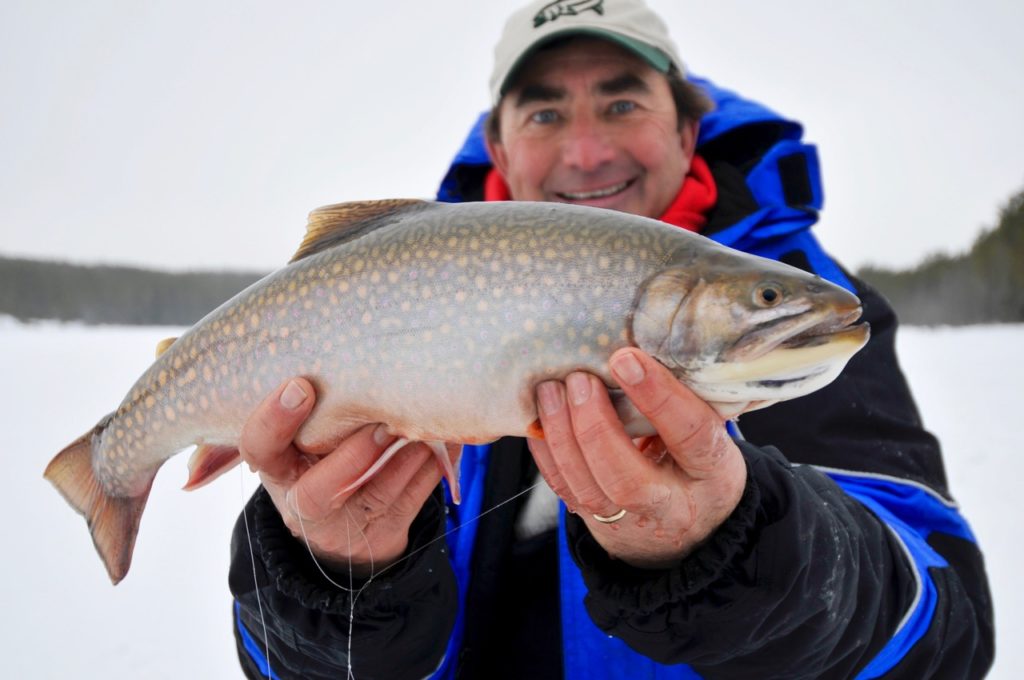 If the area has beaver lodges, isolated boulders, fallen trees and scattered weeds and reeds, that only adds to the appeal. Better yet, if there's also a sharp edge or break into the security of deeper water, start drilling holes, because you've found a hot spot.
#Icefishing expert Gord Pyzer shares his top tips for winter brook trout—everything you need to know about location, tackle and presentations!
TACKLE
Most avid ice anglers know that four or five small maggots squirming off the end of a light (1/32- to 1/16-ounce) jig or #6 or #8 drop-shot hook will catch a squaretail's attention. However, you can over-finesse these fish. Unless they force you to go small and slow down, don't do it. Indeed, since most jurisdictions let you ice fish with two lines in the winter (check your local regulations), my standard set-up consists of a jigging rod in one hole and a Windlass-style tip-up (below) in the other.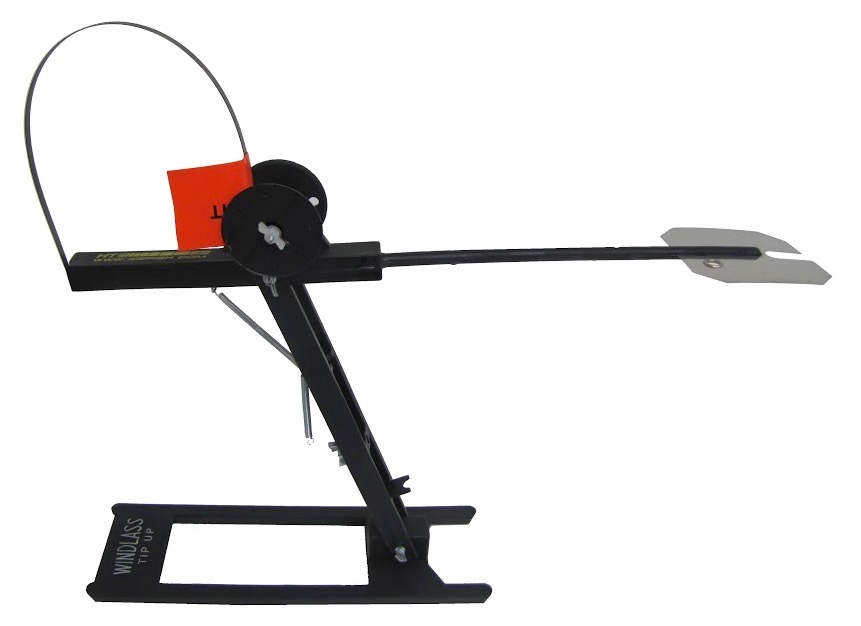 With the tip-up, I spool on 20- to 30-pound-test Sufix 832 Ice Braid. I prefer this thick line because it doesn't tangle when I throw it on the ice while fighting a fish. I then attach a small, hookless Williams Wabler Lite or Mooselook Thinfish (below) spoon to the line to act as an attractor and weight. These paper-thin spoons are light as a feather and brilliantly reflective, so when the wind blows the vane on the tip-up, they rock back and forth and quiver, catching the attention of any nearby trout.

On the other end of the spoon, I attach a 12- to 18-inch leader of six- or eight-pound fluorocarbon or Maxima Ultragreen monofilament, to which I tie on a #4, #6 or #8 thin-wire Gamakatsu octopus hook. Finally, I skewer a lively minnow ever so lightly under the skin behind the dorsal fin so the hook tip points toward its head. I'll sometimes wacky-rig a nightcrawler instead, slipping the hook under its collar.
As for jigging, I use a medium-action jigging rod spooled with eight-pound-test neon Sufix Performance Ice Fuse (with a 14-inch-long leader of six- or eight-pound-test Maxima Ultragreen). I'll tell you about my favourite winter trout lures and how I jig them in my companion story on targeting rainbows through the ice.
PRESENTATION
Because I typically fish where the water's less than 10 feet deep, the light spoon provides all the weight I need to hang my bait just a little below the middle of the water column. It's so delicate, too, that when the minnow attempts to swim away, it tows the bright spoon behind it, which pulls it back beneath the hole when it runs out of steam. What I find so intriguing about this whole set-up is that while I catch more fish on the tip-up, I nab the majority of the giants on my jigging rod.
Every Friday this winter we'll be sharing Outdoor Canada's coolest ice-fishing tips for 2019. Check back often for the latest tackle, tips and techniques for icing more walleye, trout, perch, northern pike, lake trout, crappies and whitefish.