The Gift That Keeps on Giving 
At first ice, fish will still be in their fall fish locations
You have to love fishing for walleyes in the late fall period that we find ourselves in right now, because the schools are stacked up like the proverbial cordwood, and the fish are super aggressive. I was out yesterday and watched several walleyes on my sonar screen shoot up from the bottom to intercept my Jigging Shadow Rap as it was falling down. I thought for sure they were smallmouth, but nope, they were all walleyes. (For tips on fishing the Jigging Shadow Rap, see my Sept. 25 blog here.)
With fall turnover well underway, the water temperature was 47.9 °F on the surface. I found a couple of walleye schools associating with the steep breaks at the tips of underwater points, and several more pods of fish relating to the tops of sunken humps and rocks piles. The elimination of the thermocline means that there is no longer any thermal resistance to mixing, so you can find most species of fish up shallow, down deep or somewhere in between.  
Not surprisingly, a week earlier I got onto a couple of schools of plate-shaped crappies that were behaving in the very same manner. The fish were in the bay where buddy, Doug Stange and I filmed an In-Fisherman TV episode several years ago, to highlight a key point that makes late fall fishing doubly productive. It's the best way to pinpoint where you'll find the fish at first ice that, depending on where you live, is only a few weeks away.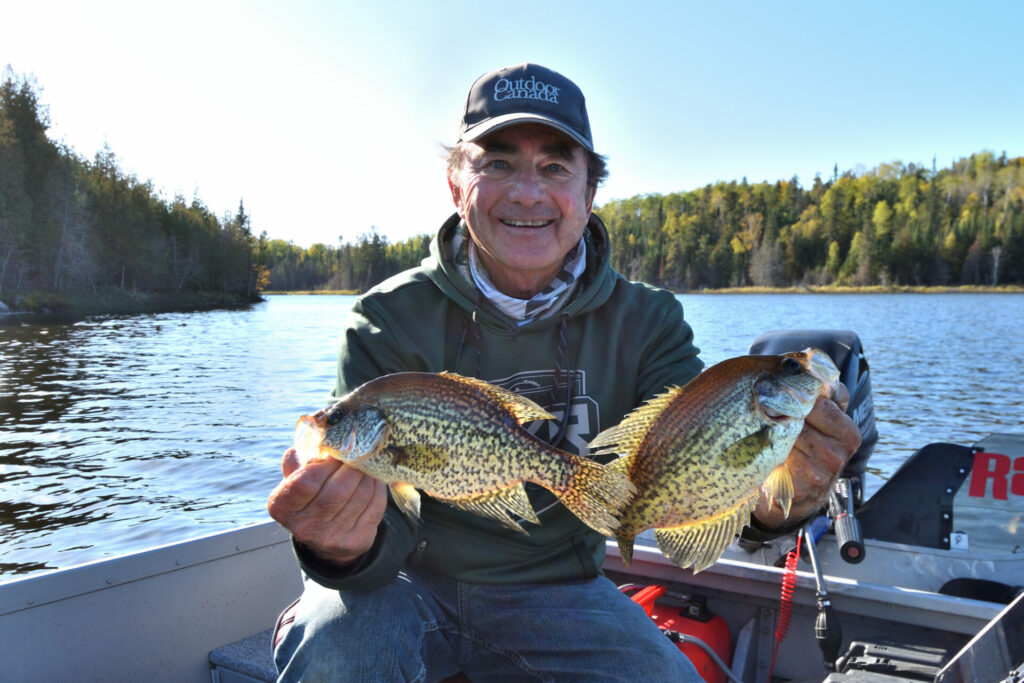 When Doug and I shot the television show, it was a gorgeous, sunny, blue-sky day in early November, and we pointed out some obvious features—cliffs, trees and rocks—on shore. Then, a couple of weeks later, sitting on our snow machines, we pointed to those same features, as we hauled up crappies through holes in the ice.
Which brings us to the takeaway of the day: From the middle of October to the last day of the open water season, I keep my portable Humminbird Ice unit on the deck, up front with me in the boat. And when I find a hot spot like yesterday, when I was fishing for walleyes, or a week ago when I was catching crappies, I'll punch in the exact waypoint so I can return to it in a couple of weeks time.  And get this: the ice fishing is typically even better than the open-water action, because the late fall consolidation of fish is a process, not a one time event.  
By that, I mean that the crappies and walleyes don't all decide to go the structures en masse. Rather, they will filter onto the spots in dribs and drabs, pods and groups over several days and even weeks. And this consolidating process will continue long after the lake freezes—like a family gathering—until the end of December.
So, think of it as an early Christmas gift… that keeps on giving and giving and giving.  
See you out on the water.