NOT-SO-BARREN FLATS
Seemingly bland areas often have subtle fish-holding structures
I think I can say with certainty that we're finally through with winter, and that the open water fishing season—if it isn't already here—isn't far away. I know I've been spending a lot of nights lately, watching the Stanley Cup playoff games with my Humminbird Helix balanced on my lap, scanning the LakeMaster map chip for potential new fishing areas that I need to check out this season. And while I search for choice structures like underwater points, saddles, rock piles and reefs, I'm also looking for prime flats.
That's because on many lakes, mediocre, run-of-the-mill, insipid, bland-seeming flats are typically the most overlooked hot spots. Ironically, it's because they appear to have few or no redeeming qualities. I mean, you look at the map on your lap—or the chartplotter when you're in the boat—and there's absolutely nothing on the bottom to distinguish it. It seems like just sand, silt and mud where no self-respecting walleye, bass, northern pike or muskie is ever going to spend any quality time.  But wait a minute ….
While at a glance, most flats look barren and worthless, they can also be filled with fish. The key is that on nearly every one of them that slopes out and away from shore—toward the main lake basin—there are one or two spots that can concentrate fish. It could be a tiny patch of verdant green sand grass or chara, the crisp, skunky-smelling weed that is a walleye and yellow perch garden of Eden. Or it could be half a dozen scattered rocks that suck in the crayfish and lobster-loving smallmouth. Even better, it could be my all time favourite—and ever-so-hard to find—an indistinct tightening up of the contour lines to create the most subtle dip, edge or breakline.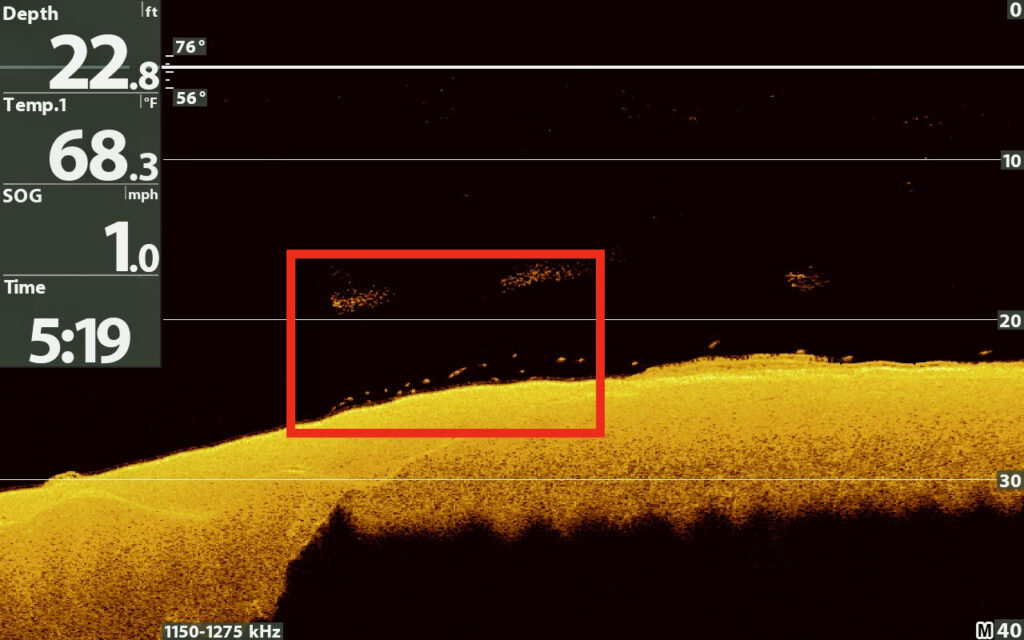 Take a look at the screenshot above of the spot where I spent the better part of a two hours last season, unhooking walleyes and yellow perch for my granddaughter and her girl friend. I couldn't get a line in the water to fish myself, because they landed so many fish drifting minnow-tipped jigs under slip bobbers.
Now, remove the fish from the screen shot and concentrate only on the slightly sloping bottom and chances are you're going to miss the area I've marked in red.  It's not much—only a slight coming together of the contour lines—but it creates a crafty understated edge or breakline that the fish use like a highway.
And did you notice the suspended schools of bait hovering above the lip?  Even though these fish (ciscoes, smelt and/or lake shiners) are cruising well up and off the bottom, they're also relating to the subtle tightening of the contour lines below them.
It's exactly what turns a barren flat into a fish-filled gold mine.