The Last Hunt
For this annual gathering of waterfowlers, life's woes vanish on the marshes of western Manitoba
IN MEMORIAM
This feature article was originally published in Outdoor Canada magazine's 2002 Hunting Special. We republished the piece in our May/June 2020 issue in memory of the award-winning author, Jake MacDonald (below), who died following an accidental fall on January 30, 2020, in Puerto Vallarta, Mexico. Seventy years young, Jake was one of our long-time writers, and his voice and innumerable contributions will be sorely missed. This particular story is emblematic of his wonderful writing style, which was at once insightful, charming, thought-provoking and witty. Jake had a deep love and connection with the outdoors and the people who shared his affinity for fishing and hunting, and it shows through in this piece. Not surprisingly, the story earned Jake the top award from the Outdoor Writers of Canada for magazine feature writing about hunting. The article also garnered him an honourable mention from the National Magazine Awards. Our deepest condolences go out to Jake's family, friends and loving partner, Petra Kaufmann, who kindly supplied us with the photos for this reprint. Thank you for everything, Jake. May you enjoy endless skeins of geese and rivers brimming with fat trout in the great beyond. —THE EDITORS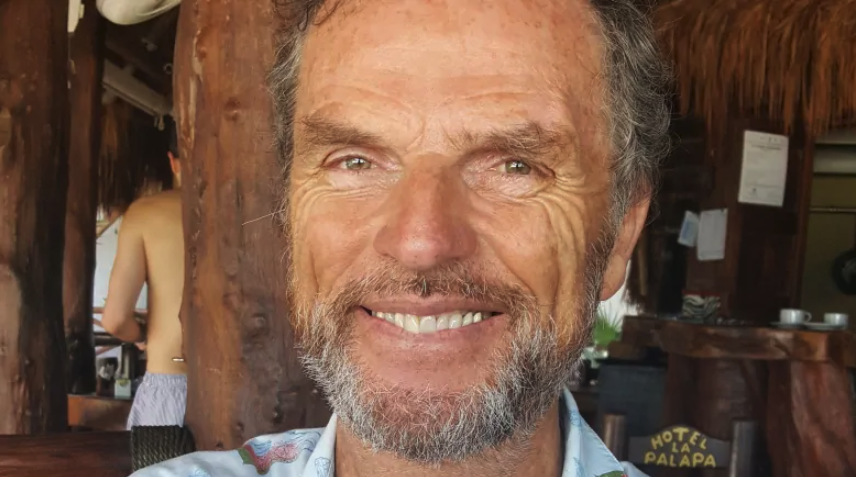 The Last Hunt
After clambering through the barbed wire fence and hiking down through the pasture to the marsh, we toss some decoys off a reedy point that was good last year and get ourselves hidden in the nearby bulrushes. The stars are still out, and a comic book moon hangs in a corner of the sky. We blow experimentally on duck calls, load our guns, organize some loose shells into handy coat pockets and settle down for the wait. One of the boys deploys a Thermos and goes around delivering cups of hot coffee. I take a sip and balance my cup atop the muskrat house right beside me, where it steams in the cold. I habitually check my safety and scan the horizon. We're duck hunting again. Another year has passed, and the game is afoot.
When I was a kid I'd be vibrating with adrenalin by this point, staring holes in the landscape, using sheer mind control to make some lone mallard come winging down the marsh at reed-top height, headed right toward me. I wanted to make the gun kick and roar back then, and make the duck tumble. Nowadays, I'm not much worried about whether the birds will come. If they do, that's great. If they don't come, that's fine, too. Mother Nature no longer owes me anything. It's sufficient just to be here, to watch the eastern sky begin to glow like a rose window, and to exchange some whispered banter with old friends.
There are about a dozen members in our hunting group, and over the years everyone has scattered to the four winds. Kerry lives in Whistler. Chopper hangs his hat in Collingwood, Ontario. Shaun lives in Whitehorse and Steve lives in Nassau. But we stay in touch, and every year we meet for a week of waterfowl hunting in western Manitoba. We usually hunt in different groups every morning. It gives you a chance to re-establish old bonds and get updated on everyone's personal life. Some of the news is good, and some of it is like dispatches from the front. Marriages have broken down, and several of the boys have lost their jobs in the economic downturn. Two of the most popular guys have spent the last year fighting cancer. Another, one of the best men you could ever meet, lost his son to suicide.
After we've digested the news, the fact that we're all still here seems like even more of a privilege. The early morning marsh, the bright stars, the yip of distant coyotes, the pink sunrise, the rattle of the wind in the bulrushes—these things existed long before we did and they'll be here long after we're gone. Coming here every year, hunting together, is one of the ways we connect to the abiding earth.