Double Duty
Browning's new shotgun is at home in a duck blind or hunting for fast-flushing fowl
The classic lines of a side-by-side and the elegance of a finely crafted over/under have always set my upland hunter's heart afire. But when it comes to waterfowl, I prefer an autoloader. The reasons are pretty straightforward, with the most pronounced being recoil. A long day of shooting heavy magnum waterfowl loads with a side-by-side or over/under can beat the tar out of you, but modern autos do a terrific job of reducing felt recoil.
But what about a shotgun that's at home in a duck blind, yet offers the quick handling and crafted elegance I look for when hunting river bottoms for fast-flushing ringnecks? Enter Browning's Maxus Hunter, an autoloader that meets every one of my expectations, starting with visual appeal and fit.
The wood is exceptional, as is the attractive laser engraving of a flying ringneck on one side of the receiver and a mallard with wings set on the other. With its trim forearm and close radius pistol grip, the gun's lines are elegant. And with a low rib line and lightweight barrel profile, the fit provides fast, dead-on line-of-sight holds. Topping off the shotgun's overall aesthetic appeal is the sharp 22 lines per inch checkering, the satin-nickel finish on the receiver, and the deeply blued barrel, complete with a brass front bead sight and ivory mid-bead sight.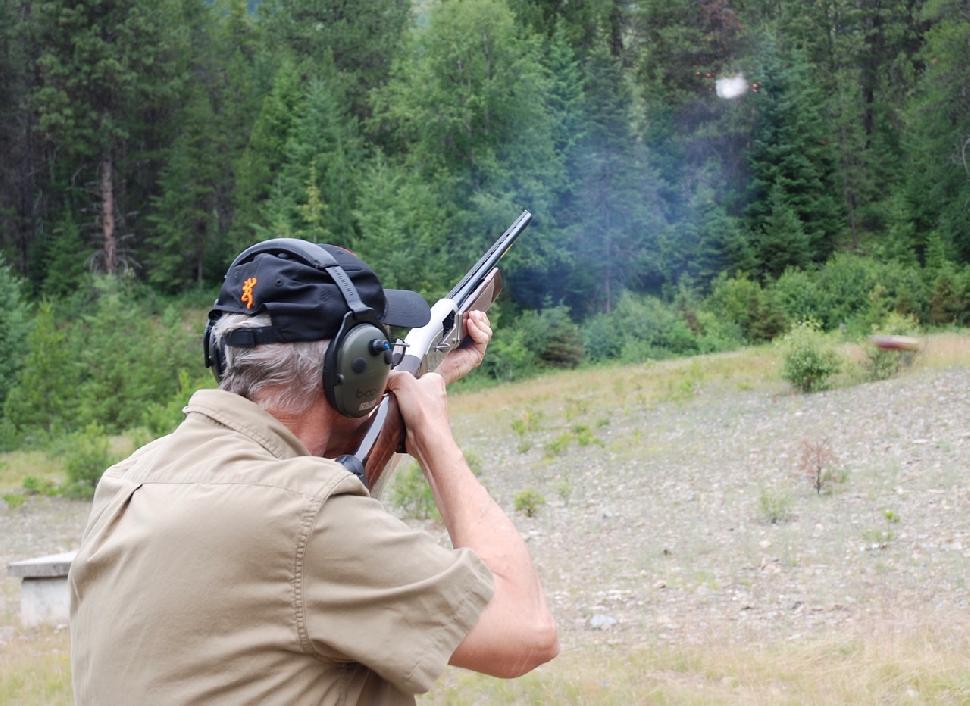 The shotgun's power plant is the proprietary Power Drive Gas System, which Browning claims is the "best gas piston design ever." It provides for a very versatile and soft-shooting shotgun, working in concert with the Inflex Technology recoil pad, the back-boring and the shotgun's natural balance, which transfers 18 per cent less felt recoil and 44 per cent less muzzle jump than other autoloaders.
The trigger on this shotgun may well be the best I've yet to encounter. With a lock time of 0.0052 seconds, a smooth, crisp feel with minimal travel and a pull weight of five pounds with little deviation between pulls, it is impressive.
Topping it all off is Browning's Total Barrel Dynamics, which includes Back-Bored Technology, the Vector Pro tapered forcing cone and the Maxus Invector Plus choke tube system. Collectively, these features reduce felt recoil, increase velocity and reduce pellet deformity, allowing for more uniform densities with fewer flyers.
Test Results
To really put the Maxus Hunter through its paces, I decided to spend some time on the trap range, as well as pattern several high-performance duck and pheasant loads of similar shot size. On the trap range with Winchester AA target loads, I broke 23 out of 25 clay birds—most were smoked—which certainly left no doubt about this shotgun's fast-handling potential for both waterfowl and upland birds. I also noted just how fast the gun cycled ammo, and how far it threw the hulls, with most landing 15 to 20 feet away.
As for patterning (above), I tested each load at 40 yards using a full choke and Birchwood Casey Pregame 12″ x 18″ Duck Targets. I separated my pellet hit counts into two categories: vital hits (body, head, neck, wing bone only) and total hits. There were some clear success stories. With the waterfowl loads, Winchester Blind Side #5 shot topped the list with 17 vital and 40 total hits.
The big winners, however, were two upland loads. Winchester's Rooster XR #4 shot recorded 25 vital and 58 total hits, while Federal Premium's Upland Load #6 copper-plated shot had 25 vital and 60 total hits. No doubt, both would make superb pheasant loads, with the Rooster XR providing great late-season knock-down potential when wary roosters tend to flush at distances that will stretch your barrel.
B.C.'s Mark Hoffman is Outdoor Canada's hunting firearms reviewer.
The Specs
Gauge: 12
Barrel Length: 28″
Overall Length: 47″ to 51″
Length of Pull: 14¼"
Drop at Comb: 1¾"
Drop at Heel: 2″
Chokes: Full, modified and improved cylinder
Chamber: 3″ and 3½"
Weight: 6 lb 15 oz to 7 lb 1 oz