Wil Wegman inducted into Canada's Angler Hall of Fame
Other honours also presented at the Spring Fishing & Boat Show
Many of the who's who of the Canadian sportfishing industry gathered at the International Centre in Mississauga this morning for the induction of the latest member in the Canadian Angler Hall of Fame. As well, the Rick Amsbury Award of Excellence and the Conservation Project of the Year honour were presented. All three awards are presented annually in conjunction with the popular Spring Fishing and Boat Show.
This year's Hall of Fame inductee was 57-year-old Wil Wegman, a tireless champion of fisheries conservation and recreational angling. "Wil literally lives fishing, from dawn till dusk, practically every day of the year," said Outdoor Canada's Patrick Walsh, who had the honour of introducing Wegman during the annual Industry and Conservation Breakfast. (For more on Wegman, see the full transcript of Walsh's remarks, below. Also, please visit www.wilwegman.com.)
The Rick Amsbury Award of Excellence, meanwhile, went to Darren Jacko and Steve Voros, the founders of Edu-Cast, a 14-year-old secondary school program designed to introduce teens to angling, as well as to educate them about fisheries conservation. The award is "presented annually to an individual or individuals judged by the angling community based on their outstanding performance put forth through the course of the year."
And finally, the Conservation Project of the Year honour was presented to the Lake Huron Fishing Club for its School Salmon Hatchery Program. Launched in 2010, the program is designed to educate students about salmon stocking efforts and fisheries conservation. Today, 36 schools from Sarnia to Milton to Collingwood to Manitoulin Island participate. Accepted by program organizer Richard Elliott, the award included a $1,000 donation to the club.
On hand for the presentations this morning were many notable members of the sportfishing community, including TV celebrities Bob Izumi, Angelo Viola, Pete Bowman, J.P DeRose and Leo Stakos, as well as North America's only professional blind angler, Lawrence Gunther, the proceeding's guest speaker.
Scroll down below the photos for Outdoor Canada Editor-in-Chief Patrick Walsh's introduction of Wil Wegman.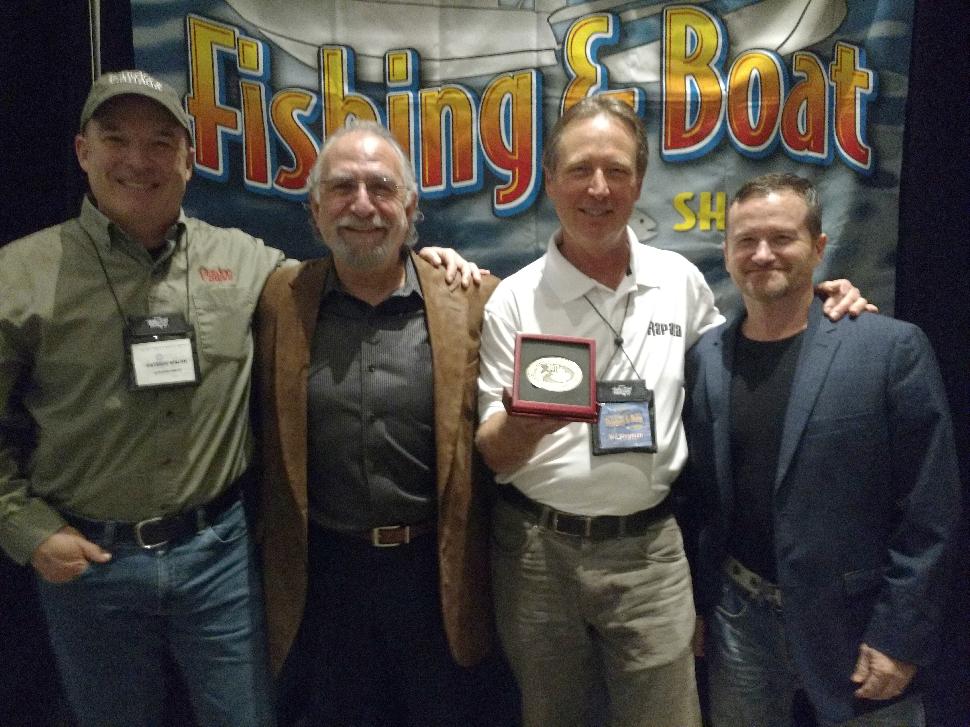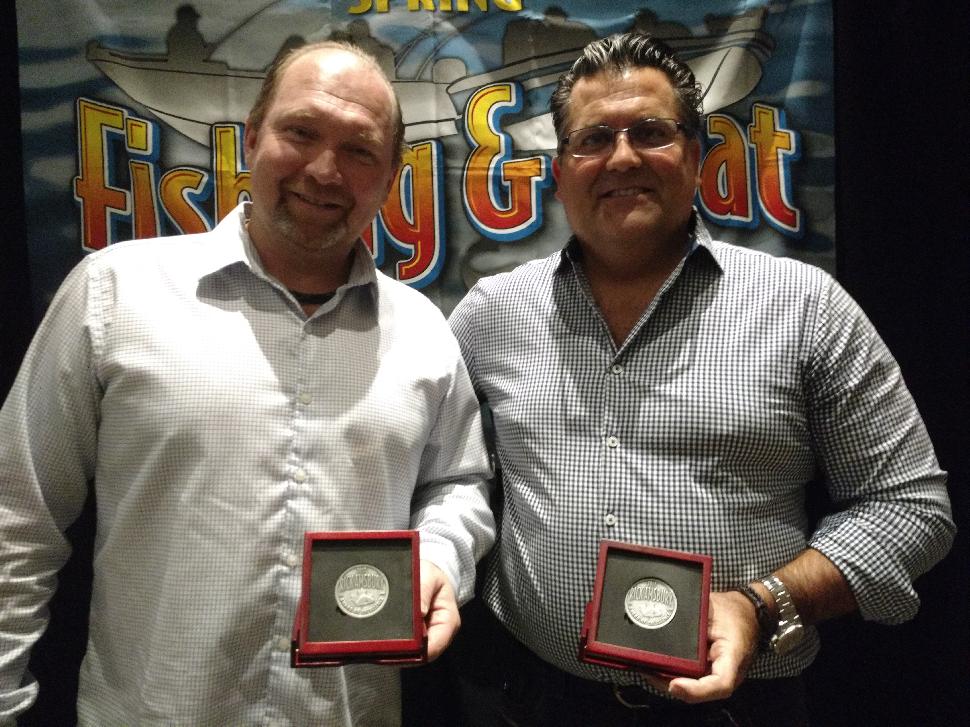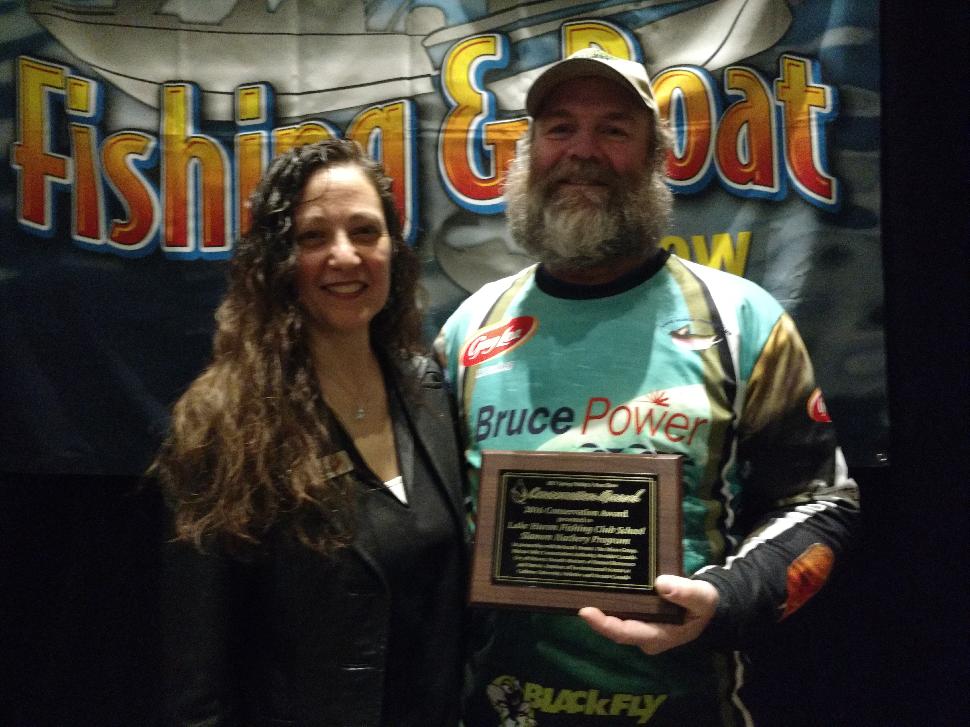 Wil Wegman's Angler Hall of Fame introduction, by Patrick Walsh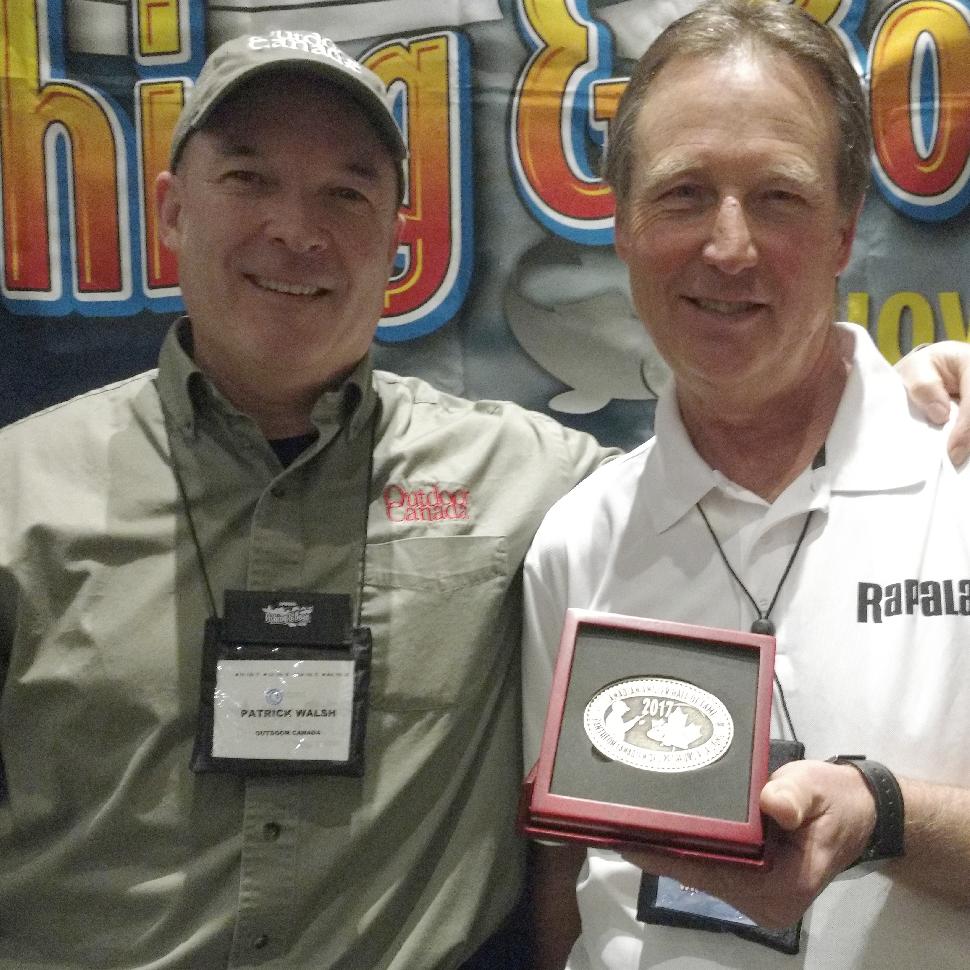 About a dozen or so years ago, I was driving along Bloomington Sideroad in Aurora with my then young son when my car got a flat tire. It wasn't a big deal, except for the fact my spare was in the shop getting repaired. Plus, as I recall, it was a cold and wet fall day. What to do? We weren't far from the MNR office at Bloomington and Yonge, so I decided to call a friend who worked there (and still does) to ask if he could take us home. Within minutes, he rolled up and rescued my son and me from the side of the road. That person? Wil Wegman.
I only share that story because it really does encapsulate what a solid guy Wil is. I'd only known him a few years at that point, but I knew he was the type of person who would only be too happy to help out someone in need. And it's that very mindset that makes Wil such an important asset for the Canadian sportfishing community. With the likes of environmental degradation, habitat loss, pollution and invasive species threatening our sport, it is indeed in need of help, and Wil has made addressing that need much of his life's work. The same goes for Wil's tireless efforts to encourage others to get hooked on fishing, which is also key to ensuring the ongoing health of our sport.
Wil literally lives fishing, from dawn till dusk, practically every day of the year.
As most of you undoubtedly know, Wil is a career MNR man, having started out 29 years ago as a media-focussed information assistant, rising up through the ranks to his current role as Resource Management Technician. His job is mix of fieldwork, media liaising and community outreach on a variety of fish and wildlife programs, chief among them at present the muskie restoration project on Lake Simcoe. Wil also organizes a raft of urban fishing festivals aimed at getting families and kids engaged in, and enjoying, our many fisheries. And the list goes on.
Again, that's just his day job.
When he's off-duty, Wil keeps himself extremely busy as one of the core members of Aurora Bassmasters, an Ontario B.A.S.S. Nation club he co-founded in 1995. Aside from participating in tournaments, the club is extremely active in conservation work, from stream restoration and fish-tagging projects to collecting litter and planting trees. The club also hosts Casting Kids Events throughout the year to encourage local youth to take up angling.
As Wil and his fellow members like to say, Aurora Bassmasters is "more than just a fishing club." And that's a distinction that hasn't gone unnoticed: the club has earned the Conservation Project of the Year from this very program here at the Spring Fishing and Boat Show, as well as an Ontario Bass Nation Conservation Award and three Conservation Awards from the Lake Simcoe Region Conservation Authority. The club has also earned two prestigious Berkley Conservation Awards, which are presented annually to a BASS Nation club in North America.
And key to all these honours is Wil, who has served at the club's conservation director since Day One. If that weren't enough, he also served as the conservation director for the Ontario Bass Nation itself from 1995 to 2010, in the process earning the 2006 BASS Nation Conservation Director of the Year Award for the Eastern Division.
Wil's love of fishing and desire to get others hooked on the sport doesn't start and end with his day job and club involvement, however. In fact, longer than anything, he's been spreading the angling message through his countless articles in a variety of newspapers and magazines, such as Ontario Out of Doors, Bob Izumi's Real Fishing, Big Jim's Just Fishing, Bassman Magazine, In Fisherman, Bassmaster and my magazine, Outdoor Canada. He's also penned a number of regular fishing columns over the years for community newspapers, and continues to contribute articles to several fishing websites. And along the way, he's picked up several writing awards, including honours from the Outdoor Writers of Canada.
Writing aside, Wil has also long encouraged people to fish and/or improve their skills through his seminars and workshops, including bass-fishing courses at Seneca College. In fact, he'll be sharing his considerable fish-catching knowledge right here today at this show.
Now, somehow, throughout all of this, Wil still manages to find the time to actually fish himself. He first wet a line when he was three or four years old, fishing with his dad on the Holland River in Bradford, where he now lives with his wife, Loretta, and where they brought up their two sons, Tyler and Izaak. His first fish? A hammer-handle pike, that was an absolute monster to the young angler. As Wil says, there was no turning back after that.
Today, he continues to fish tournaments—he's a regular fixture on the Ontario Bass Nation circuit—and, of course, fish recreationally. I suspect it's no surprise to anyone that his favourite sportfish are bass, both largemouth and smallmouth. And I suspect it would come as no surprise that for the past couple of years, Wil has taken the entire month of September off to fish his brains out on Lake Simcoe and Couchiching, along with a number of Muskoka lakes.
As I said, Wil literally lives fishing, from dawn till dusk, practically every day.
But there is a time, once a year, when he puts down his fishing rods to generously help out another cause. And this brings us to back to Wil assisting people in need. Some of you may not know this, but for the past four years, he's participated in the "Swim with the Fishes" event, front-crawling across Lake Couchiching to help raise money for the Child Advocacy Centre of Simcoe/Muskoka. To date, his efforts—with pledges and support from his fellow anglers—have contributed some $6,000 to help abused kids. Again, that's just the kind of guy he is.
Now, of course, I've merely scratched the surface when it comes to cataloguing Wil's immeasurable contributions to recreational angling and our precious fisheries. How immeasurable? This year, Wil is also being honoured by Fisheries and Oceans Canada, having earned one of Canada's National Recreational Fisheries Awards. The honour is presented annually to individuals for their contributions to the conservation, restoration and enhancement of the country's recreational fisheries.
But wait, there's more. Next month at the annual convention of the Ontario Federation of Anglers and Hunters, Wil will once again be honoured, this time with the Rick Morgan Professional Conservation Award. Wow.
With that, it is my immense honour this morning to introduce this year's inductee into the Canadian Angler Hall of Fame, a good friend and colleague to many of us in this room, Wil Wegman.