Fixing fences
Thanks to safer fences, antelope are now free to roam
For the eighth year in a row, the Alberta Fish and Game Association is helping pronghorn antelope migrate across the province. How? By removing harmful obstacles.
"Antelope don't like to jump," says Martin Sharren, the AFGA's executive vice-president. "They get stressed when they encounter a fence. They'll walk back and forth and eventually crawl under it." And when that happens, he says, any barbed wire can badly injure the animal, making it more susceptible to predators.
So, three times every year since 2009, teams of volunteers from the AFGA, the Alberta Conservation Association and other partners have been heading afield to migration pinpoints, as identified by a University of Calgary study. There, they replace the fence's bottom strand of barbed wire with smooth wire.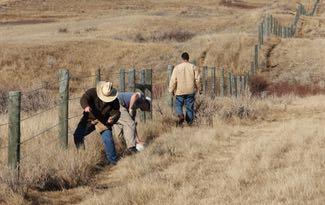 "There are fences all over southern Alberta, and some of them aren't even being used anymore," Sharren says. "In those cases, we just take them out and recycle the metal."
As for page wire (fence wire knotted into a grid of rectangles), which is impassable for antelope and many other animals, the volunteers rip it out completely. If the landowner still requires a fence, they then replace it with single strands of barbed wire up top and smooth wire on the bottom.
To date, more than 1,000 kilometres of fencing have been made wildlife-friendly under the corridor enhancement project, playing a role in reviving the province's pronghorn population, Sharren says.
That's good news for resident hunters, who currently wait years or even decades before their names are drawn in Alberta's antelope hunt lottery. It's also good news for hunting overall, showing the general public that hunters are proactive conservationists.
Learn more about the AFGA's programs and positions at www.afga.org.