Summertime walleye across the land
Try these deadly, but little-known tactics for prairie lakes, Shield lakes and rivers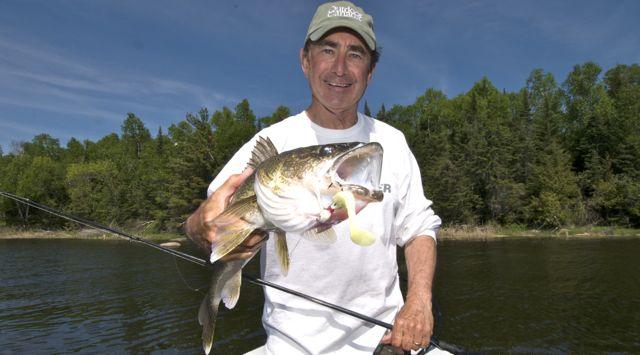 SHIELD LAKES
Walleye in Shield lakes vacate their spawning grounds much faster than most anglers realize. This is especially the case with the bigger females as they conserve body weight, devote energy to egg development and feast on the prized fatty forage fish out in the main lake.
That's why I keep close tabs on the local weather conditions from mid-June to early September, watching for stretches—the longer the better—of stifling hot and humid weather. Throw in a strong, gusty wind and you'll find me running my waypoint list of main-lake hard-bottomed structures that lie right its path.
Long underwater points are good, but jagged rock reefs just breaking the surface are best—the resulting whitecaps shatter the surface tension and dial down the light. This draws schools of shadow-loving walleye to feed on schools of baitfish gorging on plankton, as well as hordes of crayfish enticed out of crevices by the dim conditions.
Under this scenario, you'll be rewarded with some of the most frantic walleye action you've ever experienced, even during the middle of the day and even if you were catching fish by trolling in much deeper, calmer water only a day or two before. Some years, such conducive conditions come together almost weekly. In other years, however, they can be infrequent, so be vigilant—you want to be on the water when all heck breaks loose.

In terms of your presentation, there's nothing finesse about it—this is slam-bam fishing. Either a medium-heavy-action spinning or medium-action baitcasting rod and a reel spooled with 12- to 17-pound-test braid will do the trick. The lures of choice include jerkbaits (X-Raps, Husky Jerks, Thundersticks and Lucky Craft Pointer Minnows), crankbaits (Shad Raps, Wiggle Warts and Arashi Shad) and five- and six-inch soft-plastic swimbaits (Bass Magnet Shift'R Shads, X-Zone Swammers and Berkley Hollow Belly Swimbaits). Attach the swimbaits to half- and 3/4-ounce long-shank jig heads or Freedom Tackle Hydra heads.
Cast into the skinny water over the structure—the walleye will be so shallow you'll wonder how their dorsal fins remain below the surface—and just try to swim your lure back to your boat without getting bit.