Vacation fishing school
Visiting the Sunshine State? From charters to DIY action, here's how to have a some fishing fun

Offshore fishing
Broadly speaking, going offshore offers two activities—trolling and wreck or reef fishing, and you can do both in a single charter. Less than an hour offshore, you can fast-troll baits near the surface for big, hard-fighting king mackerel, wahoo, blackfin tuna and one of the state's most prized catches: dolphin. And no, it's not the like-named mammal. Rather, it's the iridescent green-gold fish known as dorado (above) to much of the world, and labelled mahi mahi in grocery stores and restaurants. But to Floridians, they're dolphins. These fish are fantastic eating and great leaping fighters, and when they're on, they're really on. But when they're off, trolling can get tedious, especially since the US$900 to US$1,200 cost of a day offshore makes for a pricey boat ride.
That's when you head for Florida's countless wrecks and natural or artificial reefs. These isolated structures, typically in 50 to 200 feet of water, attract baitfish, which in turn draw an huge variety of ever-larger predators. In shallower water, light-tackle jigging for scrumptious yellowtail snappers is a favourite family activity. Though yellowtails average only three pounds, they're disproportionately strong, and kids (or anyone with underdeveloped biceps) have to work to pull them in.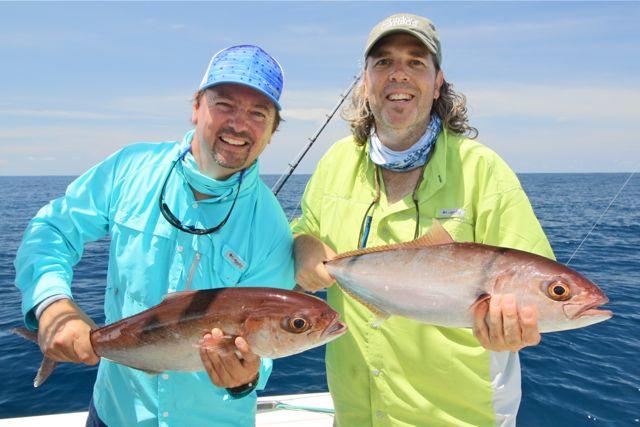 For bigger game, you can drop butterfly jigs or football-sized live and cut bait on deeper reefs for, well, anything. Here you'll find big, aggressive fish, such as mutton snapper, grouper and amberjacks (above)—the last one nicknamed "reef donkeys" for their strength and unwillingness to budge. Reef fish of 20 pounds are typical, and triple that size is quite possible. Land a couple of reef donkeys, and you'll be ready for a shower and a deep-tissue massage.