Vacation fishing school
Visiting the Sunshine State? From charters to DIY action, here's how to have a some fishing fun

Backcountry fishing
In the land of the true north strong and free, backcountry fishing is an off-the-grid, often fly-in or paddle-in adventure. In Florida, "backcountry" refers to the state's extensive mangrove-lined channels, islands and estuaries, along with broad expanses of shallow-water flats that extend several kilometres from shore. Here you can catch tarpon, snook, redfish, seatrout, various jacks (such as the hard-fighting jack crevalle above), Spanish mackerel, barracuda and sharks on spin or fly tackle. A few of those species require solid angling skills, but for most, even kids and novices can easily hook up. A half-day in the backcountry ranges from US$350 to US$500.
Nick and I were backcountry fishing when he hooked that shark, and the way it happened explains a lot about this kind of fishing, and saltwater in general. Captain Malone, who is based out of the Hawks Cay Marina, had anchored his boat, Tarpon Time, on a rock pile, about two kilometres from shore, in six feet of water. He began chumming with handfuls of three-inch-long live pilchards, which he'd captured with a cast net that morning. Before long, jacks and bluefish showed up.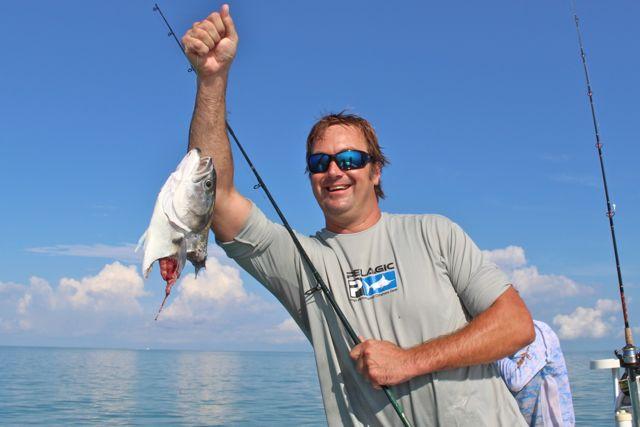 Casting pilchards on light tackle, we caught them almost at will. Then Nick hooked a much larger five-pound bluefish. During the fight, a shark swooped in and sliced away most of the struggling fish, leaving Nick to reel in just the head (above). So Captain Malone pulled out a big rod, hooked the head on a 6/0 hook  and chucked it out to settle on the bottom, believing the shark would come back for dessert. Twenty minutes later, it did (below).