Big time
Gord Pyzer's four-point plan for consistently landing trophy fish
Whenever I'm asked to name my favourite fish, I always answer the same way: It's the one I'm currently fishing for. It doesn't matter if I'm chasing perch, walleye, salmon, lakers, pike, muskies, bass, crappies, stripers or sharks—I love tackling them all equally.
That said, most days I'm all about catching as many big fish as possible, and I suspect you feel the same way. If only you could catch more fish-of-a-lifetime lunkers, right? Well, you can, and it has nothing to do with luck. Instead, it's all about playing your cards carefully and following these four simple steps.
#1: Fish where big fish live
Once or twice a winter, I like to hop over to Lake Winnipeg and ice fish with friends for walleye in the southern basin. And over the past decade, there's not been a single time when our group hasn't successfully nabbed at least one giant greenback weighing more than 10 pounds.
Truth be known, more trophy walleye are probably landed during any given winter weekend on Lake Winnipeg than on any other walleye lake in the country over the entire year. For example, I ice fish far more often for walleye on my home waters of Lake of the Woods, which is an exceptional body of water, but it simply doesn't produce anywhere near the number of trophy-sized walleye that its Manitoba neighbour does.
The Bay of Quinte in southern Ontario, along with Tobin Lake and Last Mountain Lake in Saskatchewan, also deliver pleasant surprises in the same big-fish fashion. So if you want to play at the high-stakes table, pick your spots carefully.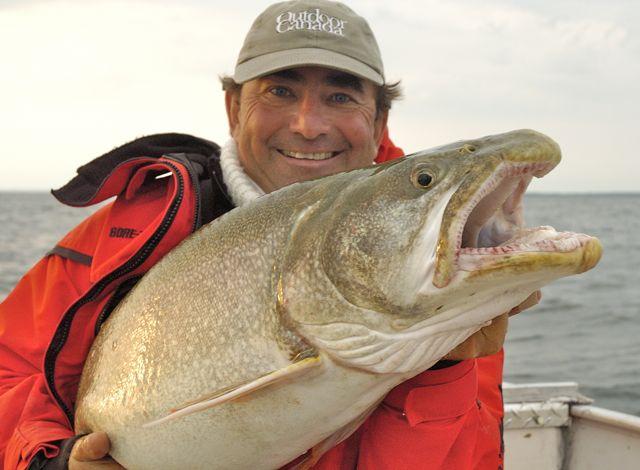 #2: Go at the right time
One of my great joys in life is fishing for trophy chinook salmon in the pristine waters off northern B.C.'s Haida Gwaii. It's heaven on earth. But if you study the catch records carefully, you'll see that the true trophy tyees in the 60-pound-plus category are typically caught during a very narrow two- to three-week window in the summer.
The same goes for mammoth muskies in the mighty St. Lawrence River. As with fishing for salmon in Haida Gwaii, you can catch a monster muskie at any time of the year in the Larry. But if you time your trip to coincide with the chilly days in late November, when the big toothy critters move into the river from Lake Ontario, that's when you'll hear your drag scream from a knee-knocking catch. Like picking just the rights spots, timing is also crucial.
#3: Know your quarry well
I once spent a week guiding Phil Petty, who was the tight-end coach for the New York Jets at the time. As we hunted muskies, Phil told me how the coaching staff of every NFL team studies their own bench from the perspective of opposing coaches. Why? To look for anything in the way the team plays that could be used against it.
Likewise, when you examine your favourite lake in the same critical way, the giants can run, but they can't hide. Study how the fish react to everything from changing weather and rising water levels to mayfly hatches and fishing pressure. That way, you'll always know where to wait to greet them, no matter what the conditions.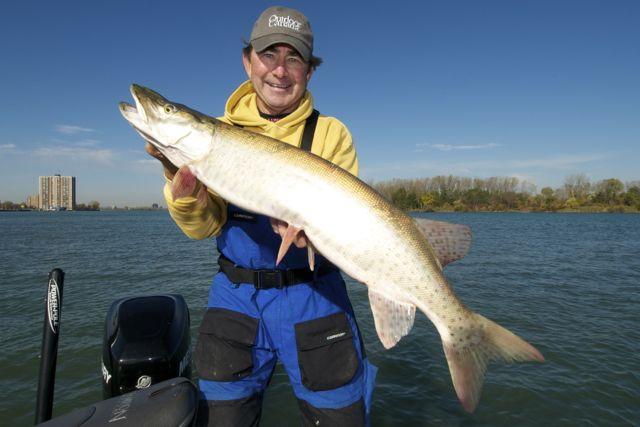 #4: Specialize your technique
Big fish of a lifetime behave differently from their little brothers and sisters, so don't use small-fish techniques, presentations and gimmicks. Go big like legendary Ottawa River muskie guide John Anderson, who is the best glide-bait angler I've ever seen. Similarly, muskie expert Jon Bondy is a virtuoso with one of his giant signature Bondy Baits dangling from the end of his line.
To be consistently successful, you also need to develop specific big-fish techniques that you can use better than anyone else on your lake. Whether you fish 'em high and fish 'em low, or fish 'em fast and fish 'em slow, find your nicheand you'll reap the rewards at the big-fish table.