The pink salmon frenzy
The pinks are coming. Here's how to get in on the fun
Every odd-numbered year, B.C.'s Fraser River provides a pink salmon bonanza with unparalleled sportfishing opportunities—and this year should be no exception. From late August to late September, as many as 17 million pink salmon are expected to migrate up the mighty river to their Fraser Valley spawning grounds.
With the tightening of regulations on coho, chinook and sockeye salmon, anglers looking to bring home some fish eagerly anticipate this biannual run. If you're in the Vancouver area later this summer, you owe it to yourself to get on board and ride the pink salmon tsunami. It's a short window of opportunity, so be sure to get in on the fun while it lasts.
The fish
Pinks rear in the Pacific Ocean less than two years before returning to freshwater, so they're smaller than most other salmon, averaging four to six pounds. What they lack in size, however, they make up for in great sport and vast numbers. The run can lead to the kind of wild non-stop action you only dream about. The fish migrate upriver in such huge schools, in fact, that any angler armed with only a little knowledge and some basic gear can land double-digit numbers of pinks in just a few hours. The males are nicknamed "humpies," because shortly after entering freshwater, they develop a prehistoric-looking dorsal hump. Most locals only keep the females, which make much better table fare.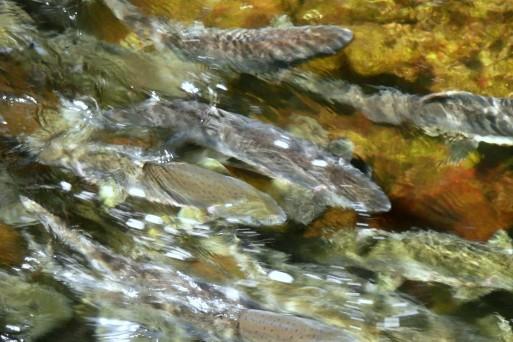 Location
The salmon enter the river with the incoming tide, and the action can continue off and on all day; it's usually best from first light to 11 a.m. You can fish from anchored boats or anywhere offering decent shore access for casting. Pinks always tell you when they're present, since they porpoise while migrating upriver in their enormous numbers. This is actually deceiving to novice anglers, as the vast majority are cruising along the bottom. To be effective, that's where you need to put your lure.
Tackle
Fraser River pinks can be taken various ways, whether fly casting or float fishing with jigs, but my favourite method is to simply cast lures from shore with spinning tackle. Use a nine- to 10-foot, medium-light-action spinning rod, load up your reel with eight-pound test line and get yourself a pair of waders. The waders and the long rod help you get your presentation out as far as possible, while the light action lets you enjoy the fight of these small but scrappy salmon.
Technique
Catching pinks with spinning gear is quite basic, but it does take some practice. Cast out as far as possible, and allow your lure to sink for a few seconds before beginning a slow retrieve. Being able to detect a bite is critical, and it's often the difference between getting skunked and having a wildly successful day. The take can be very subtle—often your line will just stop. If this happens, or you feel anything at all, set the hook.
Catches
During the peak of the run, usually the first two weeks of September, I often catch and retain my limit of four pinks by 9 a.m., then catch-and-release the rest until my arm is sore or it's lunchtime. During the 2011 migration, my personal best was 21 hookups in 21 consecutive casts. Possession quotas are usually four per day, so in one outing you can quickly catch enough to feed the entire family. Pinks don't freeze as well as other types of Pacific salmon, so it's best to eat them fresh or run them through your smoker within a couple of months.
Licences
Make sure to check the regulations for the area you'll be fishing. Anglers need a federal Tidal Waters Sport Fishing Licence when fishing from the mouth of the Fraser River to the tidal boundary in Mission. For fishing upriver from the boundary, you'll need B.C.'s Basic Licence and a Salmon Conservation Surcharge Stamp.