What is my winter line?
Choose mono, fluoro or braid, depending on the situation
If this weather is any indication, we are going to get an early jump on another hopefully epic ice fishing season. With cold temperatures arriving early and little snow to insulate against the frost, we're building up ice quickly on lakes and rivers across the country, spurring many anglers to put up the ladder and grab the ice fishing gear from the rafters of the garage.
That's what I did the other day, and the very first order of business was to check the line on all of my ice rods and reels. The second, of course, was to ask myself: Do I really have that many outfits?
Well, yes, I do, since one day I'll be chasing lake trout and whitefish, and the next day yellow perch and crappies.  Then, I'll switch over to walleyes and pike before tackling specks, rainbows and splake for a change of pace. Rather than rely on just one or two rods and forever change lines, I like to have several rods rigged on a species specific basis, so I can pick them up on the spur of the moment and head out the door.
[easy-tweet tweet="Should you use fluorocarbon, monofilament or braided line for #icefishing? @GordPyzer asked the experts, and their answers may surprise you" user="OutdoorCanada" hashtags="fishingislife winterfun"]
But it begs the question: What is the best line for ice fishing: monofilament, fluorocarbon or one of the new modern braids?
"Because I spend most of my time ice fishing outside, on the endless expanse of Lake Winnipeg's frozen surface, scouting for jumbo walleyes, my rods are rigged with 8-pound test Trilene XL monofilament line," said Donovan Pearase, who runs Blackwater Cats, unquestionably the top guide service on the giant inland sea. "I've tried all the ice braids and have never found one that doesn't ice up more than I like.  When I'm on the go, looking for fish for Blackwater Cats guests, I want to get my lure down the hole quickly to the fish and I just hate iced-up line."
Pearase goes on the say, that braid is "awesome" if you are fishing inside a heated shack or outside in the warm weather of early spring.  Then, he spools his reels with 15-pound test.
"In both situations," Pearase says, "I'll tie the mainline to a small swivel and then add a 15-pound fluorocarbon or 17-pound monofilament leader with a snap on the end. I always cut my leader so that it is 6 to 8 inches longer than the thickness of the ice.  That way when you see the swivel, you can take your time getting the fish's head into the hole, rather than horsing it up and losing it on the edge of the ice."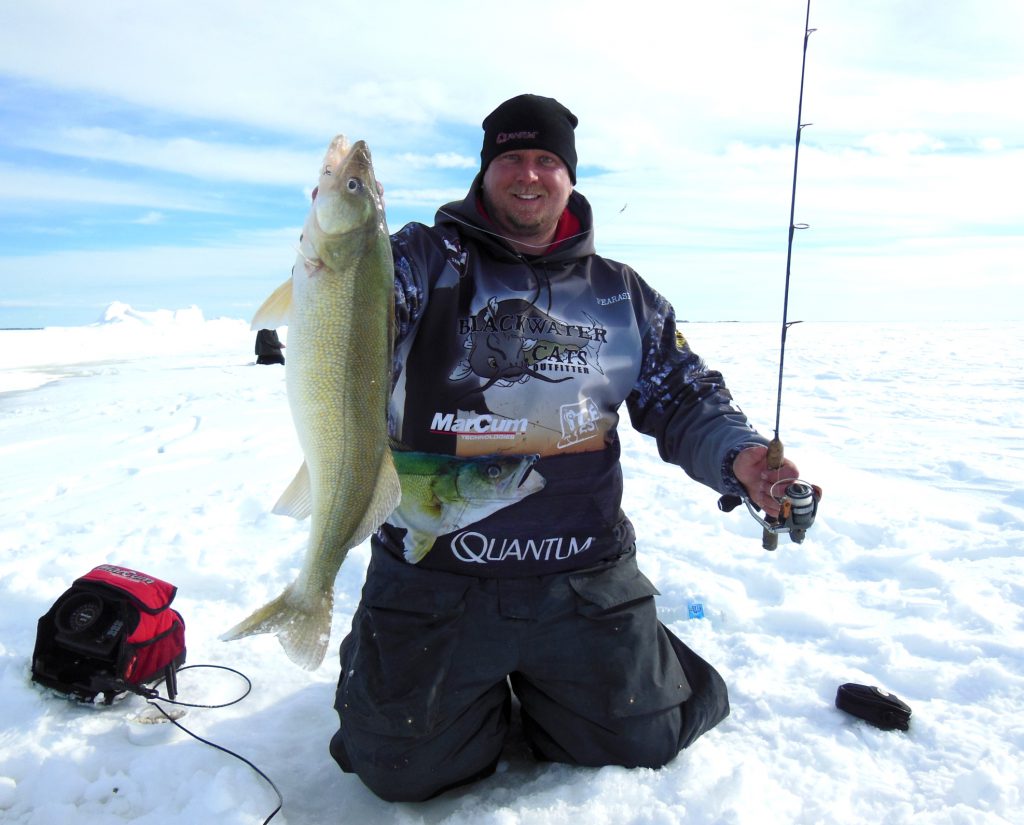 Saskatchewan-based buddy, Jeff Matity is the best winter burbot angler I've ever fished with.  He is no slouch when it comes to walleye, northern pike, yellow perch and lake trout, either.  And like Pearase, he favour monofilament for his work outdoors.
"I'm a mono guy," chuckles Matity, noting that he favours Sufix Elite when he fishes outside a shack with a long rod. "But I prefer three-pound test Invisiline Castable Fluorocarbon when I am ultra-light fishing.  Fluorocarbon sinks and helps gets light lures down deep.
"I'll go with 10-pound test ice braid, however, when I am fishing inside a shack. You can get good hook sets with it in confined spaces. I'll up the strength to 20 pounds when I am big-game hunting and jigging large Reelbait Flasher Jigs with ciscoe bellies for pike, walleye and burbot."
At the other end of the ice fishing belt, Southern Ontario buddy Pete Garnier is a maestro when it comes to putting panfish—bull bluegills, slab crappies and jumbo perch—on the ice.
"Without a doubt," says Garnier, "I reach for fluorocarbon.  It is smooth compared to braid. The tiny ridges on even the most tightly woven braided lines still pick up water that inevitably freezes on those cold open-ice days. The super-low stretch is awesome and the sinking nature of fluorocarbon rounds out my top three reasons for using it 99-percent of the time."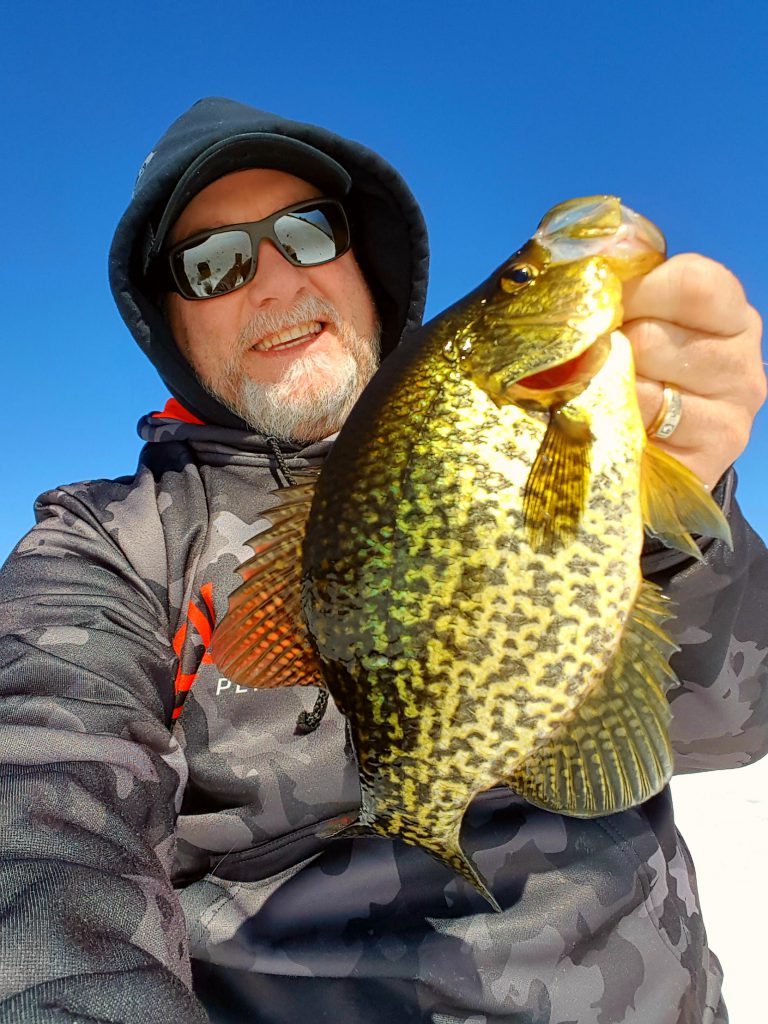 Ironically, it is the no-stretch quality of braid that makes it the line of choice for Carolyn Kosheluk, the self-proclaimed, "Lady of the Lake", whose popular New Water YouTube channel is a big hit with anglers.
"I spool up with Sufix 832 Ice Braid," says Kosheluk, adding that she adds, "a short monofilament or fluorocarbon leader to reduce line visibility. I like the zero-stretch properties of braid, especially when I am fishing for deeper targets like lake trout. It is protected to resist line freezing, so it doesn't ice up badly on the spool or at the hole like an open-water braided line does in the winter."
If you're getting the impression that monofilament—often thought of as being dull, boring and yesterday's news—is still popular with today's seasoned ice anglers you would be correct. And Manitoba lake trout specialist, Rick Shpiruk says you can count him in amongst the aficionados.
"I prefer 15-pound test Trilene XT for lakers," says Shpiruk. "Pure fluorocarbon is too stiff, while braid holds too much water and freezes when I fish outside the shelter. I do, however, always add a three foot fluorocarbon leader to my main line using a small swivel to connect the lines. For walleye, on the other hand, I rely on 6-pound mono for my jig rods and 8-pound for my lipless cranks."
Last, but by no means least, spot a lonely potable ice shelter out on the frozen reaches of southern Ontario's immense Lake Simcoe and the chances are good that it belongs to buddy Justin Girard, who specializes in catching the lake's renowned giant whitefish and lake trout. Because he typically tucks himself comfortably inside a heated shelter, he relies on braid.
"I like using yellow 10-pound test Power Pro," says the personable pro, whose Justin Girard Fishing YOUTUBE channel is must watch viewing. "I find the thin diameter and slick coating keeps ice from building up on the line. And if any does form, you can slide it off easily with a single stroke between your fingers or gloves."