Not only is Ottawa's Stephen Molson an accomplished fisherman, he's also helping other anglers via his hobby of mapping backcountry lakes. An IT consultant with a geometrics firm, and one-time wildlife technician, Molson has created more than 50 extremely detailed contour maps of lakes in and around Ontario's sprawling Algonquin Provincial Park. Since most of the park's waters are paddle only, Molson has also developed a canoe-trolling system for hooking resident brookies, lakers and other species all season long.
Baits
Eschewing traditional trout lures such as spoons and spinners, Molson trolls quality stickbaits and crankbaits 90 per cent of the time. His tacklebox includes a variety of floating/diving lures, from two-inchers that run several feet deep to fat-bodied, extra-deep cranks that dive 25 feet or more. Why hard baits? Because they travel at predictable depths, Molson says, plus they track true at slow or fast paddling speed, and float up when he stops, preventing snags. In shallower water, he likes perch, pumpkinseed and fallfish colours; over deep, open water, he prefers whites, silvers and muted yellow-greens.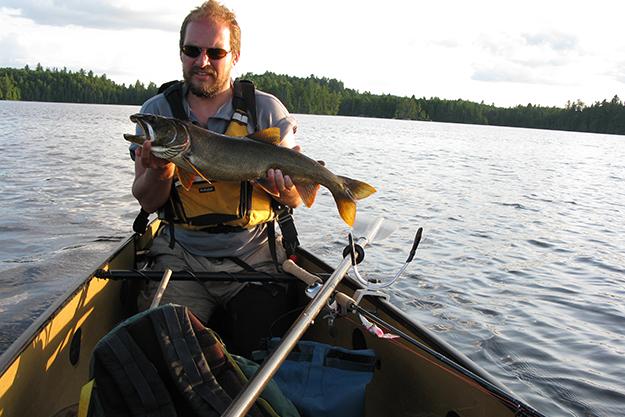 Tackle
For backcountry trips, Molson (above) suggests packing two rods per person, matching them to the diving depths of the lures. During summer, that means a medium-light spinning outfit for shallow-running baits up to a medium-heavy baitcaster for deep-diving, heavy plugs. Choose long rods to keep the line away from the paddles, and use good-quality clamp-on rod holders to keep your hands free and the rods properly positioned.
Location
In summer, trout go deep, but Molson has found they still visit shallower areas to feed. Look for lakers on flats, humps, saddles and extended points in 20 to 30 feet, but close to much deeper water. Target brookies at midday with deep-diving three-inch cranks in 20 to 25 feet. In low light, troll for them with shallow-diving stickbaits over 15 to 20 feet. Molson says to keep in mind that when lakers are also present, they often push brook trout into shallower water than you'd expect.
Technique
Using a contour map and sonar, Molson identifies prime spots and fishes them hard, making multiple passes. "Paddling in a figure-eight allows your bait to remain in motion, and change speed and depth as you turn," he says. "These changes may elicit a following fish to strike." Also watch your rod tip to ensure the lure is running properly, he says.
Versatility
No trout? No problem. Molson says his canoe-trolling technique is highly adaptable. "It's superb for northerns on extended, deep weedlines, or over rocky or lightly weeded flats and shallow weedbeds." It's also effective for Shield lake walleye in current areas and rocky flats in 10 feet of water, he says, and for smallmouth bass just about anywhere they're found.
Check out Stephen Molson's books and maps at www.molsonmapping.com