BROOK TROUT THROUGH THE ICE
Everything you need to know about location, tackle and presentations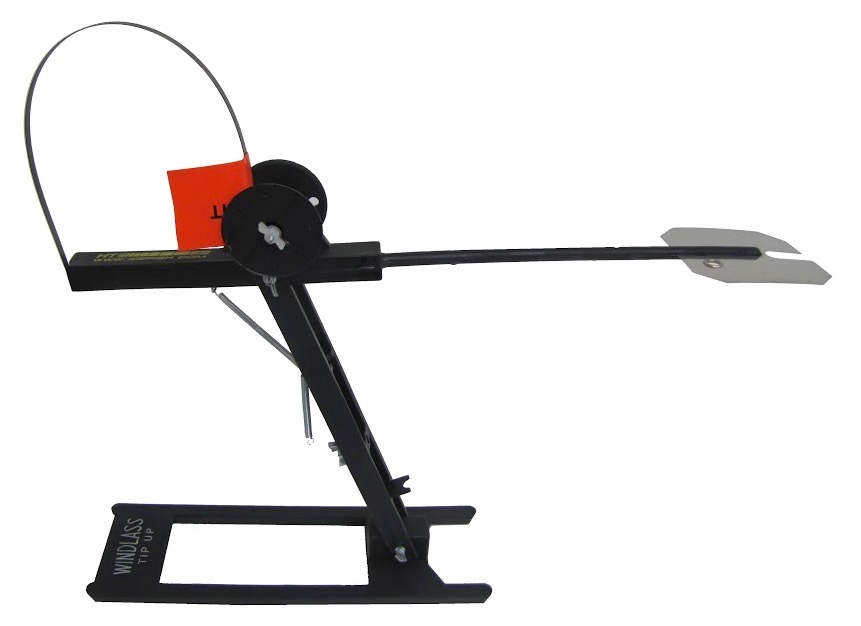 TACKLE
Most avid ice anglers know that four or five small maggots squirming off the end of a light (1/32- to 1/16-ounce) jig or #6 or #8 drop-shot hook will catch a squaretail's attention. However, you can over-finesse these fish. Unless they force you to go small and slow down, don't do it. Indeed, since most jurisdictions let you ice fish with two lines in the winter (check your local regulations), my standard set-up consists of a jigging rod in one hole and a Windlass-style tip-up (below) in the other.
With the tip-up, I spool on 20- to 30-pound-test Sufix 832 Ice Braid. I prefer this thick line because it doesn't tangle when I throw it on the ice while fighting a fish. I then attach a small, hookless Williams Wabler Lite or Mooselook Thinfish (below) spoon to the line to act as an attractor and weight. These paper-thin spoons are light as a feather and brilliantly reflective, so when the wind blows the vane on the tip-up, they rock back and forth and quiver, catching the attention of any nearby trout.

On the other end of the spoon, I attach a 12- to 18-inch leader of six- or eight-pound fluorocarbon or Maxima Ultragreen monofilament, to which I tie on a #4, #6 or #8 thin-wire Gamakatsu octopus hook. Finally, I skewer a lively minnow ever so lightly under the skin behind the dorsal fin so the hook tip points toward its head. I'll sometimes wacky-rig a nightcrawler instead, slipping the hook under its collar.
As for jigging, I use a medium-action jigging rod spooled with eight-pound-test neon Sufix Performance Ice Fuse (with a 14-inch-long leader of six- or eight-pound-test Maxima Ultragreen). I'll tell you about my favourite winter trout lures and how I jig them in my companion story on targeting rainbows through the ice.