PERCH PRO
Hardwater pointers for pulling up plenty of panfish
Having spent her entire life in the northern Ontario community of Wawa, 22-year-old Kathleen Johnson knows the importance of embracing winter. "Around here, if you don't like to go outside and do stuff in the winter, you're pretty much screwed," she says. In her case, she likes to ice fish—a lot. "That's what you do all winter, you go fishing!"
Johnson's enthusiasm for the sport was rewarded last winter when she won the $500 prize for catching the most fish in the 2021 Angler's Atlas Ontario Ice Fishing Challenge. During the month-long tournament, in which participants log their catches via an app, Johnson recorded 557 fish, mostly yellow perch.
Her catches also went a long way towards helping Wawa beat out 19 other communities to become the overall tournament winner. Given Johnson's fish-catching abilities, we asked her what it takes to enjoy a successful day of wintertime perch fishing.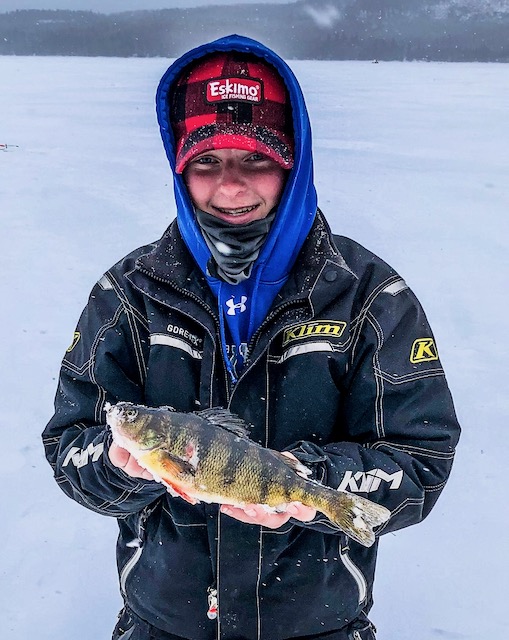 COMFORT
To be able to stay out for long stretches at a time, Johnson stresses the importance of making yourself comfortable. "Don't try to fight the wind and the snow because you won't last," she says, recommending the use of a hut or other shelter, even if it's just a tarp to break the wind. For her part, Johnson fishes in an insulated Otter hut with a propane heater. She even lays down interlocking foam pads as flooring so she can take off her boots and wear sandals instead.
ELECTRONICS
To mark fish—and figure out how to get them to bite—Johnson says reliable and accurate electronics are key. She says she swears by her Vexilar FL-18 flasher because it's easy to use and it provides real-time feedback. "I rely on that thing a lot," Johnson says. "I don't like fishing without it." And to avoid getting her line tangled with the transducer cord, she says she always drills two side-by-side holes, one for jigging and the other for the transducer.
TECHNIQUE
Johnson catches most of her perch on a small tungsten jig tipped with a wax worm. She says she uses tungsten because it's so much heavier than lead and sinks faster. "I was fishing in 30 to 35 feet of water, so I needed to get down there fast," she says. "Up and down, all day long. Catch one, bring it up, measure it, take a picture and throw it back." In terms of technique, she says the key is to not jig too aggressively. "I'll jig a little, let it sit, then bounce it off the bottom to get some dust," she says. "With perch, it's something to catch their attention without being overpowering."
Visit www.anglersatlas.com/tournament to learn more about Angler's Atlas tournaments.