Whitefish wisdom
Hardwater tips for icing one of winter's tastiest catches
As publisher of the popular Time on the Water group of fishing websites, Orillia, Ontario's John Whyte is fully immersed in the angling world—especially considering he also fishes up to 300 days a year, for everything from bass and pike to walleye and trout. And since 64-year-old Whyte (below) is widely regarded as one of Canada's best ice anglers, we asked him to share his advice on how to catch more lake whitefish throughout the hardwater season.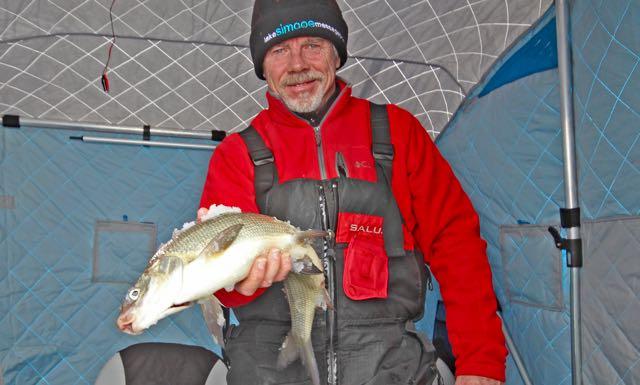 Depth
There's a misconception that whitefish are always down deep, Whyte says, especially on his home water of Lake Simcoe. That's because whitefish are a cool-water species and need to go down deep during the summer to find colder water. During the winter, however, they'll visit various structures in the shallows to feed. "I never fish for them in more than 50 feet of water," he says. "It's easier to find them on structures in shallower water; there's more food there in the winter than there is in deep water."
Location
Whitefish like gravel patches that hold food, Whyte says, as well as broken structure with plenty of nooks and crannies for their prey to hide in. The same goes for moss. All of those types of structure can hold zebra mussels, round gobies, crustaceans and aquatic insect hatches, making for a whitefish smorgasbord. Also productive are areas such as underwater humps, where the fish can dig through the bottom to stir up food. "They're not an ambush fish," he says. "They're a vacuum fish."
Timing
The best time to target whitefish is at first light, when they're up on the structures and easier to find, Whyte says. Once the fish move to the flats, which can be large areas, a little bit of hunting is required. "When they're not actively feeding," he adds, "they'll go out and suspend in 10 to 15 feet off the bottom around the structures."
Technique
Whyte starts the day with an untipped jigging lure. "The Sébile Vibrato has been a killer bait for me," he says. "It's my go-to bait, particularly in the morning when the bite is aggressive." As the day progresses, he switches to a drop-shot set-up. For that, he suspends a soft-plastic bait, such as a Berkley Gulp! Fry, 15 inches above a Badd Boyz jig on the bottom. The key is to not overwork the baits. Once you get the fish's attention by dropping your lure down to stir up the bottom a little, resist the urge to jig or move it too much. Says Whyte: "It's surprising how little movement is required to get bit—and how more movement can be a repellent."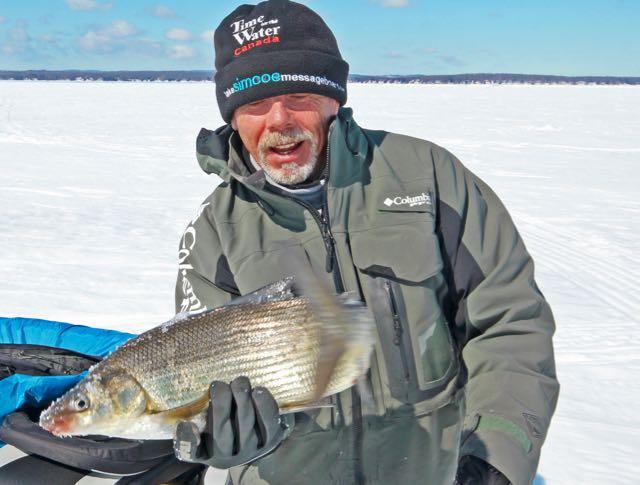 WATCH JOHN WHYTE'S WHITEFISH TIPS IN ACTION ON YOUTUBE.
Every Friday this winter we'll be sharing Outdoor Canada's top ice fishing tips for 2017. Check back regularly to learn about the latest tackle, tips and techniques for icing more walleye, perch, northern pike, lake trout, crappies and whitefish.