Find the proper presentation
How to hunker down and fine-tune your presentations
Am I fortunate to be able to ride a snow machine from my backyard onto Lake of the Woods, one of the greatest ice fisheries on the planet? You bet. So that means I only fish when the weather conditions are optimal, right? Wrong. The point of timing your ice-fishing trips to coincide with the best possible weather conditions is obvious. But sometimes you don't have that luxury, so you have to work on perfecting your presentation.
It's perhaps surprising to many, but when the weather is ideal, my ice-fishing buddies and I run-and-gun and hit as many high-percentage locations as possible, drilling up to 300 holes a day. Faced with tough post-frontal conditions, however, we tend to stay put and pick apart structures and cover we know are likely harbouring fish. It's the complete opposite strategy that most ice anglers employ.
So, why we do this? When you hunker down, you can systematically fine-tune a plethora of presentations until you eventually uncover the one or two key details of the day that will get the fish biting. When you run-and-gun during a tough bite, however, you spend too much time moving around, drilling holes, and setting up and taking down shelters, which leaves too little time to refine your presentation. It's like throwing Hail Mary passes all day long. On almost any tough day, it's the presentation—not location—that's the key to catching fish.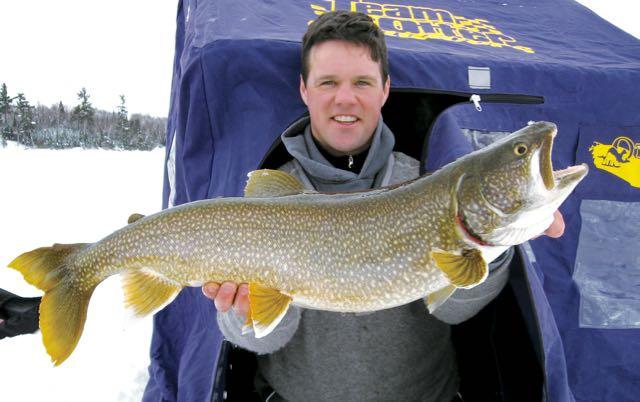 Here's a case in point. A couple of years ago, my buddy Ryan Haines and I were locked in the middle of a brutal, post-front deep-freeze—it was so cold my snow machine wouldn't start—so we popped up our portable shelters over one of our highest-percentage laker locations and turned on the heaters. We then systematically showed the fish every possible presentation, including tube jigs, spoons, lipless crankbaits and airplane jigs. Two hours into the day, we'd yet to see a trout on our sonar screen. Five hours later, however, we'd caught and released four lunker lakers weighing between 18 and 27 pounds. The secret, as we discovered, was to ever so delicately dance our tube jigs so that only the tentacles quivered, all within a five-foot band of water in the middle of the water column.
When some friends who blanked that day later asked how we discovered the pattern, my answer was simple: "The hard way!" But it was true. We had systematically started jigging near the bottom of the lake, slowly working every lure through 10-foot sections of the water column until we eventually discovered an effective pattern. Then we kept using it for the rest of the day.
Every Friday this winter we'll be sharing Outdoor Canada's top ice fishing tips for 2017. Check back regularly to learn about the latest tackle, tips and techniques for icing more walleye, perch, northern pike, lake trout, crappies and whitefish.