Fish near deep water
How to find those special spots on your lake where the lunkers lurk
I typically start ice fishing in late November and early December over a dozen big boulders lying in 34 feet of water where giant pods of perch prowl. It's become a winter ritual. A few weeks after that, once the ice has thickened sufficiently, you'll find me drilling holes for walleye over the tip of an underwater point that breaks precipitously around a 28-foot contour. Then I'll celebrate the new year—and lake trout season—along a unique stretch of shoreline that resembles a staircase.
What do all these locations have in common? They lie immediately adjacent to deep water. When I think about the hundreds of waypoints I have stashed on my handheld GPS unit, in fact, there isn't a single one that doesn't have deep water lying close by. But here's the qualifier: deep is all relative. Let me explain.
I grew up ice fishing for walleye on a lake in the Haliburton Highlands of central Ontario, where the deepest hole was 14 feet and the fish hugged the outside edge of the cabbage weeds immediately adjacent to it. My all-time favourite black crappie location, meanwhile, is a tiny pocket of water where the bottom is 32 feet below the ice at its deepest. The crappies are attracted to it like metal filings to a magnet.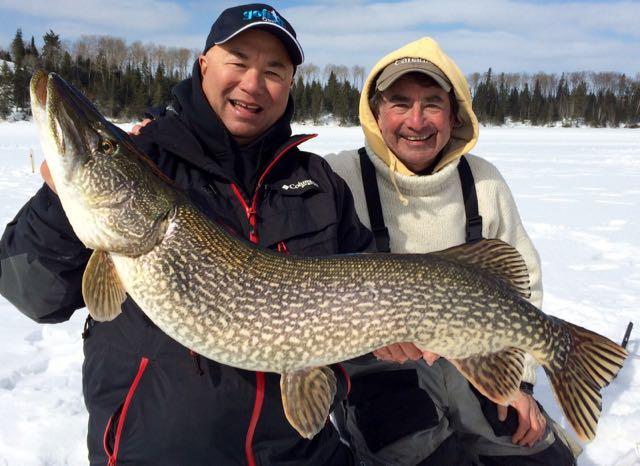 Similar is the killer point where I caught my personal best northern pike, a winter monster that stretched the tape to 54 inches and weighed 34 pounds. Not coincidentally, Stange and Canadian fishing TV star Bob Izumi also landed their PB pike (above) at the same location. We caught all three fish up shallow, where the deepest adjacent water is only about 40 feet deep. The lake has plenty of 70- to 90-foot basins, mind you, but they're many kilometres away. And that's the key—so long as the structure or cover is adjacent to the deepest water in the section of the lake you're fishing, you can almost guarantee you're in the right place.
Stability in terms of water temperature and light penetration is part of the attraction of deep water for fish. It also provides both an escape route and a sanctuary for predator and prey alike. If you find two similar structures in the same lake, with one in shallow water and the other close to deep water, you now know where to spend your time and drill your holes.
Every Friday this winter we'll be sharing Outdoor Canada's top ice fishing tips for 2017. Check back regularly to learn about the latest tackle, tips and techniques for icing more walleye, perch, northern pike, lake trout, crappies and whitefish.