Leave your lure alone
A deadstick rod is simply lethal. Here's what you need to know
Few ice anglers will dispute the remarkable pike-pulling power of a freshly thawed dead bait hanging motionless in the middle of the water column. It's why so many toothy-critter chasers set two stationary lines under tip-ups and sit back and watch. But a deadstick rod is just as effective for black crappies, lake trout, walleye and yellow perch, especially when you complement it with a jigging presentation in a second hole.
Almost everywhere in Canada, ice anglers are allowed to use two rods. Setting up a deadstick—often with live bait—in one hole and a more aggressive jigging approach in another spells double trouble for the fish. Most anglers already know this, but what they fail to appreciate is that on the days when the jigging rod is catching all of the fish, the same lure attached to the deadstick rod can be just as good, or even better.
When you're vertically fishing a Williams Ice Jig (above) tipped with a minnow head for lake trout while suspending a small dead cisco on a fluorocarbon quick-strike rig in a neighbouring hole, how often do you remove the cisco and attach a second spoon instead? I'm betting never. But try it this winter with whatever you're jigging. Jig one rod for five minutes, then leave it and jig the second rod with a similar lure in another hole. I can't tell you the number of times I've done this and the stationary presentation hooked more fish than the aggressive one.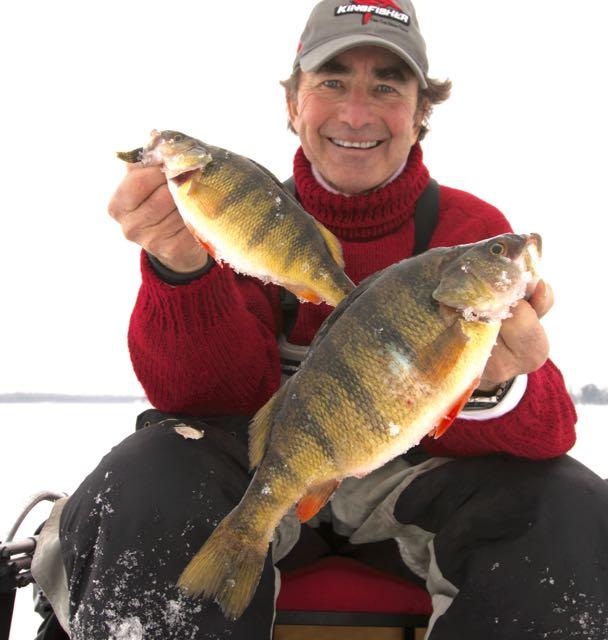 What's happening, of course, is that after you've vertically jigged the lure and placed the rod over a pail, the suspended lure never really stops moving. Latent energy continues to nudge it for several seconds afterwards, while unravelling line twist and even a slight breeze will also subtly move it. And knowing that, it's just one more way you can stand out in the crowd this winter and catch more fish, while everyone else is struggling just to get a bite.