THE TRIPLE CROWN OF THE FAR NORTH
To catch trophy lake trout, northern pike and Arctic grayling in just one trip, head for the N.W.T.'s remote and wild Kasba Lake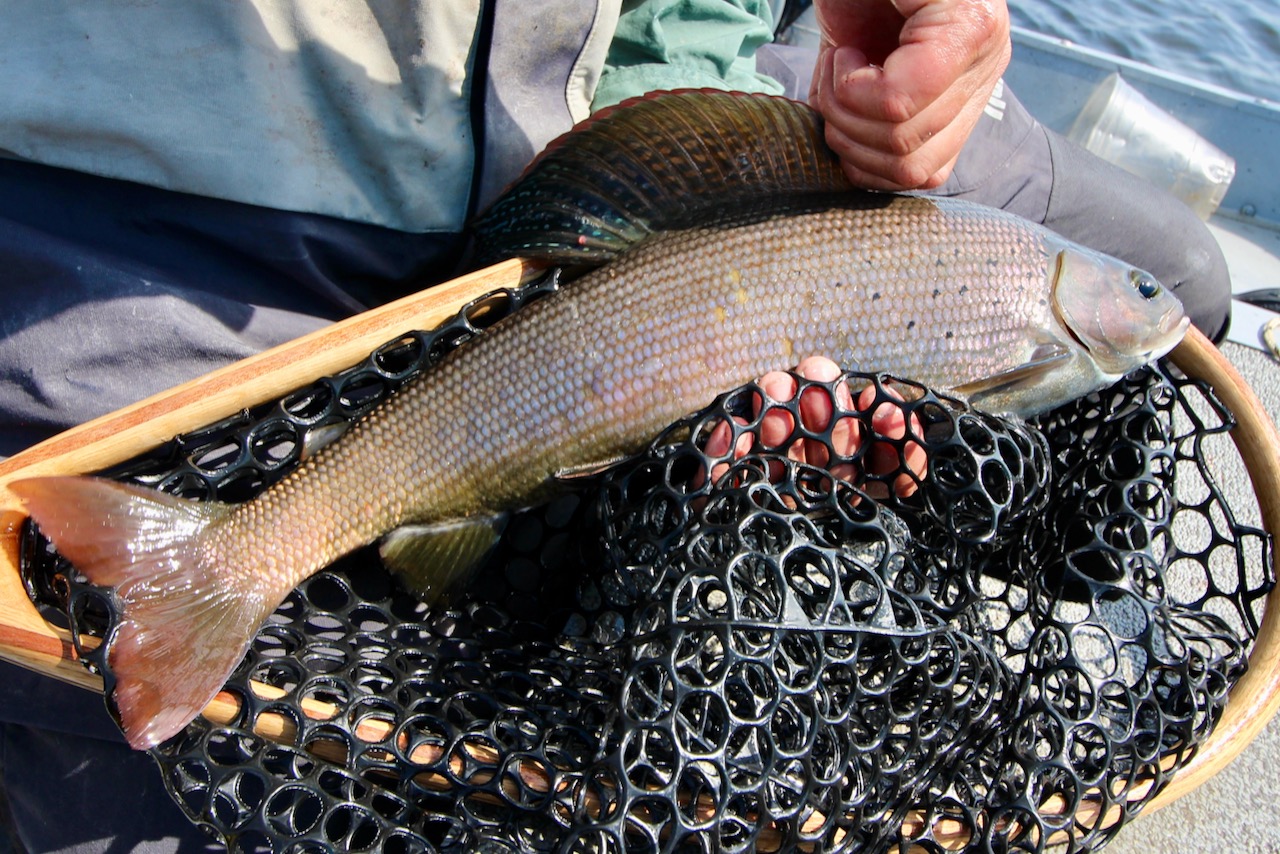 THE KAZAN RIVER
Flowing out of Kasba's north end, and over a daunting set of rapids, the Kazan River is a short flight from the lodge, and Kasba's most popular fly-out destination. In 1990, the Kazan was designated a Canadian Heritage River in recognition of its unique natural, cultural and recreational values, including the sportfishing. It's home to large pike and trout, but the abundant, football-sized Arctic grayling are the real draw.
Cigar-shaped with a sail-like dorsal fin, grayling range in colour from a shimmering silver to iridescent pink or mauve. And they're not just pretty. To avoid predators, grayling spend most of their lives in the current, making them very strong for their size. On some days, they gorge indiscriminately, but other times, catching them on a rushing, boulder-strewn river requires some finesse.
That's how our second day began, as we anchored below the rapids known as the First Set. With light spin tackle, Lynn tapped tiny panfish jigs along the bottom of the plunge pool, while I fruitlessly tried to tempt the fish with dry flies before switching to a subsurface pattern. The action was sporadic, but within an hour, we'd both landed a few fish well over two pounds, giving us the second point of our triple crowns.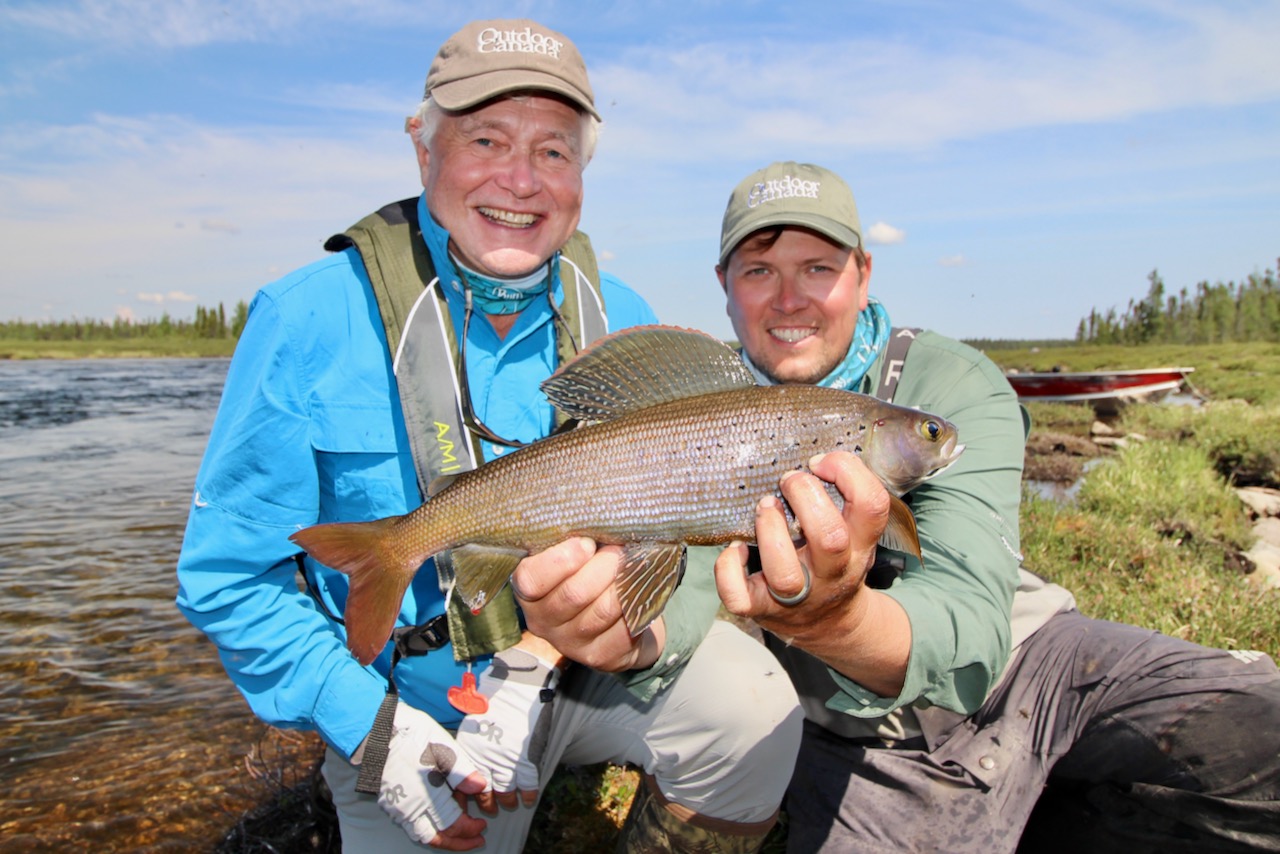 We were also fascinated by the huge lake trout that would ghost up in twos and threes from deeper in the pool, ominously following our hooked grayling. They were clearly attracted to the distressed fish, and the chance of an easy, two-pound meal.
As the day progressed, we continued landing hefty grayling here and there along the river, on both jigs and flies. That included a magnificent specimen Lynn caught from shore, weighing in at 3½ pounds. Then in the early afternoon, we returned to the First Set. Now showing a real touch with the tiny jigs, Lynn cheerfully picked off even more grayling.
Meanwhile, I swung a large, heavily weighted fly through the deep water below the rapids, hoping for one of the trout we'd spotted earlier. Kazan River trout rarely bite artificials, presumably since their bellies are so full of actual grayling, but amazingly, I got one on. Deeply flexing the same 9-weight rod I use for tarpon, I slowly cranked it into view. In the waist-deep water behind the boat, we saw it was easily three feet long, with my bright white fly clearly visible in its mouth.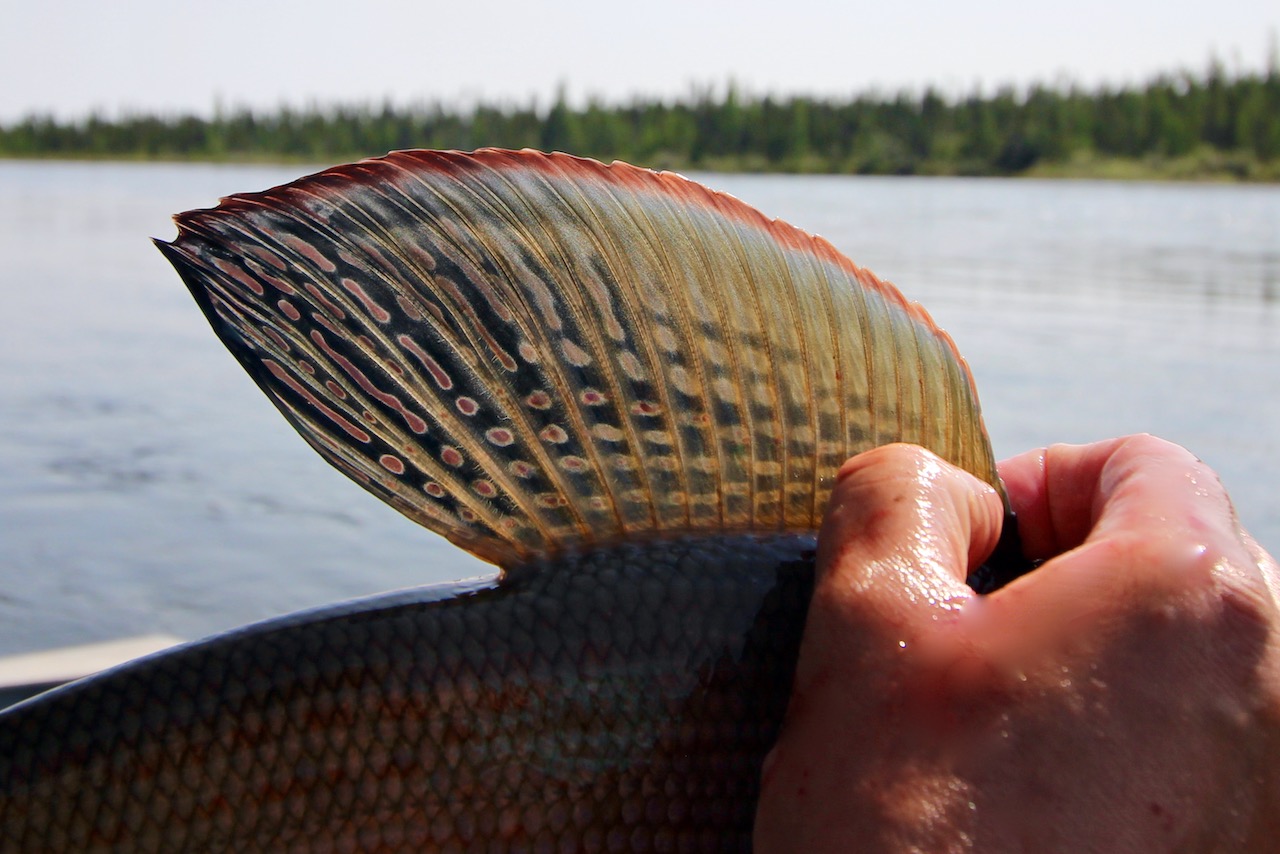 Then another trout emerged, half again as big as my hooked one and following it almost nose to tail. Tyler and I gawked as seven feet of lake trout sliced back and forth across the current. Moments later, the bigger trout shot forward and rammed my fish in the jaw, dislodging the fly. Stunned, I stood there with a slack fly line, and an even slacker jaw. I should have been disappointed, but I just marvelled at the display of aggressive and competitive behaviour.
We finished the day downstream at the Fourth Set of rapids, where we lucked into one of those times when grayling feed heavily. With his spin tackle, Lynn had been catching twice as many as me all day, but these fish were near the surface, devouring bugs. It was perfect for my 6-weight fly outfit, and they greedily pounced on both wet and dry flies. By day's end, we'd caught and released 60 fish. A two-pound Arctic grayling is considered a trophy, yet on this remarkable water, we only landed a handful of fish under two pounds.