THE TRIPLE CROWN OF THE FAR NORTH
To catch trophy lake trout, northern pike and Arctic grayling in just one trip, head for the N.W.T.'s remote and wild Kasba Lake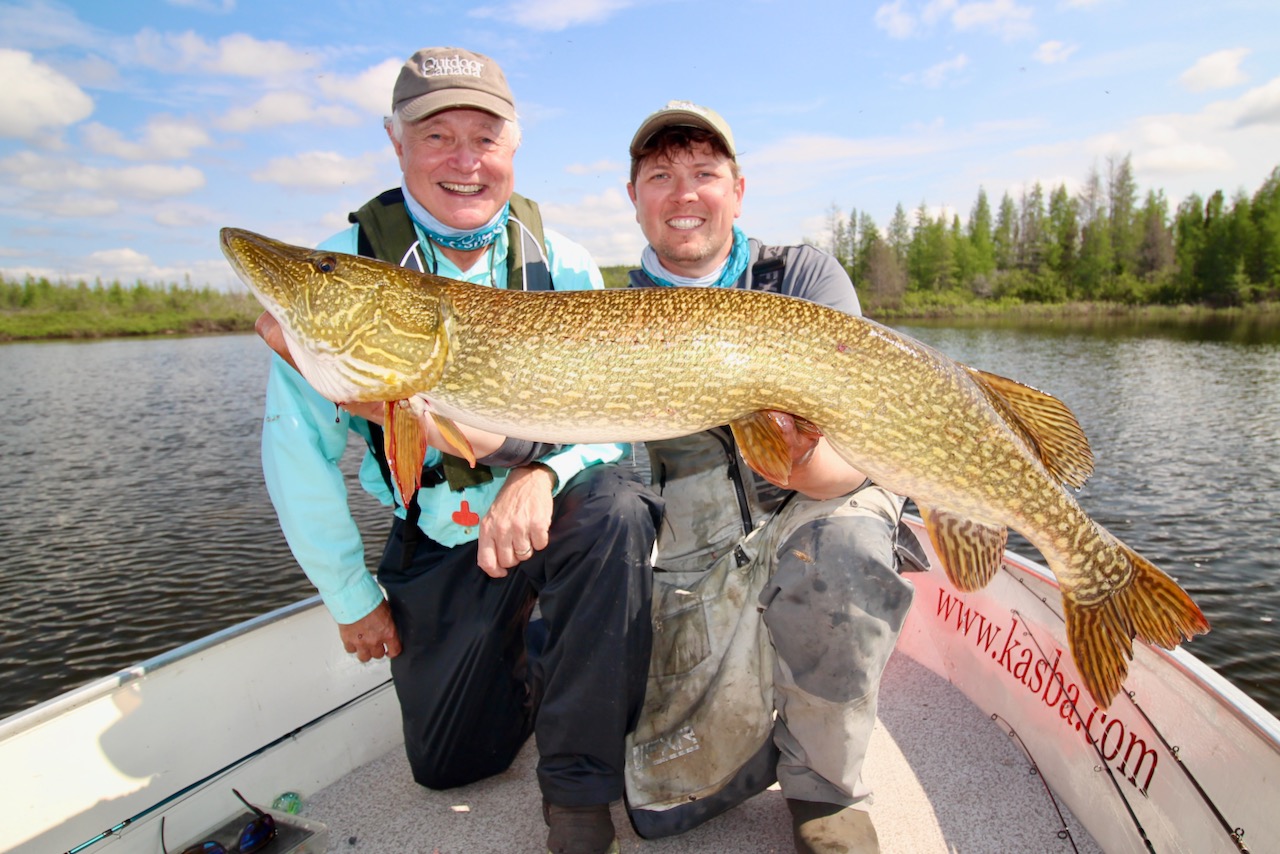 GORDO'S BAY PIKE
On our first full day in camp, Lynn and I set out to sample the entire Kasba fishing menu. We were in good hands with Tyler, who'd been fishing and guiding on Kasba and the surrounding waters since 2011. From Omemee, Ontario, Tyler was affable, often hilarious, and a triple threat: a trained fisheries and wildlife biologist, head guide and, in the off-season, Kasba's sales manager.
We started in a classic pike bay near the lodge, where Lynn stuck a 36-inch fish. Switching gears (or rods, actually) we trolled our way out of Kasba's large west-side bay, toward the main-lake basin, nabbing trout along the way. Greeted by stable conditions, we headed for a mid-lake hot spot called the Dome. The trout fishing there was a little frosty, but the water was so unusually calm, Tyler suggested we run all the way across the lake to a pike spot called Gordo's Bay. It was July 11, still early in the Kasba calendar, and we'd be the first boat of the season to fish there.
A broad, shallow bay with a creek tumbling in, scattered sunken logs and the green highlights of emerging weeds, Gordo's certainly looked like a prime pike spot. After a couple of casts with my 8-weight fly rod, I knew Gordo's had the goods when a 40-inch pike snapped up my Supercharger fly, a swishy, suspending, all-tinsel eyesore beloved by northerns. As we took a quick photo, it was exactly 3:45 P.M.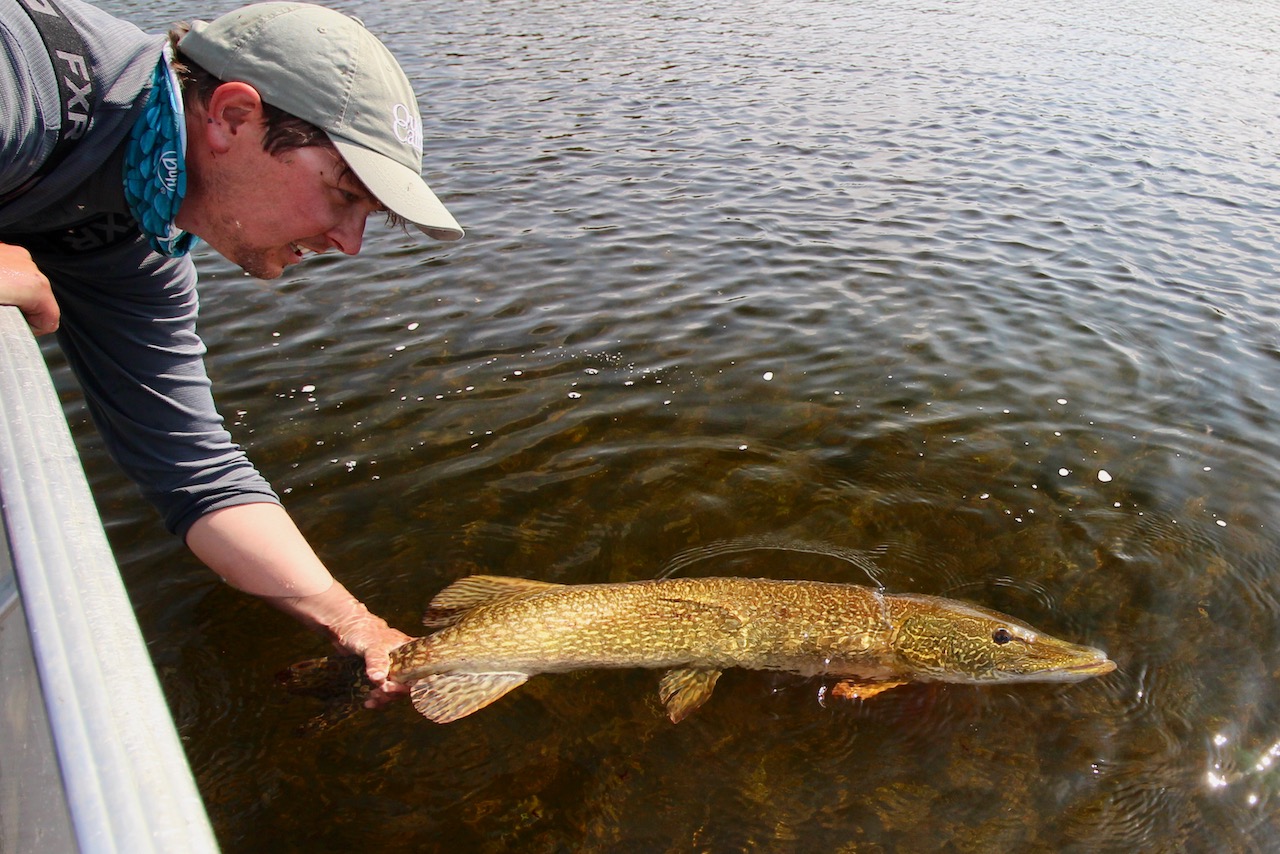 Peering more keenly into the water, we then realized that many of those "logs" were actually very large pike, slowly cruising all around us. A few casts later, I hooked another northern. While I landed the fish, Lynn clipped a larger, lighter spoon to his leader. On his first cast into the swirling water below the inflow, a trophy pike smacked his clown-coloured Williams Whitefish. Then, unbelievably, we were landing big pike on every third or fourth cast.
Once the action slowed, Tyler backed us into slightly deeper water, where Lynn made a long cast, let his spoon flutter down, and hooked up yet again. Lynn is a long-time Detroit sportswriter, now semi-retired and living in the sunny south. Still a wordsmith, he said this pike felt like a "serious fish" compared to the 40-inchers. He was right—his 45-inch gator ended up being the biggest pike caught at the lodge that week.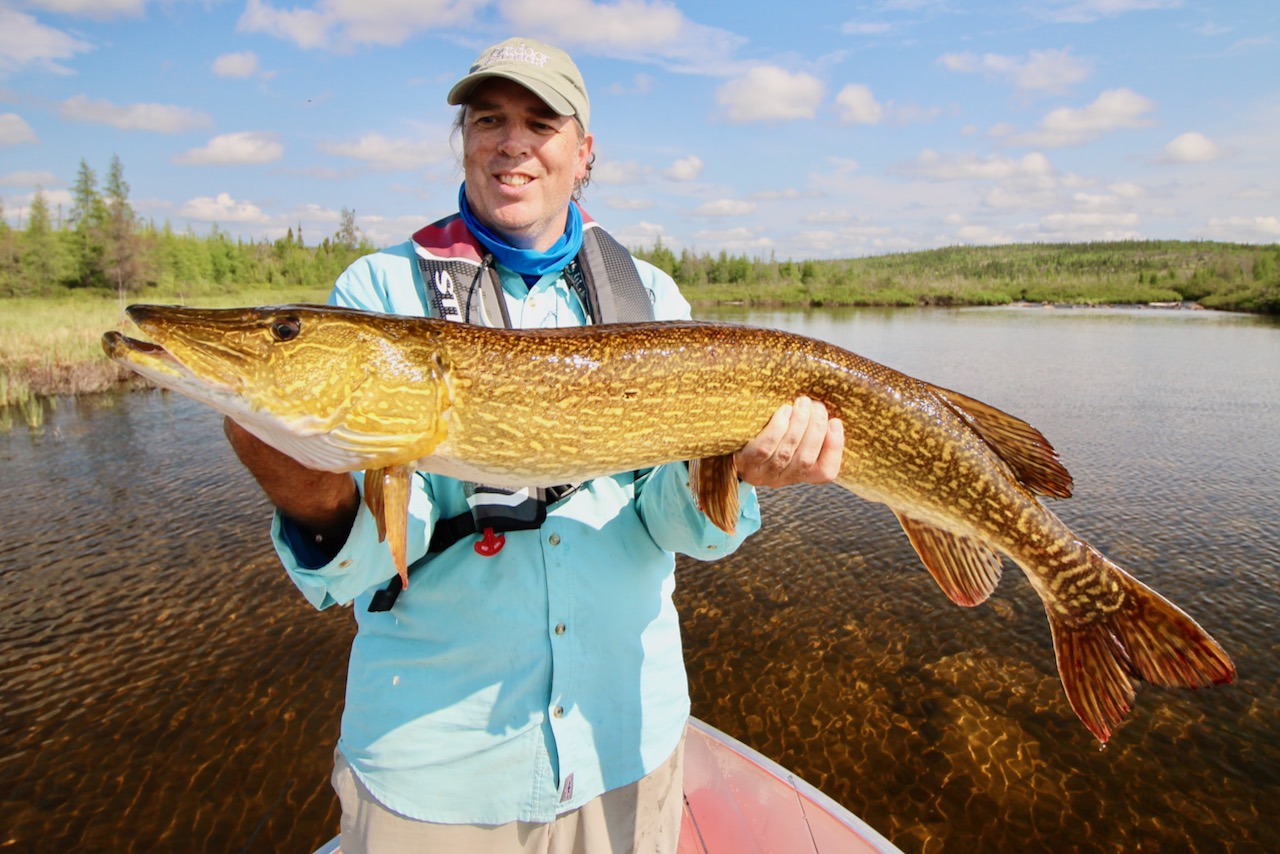 As Tyler carefully released Lynn's trophy, I spied yet another big fish off the stern. It was just a boat-length away, apparently unconcerned by the commotion. A little unhinged by this sight, I artlessly plonked my fly on its snout, but still ended up tight to my biggest fish of the day, measuring 42 inches.
At 4:45 we headed back to the lodge. In 60 frenzied minutes on our first day, we'd landed five trophy pike, plus eight more fish longer than 34 inches—the kind of fishing I'd be thrilled with during a week on the water.